Our world turned upside down on Monday, September 29, 2014. What began as an ordinary rainy day, ended in an ambulance ride and the beginning of a mother's worst nightmare.
At 25-weeks pregnant, my water broke unexpectedly. Medically speaking, I experienced pPROM (Preterm premature rupture of membranes (PPROM) is when the amniotic sac breaks before 37 weeks of gestation. Through the power of prayer and God's grace, we survived those ten terrifying days that ended on October 8 with the birth of our precious daughter.
These are my updates from my days on hospital bed rest at Baptist Memorial Hospital in Jacksonville, Florida
---
Day 1 * Monday, Sept 29, 2014 (7:30pm)
Written from the back of an ambulance as I made the hour and a half trip from St. Simon's to Jacksonville.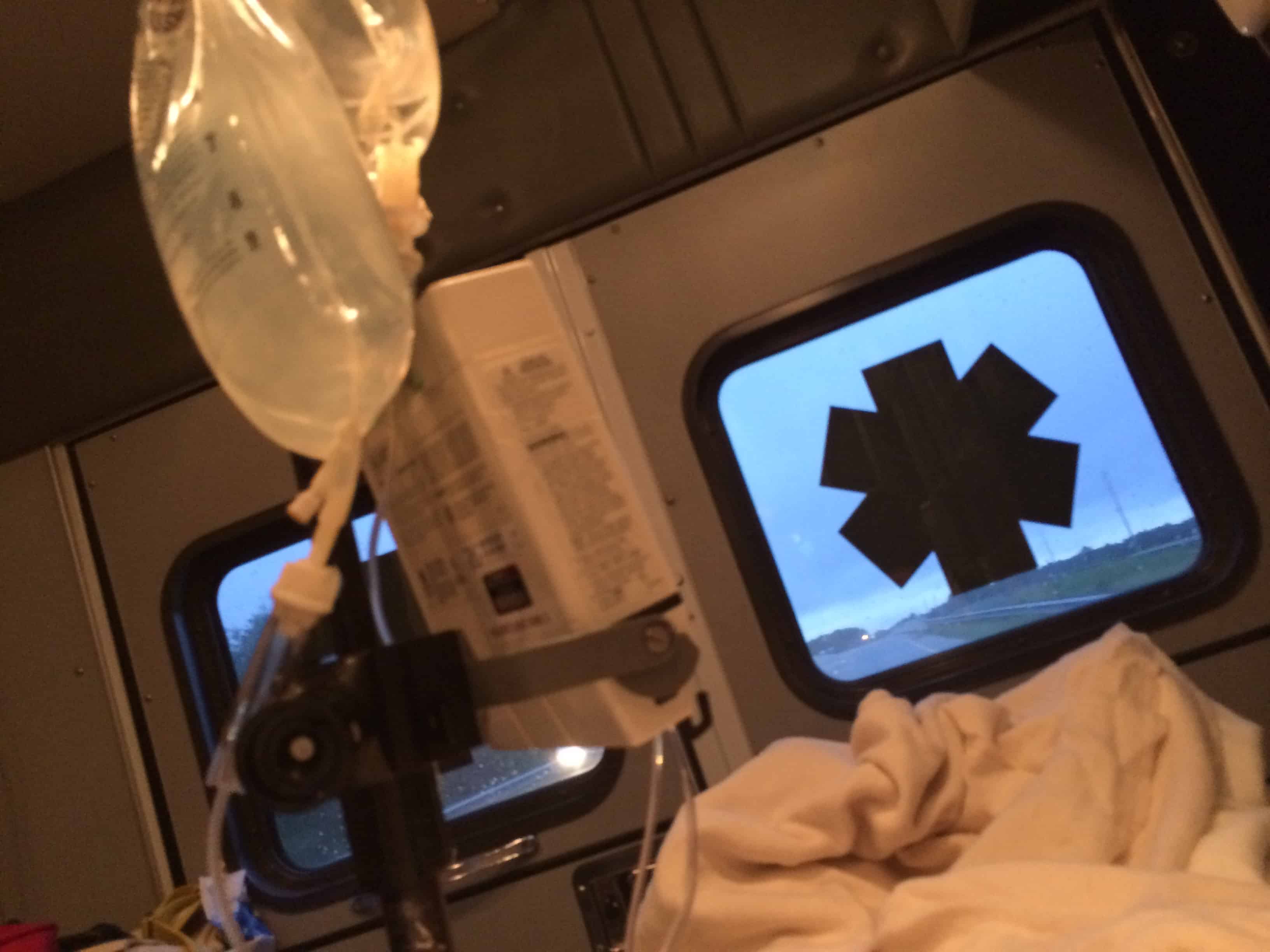 I don't do prayer requests but I believe in the power of prayer and I'll do anything for my baby girl.
I started leaking amniotic fluid this afternoon and there is a membrane tear. I'm in an ambulance on my way to Jacksonville where they have specialists and a NICU. I'll be 26 weeks on Thurs. It's way too early for our girl to come yet. I haven't had any contractions and she looks good on ultrasound so that's a positive. I am so scared for my sweet baby girl. Please pray for Baby Marjorie.
---
Day 2 * Tuesday, Sept. 30 (8:42am)
Good morning friends…I wanted to send an update regarding Baby Marjorie and me, as well as thank you all for the tremendous outpouring of love and support.
Baby Marjorie and I made it safely to Jacksonville at 8pm last night. I pray to never see the inside of an ambulance again. Texting and starting the prayer chain was the only way I could stay calm for that hour and a half drive. If I looked up from my phone, all I saw were IV poles, monitors and a rainy highway at my feet.
Here's what we know so far:
I found myself really tired yesterday so decided to take it easy. I spent all morning napping on the couch. My body was just so tired…so I rested. Something ruptured around 1:30pm yesterday. I felt a small "gush" and something inside me told me to call the doctor. Boy am I glad I listened to that intuition. Because by the time the nurse called me back I tried to convince her it was urine and just another Kegel mishap. She told me to go to the hospital to be safe than sorry.
The small hospital in Brunswick confirmed I was leaking amniotic fluid. My heart drop and the rest was a blur. I did my best to stay calm, but was completely distraught. It's too early. She's too tiny. If not for my sweet Jordan I don't know what I would have done. He held my hand, cried with me and reassured me she was going to be fine.
We arrived at Baptist Hospital downtown and was greeted with an onslaught of nurses and specialists. They have no idea what caused it and the doctors and nurses told me sometimes it just happens.
I am 26 weeks. Our goal is to keep baby girl in as long as possible. And we do that by having FAITH, being POSITIVE and with short term goals.
Goal 1) 24 hours. Make it to my second steroid shot that will help her lung development. Almost there.
Marjorie is rocking along. Looks great on the monitor and is still kicking and moving. I'm in bed writing to the glowing light of monitors. They have me on magnesium (stop labor), fluids, antibiotic.
I am in L&D and will remain on this floor until I am stable. So second goal is 48 hours. Third goal is stable to be moved upstairs. I am not leaving the hospital until she comes so hopefully I will be here long enough to gain Florida residence. As beautiful as I know my baby girl, is I do not want to see her anytime soon.
Marjorie's grandparents are all en route and it is all hands on deck up on the Island with our Hurricane Manning and Lilly and Lola. Beyond grateful for our Island family who loves is like their own. We are beyond blessed with the outpourings of love, help and support.
I got a few hours of sleep tonight and am just laying peacefully. I feel calm for I can feel God's hands around my baby girl and me at this time.
Thank you for loving me, for loving my family and for loving our sweet baby girl. A fighter already just like her namesake! Oh and I talked to her namesake last night. GaGa is of course a notorious worry wart but I told her we don't worry and work ourselves up until there is reason to do so. We are in good hands – medically and spiritually.
We will keep everyone updated. You all know how much I love to write. It calms me and I love feeling connected to you all. I feel each and every one of your hugs, love and prayers. Keep the coming. My cup running over.
A message sent from a best friend today that is a great reminder for us all:
My sweet McCall- I will be praying constantly. I was just re-reading my Jesus Calling for today and it said: "I am with you and all around you, encircling you in golden rays of Light. I always behold you Face to face. Not one of your thoughts escapes My notice. Because I am infinite, I am able to love you as if you and I were the only ones in the universe." He is with you and sweet Marjorie and will stay with you! Rest easy"
With loads of love and gratitude,
McCall & Marjorie
---
Day 2 * Tuesday, Sept. 30 (8:31pm)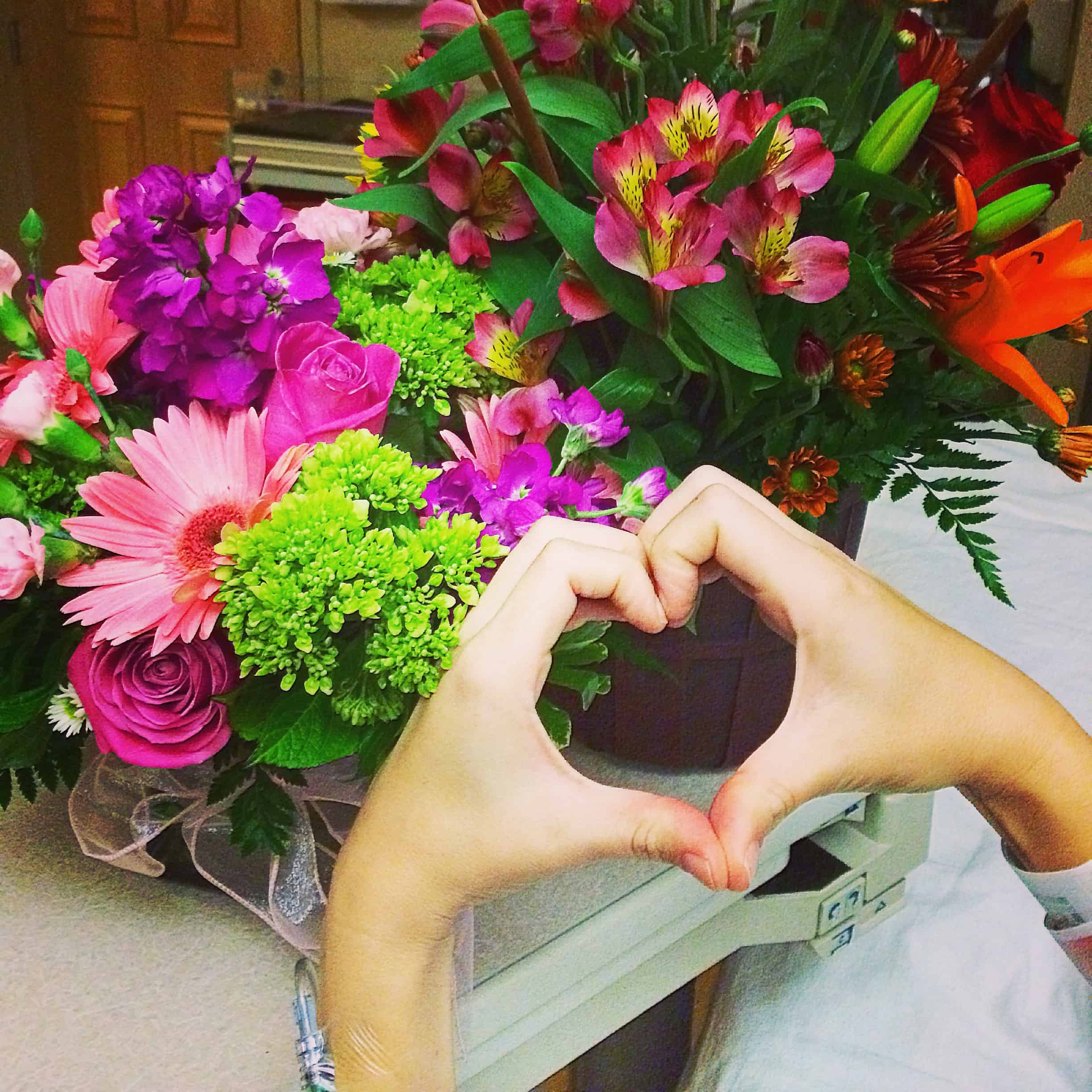 Baby Marjorie and I are definitely feeling the love and prayers tonight.
It has been a beautiful day with positive milestones. We have learned that every minute and each day in utero is a MASSIVE step forward for our baby girl.
I made the 24-hour mark and received my second shot of steroid that will help strengthen her lungs. I am also off the magnesium and will be monitored closely tonight for any contractions.
Barring any contractions or complications, I will be moved to a normal room, where we pray, I will be camping out for MANY, MANY weeks to come.
We are in good spirits and looking towards the light. It is very clear our baby girl is a fighter like her namesake. We are praying she gets Gaga's Iron Lungs!
My amazing momma flew in from the Bayou State first thing this morning. Jordan tag teamed with Annie and is home with our Hurricane Manning and four legged children for the night. Gary and Nancy are cruising in from middle-America and will be taking on grandparent duties tomorrow.
We are planning life one minute at a time and relaxing in the peacefulness of the present.
Words don't do justice to the gratitude we feel in our hearts. We can literally feel the prayers and love. Our hearts and cups are simply flowing and tumbling over.
Keep the prayers coming for Baby Marjorie! They are working.
Sending you all love, light, gratitude and peace. Goodnight my friends…until tomorrow
---
Day 3 * Wednesday, October 1, 2014 (6:00pm)
We made it through the big 48 hour mark! This is HUGE and definitely makes me want to jump for joy (but I adhere to my strict bed rest, lay flat and throw up some jazz hands. Literally, I can't even incline to sit. But I don't mind if it helps my baby girl). Today has brought more good milestones and small steps in the right direction. We had a wonderfully uneventful night except one small contraction that didn't even wake me up so that is a plus. Since we were stable through the night, we were transferred to a normal room this morning on the postpartum/antepartum floor. Slowly but surely, I am coming off fluids, IV antibiotics and other tubing/monitors attached to me. FREEDOM! AND I had my first meal today – Chick-fil-A chicken nuggets and fries have never tasted so good. Now they will hook me up to fetal and contraction monitors twice daily. I will also have sonograms twice a week. That is the schedule for now and we will adapt as needed, but this would be the minimum.
At this point if my body starts contraction or goes into labor, the doctors will not stop it. It is a sign that there is an infection or she is simply ready to make her grand (and certainly dramatic) entrance. Aside from monitoring there is no way to predict if/when it will happen so basically I'm living in a horrible game of waiting, praying my girl stays put!
Crossing these milestones today and entering in to our new routine of bed rest and hospital sounds, does not come easily.  As my nurse wheeled me into what will be my home for (hopefully two months), my heart broke.
What has happened? Why did this happened? How am I going to get through this? Is my baby going to be okay?
Of course, logically I know in my head the answers (or lack thereof) and I know this is for the best and OF COURSE I am willing and ready to lay still and do my job to bring a healthy baby girl into this world. But the emotions were bound to come and I am doing my best to take them in stride, stay positive and also honor these sometimes painful emotions. I am terrified out of my mind, but feel so comforted by the messages, posts, cards, flowers and most of all prayers. We really feel them. My heart breaks in half to see my Manning. I miss my baby boy more than I can stand, but my heart is happy knowing he is being spoiled rotten by his amazing grandparents. I feel a lonely within the four small walls of my room, but it doesn't last long since I have my husband or mom sitting less than three feet from me at all times. My sweet husband and momma are tag teaming like rock stars playing nurse to Marjorie and me. We are pampered with love and that is the best medicine I can ask for.
Writing will be my biggest ally and I plan to write often so check on this tab "Prayers for Marjorie" for daily updates. Please continue to send emails, messages, prayers, book or bible verse recommendations. I read them all and they fill my heart with comfort and love.
I sign off with the mantra my amazing therapist Mary text me when I was scared out of my mind riding in an ambulance: "I am safe. I am protected. I am loved." Yes we are. We feel your love and we love each and every one of you.
Goodnight moon. Sweet dreams and happy thoughts. And happy happy birthday to my beloved soul sister Anne. We will kick up our heels and celebrate life soon enough!
---
Day 4 * Thursday, October 1, 2014 (10:00am)
Another uneventful night! I am now 26 weeks and three days pregnant, almost three days post rupture. We are falling into our new routine: twice a day fetal monitoring, vitals, docs, etc.
My appetite is returning and I am taking in as much fluid as I can. While there isn't a perfect equation (eating xyz = improved health in baby) everything does help keep my body strong and in turn protect Baby Marjorie.
We had our twice weekly ultrasound and learned that there is a points system. Naturally, Jordan and I want to get the highest score and started teasing about what other baby's scores are. That competitive blood never leaves us and I'm so thankful for his lighthearted spirit that keeps me laughing. She did okay on her test 4 out of 10. My fluid is too low to receive any points, but she got high marks for her movement and tone.
I am feeling more positive today. The emotions ran their course yesterday and today is a new day. I still cried my morning tears. It's hard to hear and see the missing fluid that should be there protecting my baby girl. I can't help but smile when the nurses have trouble finding her heartbeat because she is such a jumping bean.
We've certainly got a sprit fire on our hands and I couldn't love her more. And if we are playing the odds, white baby girls statistically do better in these high risk situation. So that's a plus to hear!
Focusing on the positives, soaking in the prayers and relishing in every belly kick I feel. Enjoy the NOW. We certainly are.
Happy Thursday.
---
Day 4 * Thursday, October 2, 2014 (3:30pm)
It's been a busy day so far. Two fetal monitor tests and two sonograms. As scary as it is when they come back to "check and be sure" on something they saw or didn't see, I'm so thankful for their thoroughness.
I'm currently scheduled for sonograms on Mondays and Thursdays. They came back with the sonogram machine this afternoon because she did not practice breathing for them this morning. This afternoon (after making us wait 30+ minutes) we saw her take a few breaths. Yay! Two points for Marjorie…no literally, she gets two points.
Unfortunately, the amniotic fluid was lower than it was this morning (down from 3 to 1.5). They say it is normal for fluid to fluctuate so we will continue to monitor. She can continue to grow in utero with minimal fluid but it will get to a point where it might force us to deliver (fingers crossed we hang on to the fluid we have! Stay in baby girl!)
We did an extra round of fetal monitoring and her heartbeat is a bit high, but steady. So we will just check again tonight with the scheduled nightly monitoring.
The extra tests and doctors visits are draining. I hold my breath scared of what might be to come, but of course holding on to hope and celebrating our victories.
I'm missing my little Manning more and more by the minute. He has stuck to his schedule of school and bed time and for that I'm thankful. And his amazing teachers at Wesley Academy are giving him extra kisses and hugs for me. His sweet teacher Michelle sends me videos and pics of him all day. Seeing his rosy cheeks make my day. I'm taking care of his baby sister and we will be home soon to cuddle and kiss on those cheeks I love. He is going to rock out as a big brother. Marjorie doesn't know how lucky she is!!
---
Day 4 * Thursday, October 2, 2014 (7:15pm)
I got the best little pick me up today: a visit from my Manning! My heart was so happy to see him and so sad to kiss him goodbye. He marched in with that twinkle in my eye and climbed onto "Momma's Bed". While he watched trucks I got in as many kisses and hugs as I could.
Moments like this remind me of what my best friend (even if she doesn't know it) and author, Brene Brown, says, "You can be brave and scared at the same time." That is the balance of life for us all right now. Intense fear for what is to come. With every twinge of pain or sonogram do-over our hearts practically stop, but we dig deep, find our courage and push on.
Jordan was with me last night and while he doesn't excel in nurse duties, he makes up for in humor and love. There's nothing better than having his arms around me and listening to him play Price is Right. My heart is happy when he is here, but also happy when he is home with our baby boy. It is a give and take that we are all finding peace with.
Here is to finding peace in the now and Daring Greatly in this moment and every moment after.
---
Day 4 * Thursday, October 2, 2014 (11:10pm)
My heart and breath were on edge as I watched Baby Marjorie's heart rate on the monitor tonight. Her heartbeat and baseline were higher than normal so I was kept on the monitor for some time. I also leaked some pinkish fluid, which of course is terrifying.
The nurse called my doctor who happened to still be in the hospital. She said the baby looks happy just a higher baseline heart rate than they would like. Go figure I have another energetic child. She said the pinkish leak was often normal. But to be safe we drew blood to check my white blood cell count for any brewing infection.
I will strap up to the monitor again at 12:30am. For any late night readers, lift up some prayers and good vibes that baby girl's heart rate comes down. Not going to lie: this momma is tired but we keep on, praying for the positives and taking these changes as they come.
With love and lower heart beat dreams…
McCall & Baby Marjorie
---
Day 5 * Friday, October 3, 2014 (11:00am)
Baby girl's heart rate was back down this morning, which was relieving to see after a long night. Mom and I just decided that she is a Louisiana girl and likes to party!
My white blood cells count came back normal last night. Therefore, no sign of infection brewing. So we keep monitoring and living in the moment.
So many have asked for the address and of course I made up the name of the hospital in my head. I am at Baptist Medical Center (not Baptist Memorial…oops! I've got preggo brain at it's worst). I'm in the Women's Pavillion Room 302. We are so appreciative of the offers to send things, but all we really ask for is continued prayers.
---
Day 5 * Friday, October 3, 2014 (2:00pm)
Hooray for a quiet day so far. Chick-fil-a and two gorgeous orchids have made my day. Feeling so blessed to have my momma with me. Whether she is cleaning our tiny space or watching a movie, her presence is comforting.
Jordan is home working and loving on our Manning. We are thankful his parents are keeping Manning on schedule so Jordan and Mom can rotate nursing shifts.
We continue to pray for these ordinary days. Feeling thankful.
---
Day 5 * Friday, October 3, 2014 (8:45pm)
This afternoon met us with rainstorms and a dinner date with Jordan. My sweet hubby made the hour plus drive to have dinner with momma and me. He works tomorrow so mom is on night duty again.
I'm attached to fetal monitor as I type. Once again our party animal is rocking out with a high heart rate. They are keeping me on the monitor for an hour and hopefully she will settle down. Otherwise, they will call the doctor again. Fingers crossed she finishes her dance party and calms back down. We could really use an uneventful night.
Missing my home, hubby, baby, puppies and the seemingly mundane daily chores of life, but am comforted with all of the love and support I feel pouring in.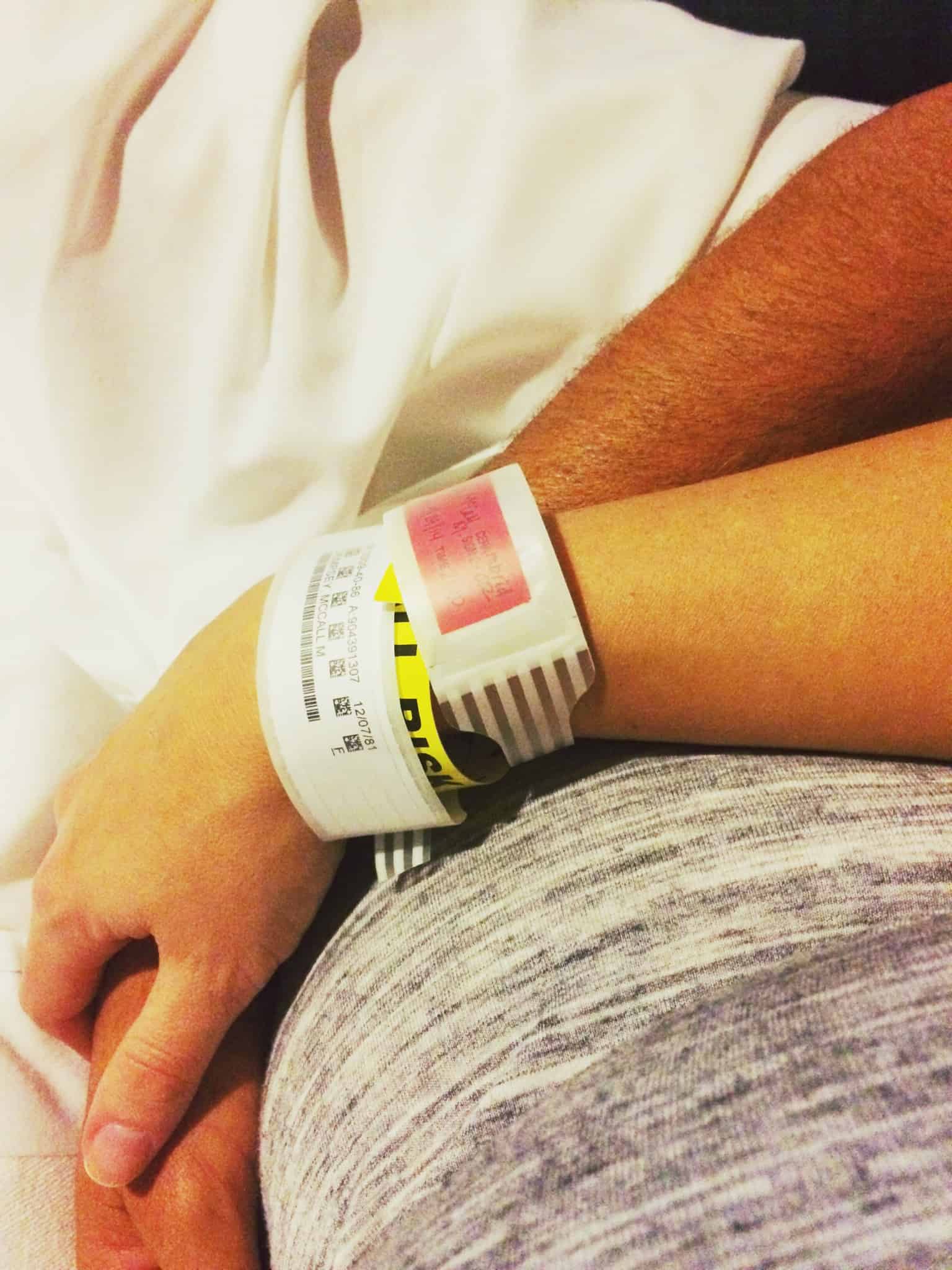 ---
Day 5 * Friday, October 3, 2014 (10:00pm)
It's official: we have a party girl on our hands. Marjorie is just super excited about the Ole Miss/ Alabama game tomorrow she can hardly stand it. But she settled her heart rate down in time for curfew and the doctor was not called.
Here's to an uneventful night. Hotty Toddy.
---
Day 6 * Saturday, October 4, 2014 (12:00pm)
Hotty Toddy! Woke up with a smile on my face and ESPN Game Day in the Grove! It was an uneventful night (yay!). My vitals and Marjorie's morning fetal monitoring look great. So here is to a quiet day! Being ruptured is an odd place to be. There are few indicators that can predict how far we can make it with her in utero. Everything can change in the blink of an eye, which is why we are monitored so closely. They look for high heart rate (signs of distress), fever or other indicators of infection. No news is good news and there is little that I can do other than stay in bed. Momma and I have a celebration for every day we can mark on our white board.
I had enough energy today to get a good shower, braid my hair and even put on lip gloss. I am officially Grove ready! While my body is still really weak, I am thankful I can stand to shower and start fresh every day. It is the little things that make me feel human and bring a little sunshine to another day in bed.
I also had a MASSIVE ray of sunshine bust into my room about an hour ago: my Manning! With his Ole Miss jersey and hat on and his tractor in tow. He is such a trooper and isn't phased by his momma laying in a bed. He climbs in, cuddles and we play trucks on my phone. He is such a laid back boy and always happy, which eases the pain in my heart from being away. Also, knowing he is so loved on by his MiMi and PapaG makes me grateful.
Momma and I are geared up ready for game day. The only blue I have is a hospital pillow so that will be my Ole Miss 'shaker' for today! Hotty Toddy and Happy Game Day from Baby Marjorie, me and the entire pPROM KREWE!
This slideshow requires JavaScript.
---
Day 6 * Saturday, October 4, 2014 (10:00pm)
I'm pretty sure Baby Marjorie and I are Ole Miss' lucky charm. What a game! I'll be honest – it was difficult to keep my heart rate down during that one. Room 302 was rowdy during the epic game. Now Mom and I are watching LSU play less a less than epic game. Sigh. Baby Marjorie's heart rate was good tonight. We figured she was worn out from watching football.
In addition to the Rebels' victory, it was winning day for Team Marjorie. We have sunk into the rhythm of vitals, monitoring, meds and meals here at the hospital. And while no one wants to adjust to a hospital routine, we are thankful we have been here long enough to adapt and hope to continue to. There's something comforting in routine.
I'm pretty sure nurses are sent with angel wings because we have lucked out with fabulous nurses. Every time our team today, Angie and Christy, entered the room it was as if two friends were coming to visit. It is nice to have that connection with the nursing staff since most of my friends are ten hours away in the Bayou. I miss them terribly. Mom and I made up for a lack of tailgating friends by pretending our snacks were tailgate treats. Momma even learned what cranberry juice tastes like without the game day spike. (Her conclusion: it tastes funny without vodka).
We laughed a lot today. Today, I am thankful for a mother who can find humor with me in a less than ideal situation and the caring nurses who treat me like their friend and not a patient.
Cheers to another day in the books and a REBEL WIN! I heard this quote today and fell in love:
"When it comes to preemies every day counts. It's not a countdown…it's a COUNT UP!"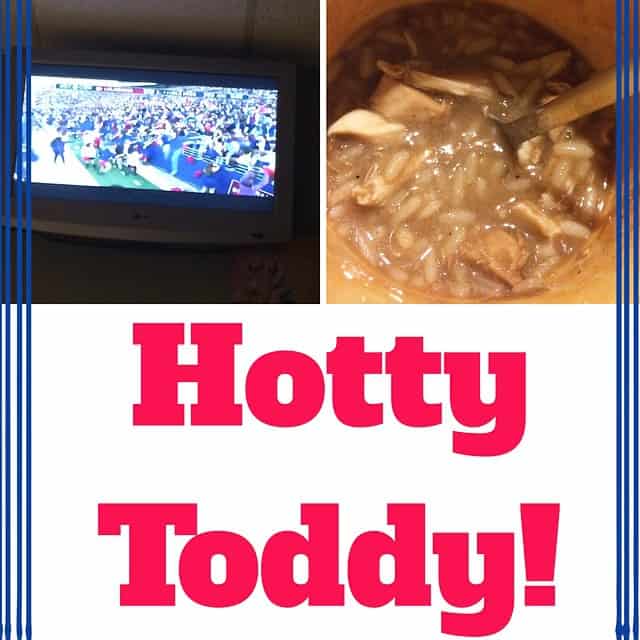 ---
Day 7 * Sunday, October 5, 2014 (10:00am)
According to my Weather App and the sunshine beaming in our small window, it is a gorgeous fall day. I love when the weather gets cold and you finally get to put on boots for the first time. Maybe I should have Jordan bring down my favorite pair to celebrate fall. My brown suede riding boots would go nicely with my pjs I think.
It was a quiet night (yay!), but a bit sleepless for me because my hospital bed has a mind of its own. It's kind of like sleeping on a mechanical bull, but without the cocktails and drunk rednecks.
I'm on the fetal monitor now and baby girl's heart rate is looking nice and steady. She is averaging in the 150s. That's what we like to see!
Jordan is on his way down for the day! We are sure to have lots of laughs with his bright spirit in the room.
Wishing everyone a peaceful and fun Sunday.
---
Day 7 * Sunday, October 5, 2014 (9:30pm)
It was a two-meal delivery with friends and family kind of day. The sun shined bright into our tiny room. Our day was spent visiting with my sweet sister-in-law and her husband and later with the Derek, Jordan's best man and big brother who adopted Jordan 20 years ago. We are so blessed to call so many family.
Jordan was here with me all day, giving momma a break to get out and enjoy the sunshine.
Nothing new to report on our baby girl…and that is so nice to say. Her high heart rate has earned her the reputation amongst the doctors and nurses as the party girl on the hall. I'm such a proud momma!
Tomorrow will mark one week since this journey began. But we focus on the now, not the tomorrow. We are living in (and grateful for) the moment…so for now it is simply goodnight.
---
Day 8 * Monday, October 6, 2014 (10:35am)
ONE WEEK! We made it to 27 weeks! Geaux Baby Marjorie!
After a quiet weekend, we woke up to a frenzy this morning. Just before 7:00am the breakfast nazi came barging in with a loud knock on the door. She is a petite Asian woman who brings meal trays with gusto and is not your ideal wake up call. Momma and I had a laugh and then a big laugh when we opened the breakfast tray to find the 'garnish' that was added to my plate. A teeny, tiny apple slice. So much for morning fiber. Good thing we have a stocked pantry…well, drawer of food and snacks.


Mondays and Thursdays will be busy days for us. It is when I see the 'ROC' doctors (the Maternal-Fetal Specialists) and have my ultrasounds to check baby's heart, movement, tone, breathing, fluid, etc. Not to mention I also see my regular doctor every day and have my morning run of daily fetal monitoring and vitals.
The ROC doctor came in with no news, which is good news. He says things are looking good and baby looks great. About an hour later the ultrasound tech from the ROC came in. Baby girl was moving around (as usual) and got all her points for tone and movement. This week she even practiced breathing for us in the morning ultrasound and looked strong. Two points for breathing. I also gave her points for like-ability, cuteness and independence.
Sadly, my amniotic fluid is still practically non-existent. They only found one pocket that measured one centimeter. I am thankful for that tiny pocket, but I can't lie, it is upsetting to see. I am certainly celebrating our one-week mark today. However, it also causes a lump in my throat as it is a reminder as to the trauma of last week and the worry that continues. My spirits remain high and hopeful and the swings of sadness are to be expected. We take them all in stride.
Happy 27-Weeks Baby Marjorie! We love you and are so proud of you, but want to remind you again that today is NOT your birthday!!
---
Day 8 * Monday, October 6, 2014 (9:45pm)
The morning flew by with the frenzy of doctors and tests and we continued to have a good day with 'no news'. Jordan's bright spirit lit up our room after lunch as he flew into our tiny room. He and mom had a changing of the guard ceremony and mom gave him strict orders to keep the room tidy. Needless to say my energetic, long limbed husband managed to knock over my water table and stump his toe within the first thirty minutes of his shift. But boy can he make me laugh, which trumps all.
Once again our baby girl has us on edge. The NST (non-stress test) fetal monitoring this evening shows she is having another tacacardic episode. She had one similar last week. The monitor is also showing that she is moving around like a jumping bean, which I can feel. They went ahead and called the doctor just to be safe because I am also experiencing low belly/back pain. The monitor hasn't picked up any contractions so that is good news and I am not showing signs of infection. Her hear rate settled back down and she is within her normal range now. This baby girl certainly keeps us on our toes.
Our sweet nurse, Samantha, is so reassuring and comforting. She surprisingly still likes us even though she is an Alabama fan. I can't help but worry when these 'episodes' happen, but they are bound to come given that I am ruptured and she is so tiny. Going to bed tonight emotionally drained, but supported in God's loving hands. We continue to feel the outpouring of love, support and prayers and my cup still runneth over.
Cheers to 27 weeks and an uneventful day tomorrow.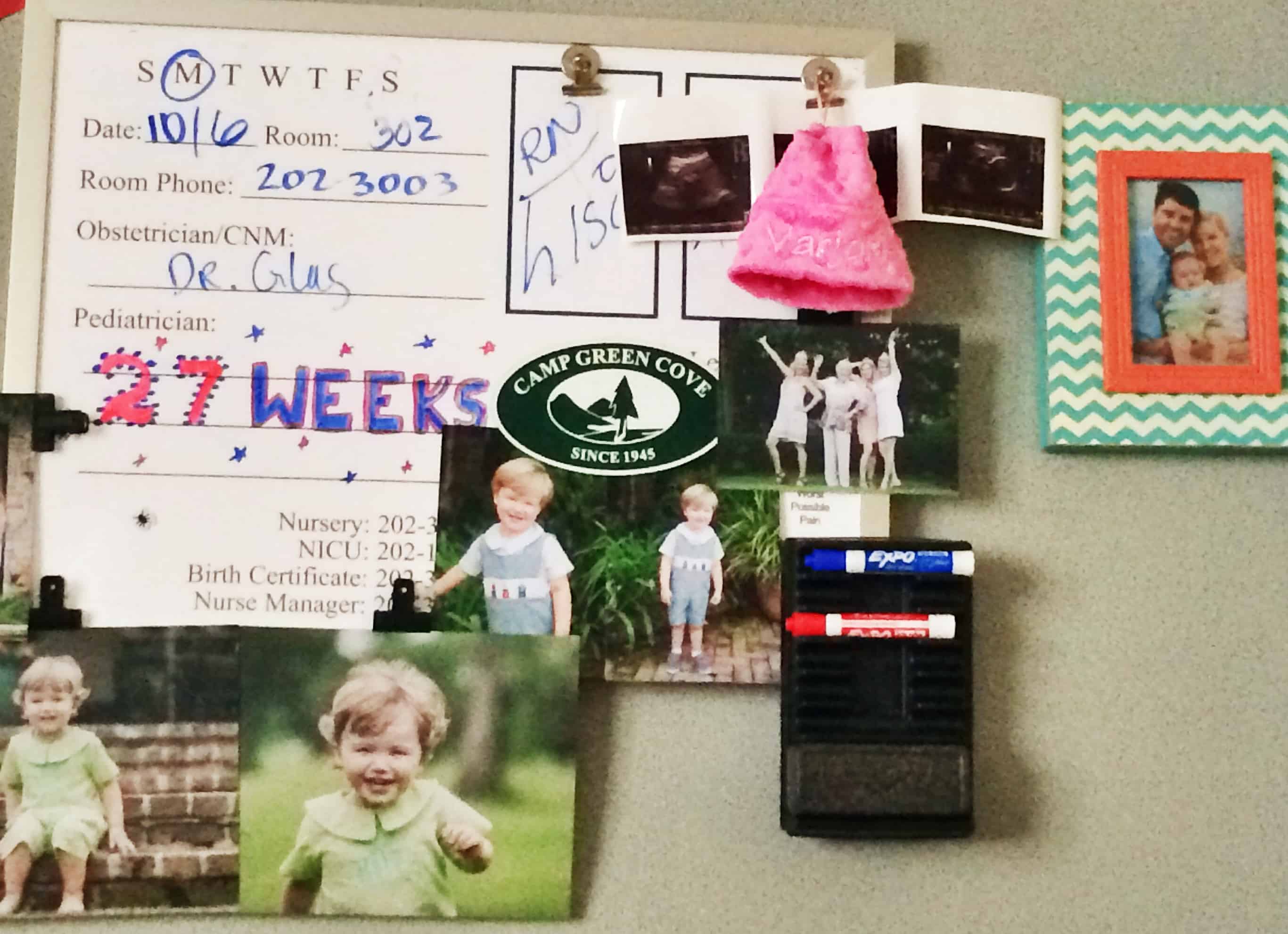 ---
Day 9 * Tuesday, October 7, 2014 (10:20am)
Jordan and I awoke to the breakfast nazi this morning charging through the door shouting my breakfast order. "SCRAMBLED EGGS, TOAST, MILK, BACON!" I died laughing and was so glad Jordan was here to experience her commitment to her job.
Shortly after, Dr Glas, my OB, came in to check on me. She wasn't too concerned with last night's NST reading. It's part of it and to be expected. Of course, that doesn't help my heart rate.
Baby girl looked pretty good on the monitor this morning. I'm still having lower belly aches, but again, it's too be expected.
Our big news this morning is that we are upgrading to a bigger room! Rumor on the floor is that 304 had a C-Section this morning, which means we get to take the big suite! Oh happy day! Jordan is packing our things as I type and I'm doing my best to lay still and not be a "backseat" packer, which is a massive challenge for me as everyone knows. I pride myself on being an expert packer, where Jordan is more of a toss-n-go kind of packer. Deep breaths. Let. It. Go.
While we wish this moving cart meant we were going to the beach, we are so grateful for the room upgrade! More room for Manning to come play and hang out with his momma for longer visits.
Happy Tuesday everyone!
---
Day 9 * Tuesday, October 7, 2014 (7:15pm)
I wish I could write all about our move to the big room, my friend Lexie's visit and seeing my Manning, but I can't. Once again I can't help but worry for my baby girl. As many times as I tell her, "today is not your birthday," she and my body seem to have a mind of their own or at least a mind to scare the you know what out of me.
Pain in my lower belly/back started again today around 5:00pm. Obviously, cramp pain in that area is alarming. On top of that I also had pinkish color leaking again. The nurse put me on the monitor to check if I was having contractions and her heart rate. Both looked fine.
The scariest and most difficult part of this is not knowing. I can't nor can anyone else predict what is to come. Every pain or leak sends my heart into panic. I am doing my best not to get worked up (and for the most part I don't) but I'm sure every mother and mom-to-be reading this can understand how terrifying it would be.
The nurse did call the doctor and he ordered a white blood cell count. I happily gave my arm over to have blood drawn. The WBC will either give us peace of mind that there isn't an infection brewing or a signal that something is going on. Prayers for no infection.
More to come after evening NST.
---
Day 9 * Tuesday, October 7, 2014 (10:15pm)
White blood cells came back fine, which was welcoming news. I'm still leaking bloodish fluid and that scares the shit out of me. Pardon the language but there's no other way to put it. It isn't to an alarming level or color so we continue to monitor. Nurses say this can happen, but seeing it and feeling cramps is so unsettling.
Mom and I distracted ourselves with Downton Abbey (thank you Chewning fam for the DVDs!) until it was time for the nightly NST monitoring. I'm hooked up as I type and so far she looks great. No parties tonight.
The monitoring also measures contractions. Even though I am cramping and hurting, the pain does not appear to be contractions. Thank GOODNESS. I'll take cramps and pain just as long as my baby girl is safe and stays put.
I'm drained tonight. Asking for prayers and thankful for feeling the love and prayers you all send every day.
My sweet cousin (who is more like a sister) sent me this tonight. It was just what I needed after a long day. God really does speak through us and being on the receiving end has been a beautiful thing…
"God is so constantly and busily at work on your biography. He knows you are fearful, carry all your concerns to him-in the arms of faith. Cast your burden on the Lord-and he will sustain you -Psalm 55:22
Yield to his guidance
Trust in his love
Lean on his power
Walk by his side
He is always at your side-so lean hard! He places you in the midst of a great magnitude of loving friends and family that uplift you in prayer and encouragement to overcome anything that you might feel fences you in. You are the object of his perfect and ceaseless care."
---
Day 10 * Wednesday, October 8, 2014 (8:25am)
Asking for prayers this morning. The bloody discharge continues this morning and I am still cramping. Dr. Glas came in, felt my belly and confirmed the cramping was a mild contraction.
I'm on the monitor now and will have and ultrasound soon even though I'm not scheduled to have one until tomorrow. If things continue they might check me to see if there've been any changes in my cervix.
I am scared. Today can't be baby girls birthday. Please send up prayers, good vibes and thoughts for Baby Marjorie.
27 Weeks. 2 Days. It is not your birthday baby girl.
---
Day 10 * Wednesday, October 8, 2014 (12:10pm)
My cervix is open and the doctor can see her foot. She is transverse and in a dangerous position. We are heading into a C-Section in an hour.
Please pray for my baby girl because I guess today is her birthday.