On Wednesday, May 27th, we heard the words no parent wants to hear. 'Your daughter has cancer.' At just 7 months old, our Marjorie was diagnosed with 4S Neuroblastoma. This is the story about how our Marjorie SMASHED Cancer!
Monday, September 21, 2015
Marjorie and I had an eventful morning at Nemour's Children's Clinic. First stop was to Orthopedics to check on any signs of hip dysphasia. Since she was breeched with her right foot stuck in my cervix, they are being abundantly cautious. We took another x-ray and got the all clear once again and made our way up to the Oncology Clinic.
The nurses and doctors on the 8th floor are earth angels. We always look forward to seeing them. Today, we got to see Nurse Jess and our beloved Dr Gauger.
So here's the really exciting news of our day…
After a full (and intense) abdominal exam, Dr Gauger looked up with a twinkle in her eye and said, "McCall, I don't feel anything."
Tears in my eyes, happy tears.
We, of course, won't know if the cancer is completely gone until the scan in October, but nonetheless Dr. Gauger seems hopeful and so do I. The thought of being able to say my baby is CANCER FREE is simply overwhelming.
Walking through the doors of a Pediatric Oncology clinic is tough. It sucks. Since entering the pediatric cancer world I usually cry before, at some point during and definitely after our appointments. I have had a tough time accepting this new world, as any parent would.
Lately, I've felt the shock of it all wearing off this past month. The feelings of anger, sadness, grief and fear coming creeping in. They are often triggered by seeing another child cancer Facebook post or just a memory from our own journey. Both feel like I've gotten the wind knocked out of me.
Now that my family seems to be settling in to this new normal of ours, I am carving out time for myself. This is where I am so thankful for recovery. If there is one thing I know for sure is that I can't do this alone. If I want to move forward, I have to process through the past with my therapist, Mary. Last week I finally realized that I am at a place I can do the work. It will be hard, but I know it is necessary and I welcome it.
Today was a good day. A great day.  I find myself at peace. Sure, feelings of anger are still there, but the feelings of peace and gratitude are bigger. Prayers we will be celebrating Marjorie being CANCER FREE one month from today. My girl is my hero.
Wednesday, August 12, 2015
I realized the results of our last PET Scan were buried in my last blog about sweet Rose. I thought today might be a good time for a State of the Marjorie Union.
The PET Scan revealed that cancer remains in her liver. The adrenal gland did not 'light up' so there isn't any active cancer cells there. The cancer in the liver appears to be much less active than first diagnosed. These are all good signs and mean we are heading in the right direction.
Our plan is to repeat both the CT and PET scan in three months, which is October. If cancer remains, but it still minimal then we repeat again in three months. We continue with our monthly appointments at the clinic regardless and we had our first one today.
We are so thankful Wolfson opened a clinic in Brunswick, which is the town on the 'mainland' from our tiny island home. The clinic is brand new and spotless. We were delighted to see Dr. Sandler, but I think he was more delighted to see his giggly Marjorie.
Dr. Sandler is part of our Wolfson Oncology team and he comes to the Brunswick clinic once a month. He was thrilled with our progress and explained all results and future plans. To say we love Dr. Sandler and the entire Wolfson oncology team is an understatement.
Today's big question was "Can I give her motrin?" Marjorie is teething and really struggling with it. I think chemo was easier than these two teeth, or maybe it was because chemo comes with morphine. Dr. Sandler quickly gave the okay for Motrin after seeing how awesome she is doing. He is the more laid back doctor of the group.
Of course, we did need to draw labs and get a urinalysis today. He instructed us to go downstairs. While I know the nurses in Brunswick lab are more than capable, I had to ask him if they were pediatric nurses. They were not. Tears quickly welled in my eyes as I asked him if I could wait until next week when I was in Jacksonville so I could go to Nemours, where everyone is specialized in pediatrics.
Dr. Sandler said of course that was fine, but also told me that I could give the Brunswick lab a try if I wanted. Tears immediately filled my eyes. Thinking about handing her over to a specialized nurse is hard enough. Call me overprotective, but even the veteran pediatric nurses 'miss' on her and have to poke her twice.
I left the clinic with lab paperwork to bring with me next week and tears streaming down my cheeks. I felt like a wanna-be Kardashian as I put my sunglasses on to hide my eyes. I started to break down as I pushed Marjorie into the elevator. But as soon as my tears began they dried right back up.
As much as I am trying to wrap my brain around this 'new normal,' I don't think I ever will. I'm still surviving. I still get really angry. I still feel so much gratitude my heart almost bursts. I still feel like my spirit can explode with the dichotomy of emotions that swirl at any given minute.
In this moment, as I type, I cry. I cry tears of sadness, anger, exhaustion (teething baby!), happiness and frustration. Cancer still remains. I am still surrounded by stories of other families who are fighting. I want to rescue everyone. I want to rescue my Marjorie. I want to rescue myself from this terrible heartache that no parent should ever face.
So until next clinic visit/lab draw/PET scan, keep sending my girl your prayers and angels. We feel them all. With love and light, good night.
Monday, August 3, 2015
Sitting on the plane reflecting back on an extraordinary weekend. Looking ahead to this week with knots in my belly. We have another scan and other checkups. The past two months have been such a whirlwind and I am so thankful to have had the chance to escape the storm if only for a few days.
Yes, we received the best news "No Mo Chemo" but we are still adjusting to life in the pediatric cancer world.
This Thursday, Marjorie receives the isotope for her PET Scan on Friday. She will also have another echocardiogram to continue the monitoring of her heart since it can be affected by her chemo treatments.
The PET Scan will give us an idea of where the cancer remains and confirm it still only remains in the adrenal glad and liver. We are not "cancer free," but with our Neuroblastoma 4S diagnosis, the cancer will eventually regress on its on.
The PET Scan was originally scheduled for the week following our last scan, but I simply could not do it. My body, mind and spirit could not gather the strength to bring my baby in once again for IVs, ORs and hospital. Our amazing primary nurse, Jess, told me we could wait. It was her idea. She told me to take a moment to catch my breath, enjoy my time at home and our trip. I confirmed waiting would have zero effect on Marjorie's health. The scan is really just to confirm what we already know.
So that's what I did. I have enjoyed every second, every snuggle and every minute away from the hospital.
And now as my plane sits on the runway and I look out over the glorious mountains that surround us, I am filled with fear and anxiety. The reality that awaits. My mind races as I try to figure out a week full of appointments and a big brother who is out of school.
While I am thankful we are finished with chemo, there is still so much anger in my belly. I want to stomp my feet like a child and say, "No! We are not going back to the hospital. No!"
While it is easy to be swept away with emotions, I must stay present. I let the anger sit in my belly. I feel it. I process it and the sadness. Then I do the only thing I know to do: I move forward. Forward. Yes, one foot in front of the other. One minute at a time, knowing this will pass. We will soon sink in to our new normal. We keep the faith, embrace the gratitude and every emotion that comes and we move forward.
As amazing as these past few days have been, I'm counting the seconds until I am home with my babies in my arms.
Tuesday, July 14, – 8:00pm
The doctor came into our tiny room with a smirk on his face.
"I've got good news and I've got really good news. There is significant reduction in all tumors. She no longer needs chemo."
My heart stopped, skipped a beat and burst out of my chest. NO.MO.CHEMO. Tears of joy poured down my face as I nuzzled it into Marjorie's face. Jordan came over to give Marjorie and me a kiss and we hugged and cried together. The doctor went on to tell us how the tumor shrank over 90% reduction, but I'm not sure how much I heard after no more chemo!
There is still another scan and years of observation. All details are to come, but all I have to say tonight is thank you. My head is still spinning and it will take me some time to process what a day today was – what an experience this all has been. But all I know to do in this moment is give my utmost gratitude to each and every prayer and good vibe warrior out there. You have carried us through this extremely difficult time. We have never felt more loved or supported.
I could type forever, but tonight is not the night. I am so drained – emotionally and physically. I have given every ounce of energy and love to my girl the past eight weeks. And I would do it all over again.
What a whirlwind it has been. There is not much my brain knows right now except how blessed we are to be saying no more chemo. Blessed and thankful for you. Our No Mo Chemo Cups runneth over
This slideshow requires JavaScript.
Monday, July 13, – 9:00pm
My daughter has cancer. Tomorrow I might be able to follow that with, "but she no longer needs chemo. NO MO CHEMO."
Tonight, I type this update feeling like a million pounds has been lifted from my chest. Last night I broke down, sobbing and gasping while clutching my sleeping daughter. My precious baby. The words came out again, "Why? Why my daughter?"
Sweet Derek came in and found me. He immediately scooped Marjorie from my arms and put his other comforting arm around me. I continued to sob into his chest. I let it out. I needed to and I knew that.
People probably get tired of me saying how grateful I am, but that is the only word I have. To be able to let my feelings flow, to have friends around me who sit with me in the pain and to know that even this too, this God awful heartache will pass.
I went to bed at midnight and woke up at 3am, tossing and turning until 6am when I gave up. A few hours later, I made my way downstairs to find Lara on the couch with Marjorie. Remind me how I got so lucky to have these people in my life?
We spent the morning doing our normal routine and normal has never felt better. Coffee, Today Show and giggles. At 11am, Derek, Lara and I loaded Marjorie up and off we went. They both took off work to be with me today since I told Jordan not to come. Again, how blessed am I?
Nurse Katie, one of Marjorie's biggest fans, greeted us in pre-op with her usual warm smile. We waited and kept Marjorie distracted for the next two hours. Between all of us, Marjorie was a happy camper despite not eating for four hours. Can't say I would be the same.
Today I carried every medal and bracelet we have been given. I was weighted down with symbols of faith and bravery. My most precious of them all is my Tyler Strong bracelet. It was created after my aunt Marolyn passed away from a long and courageous battle with breast cancer.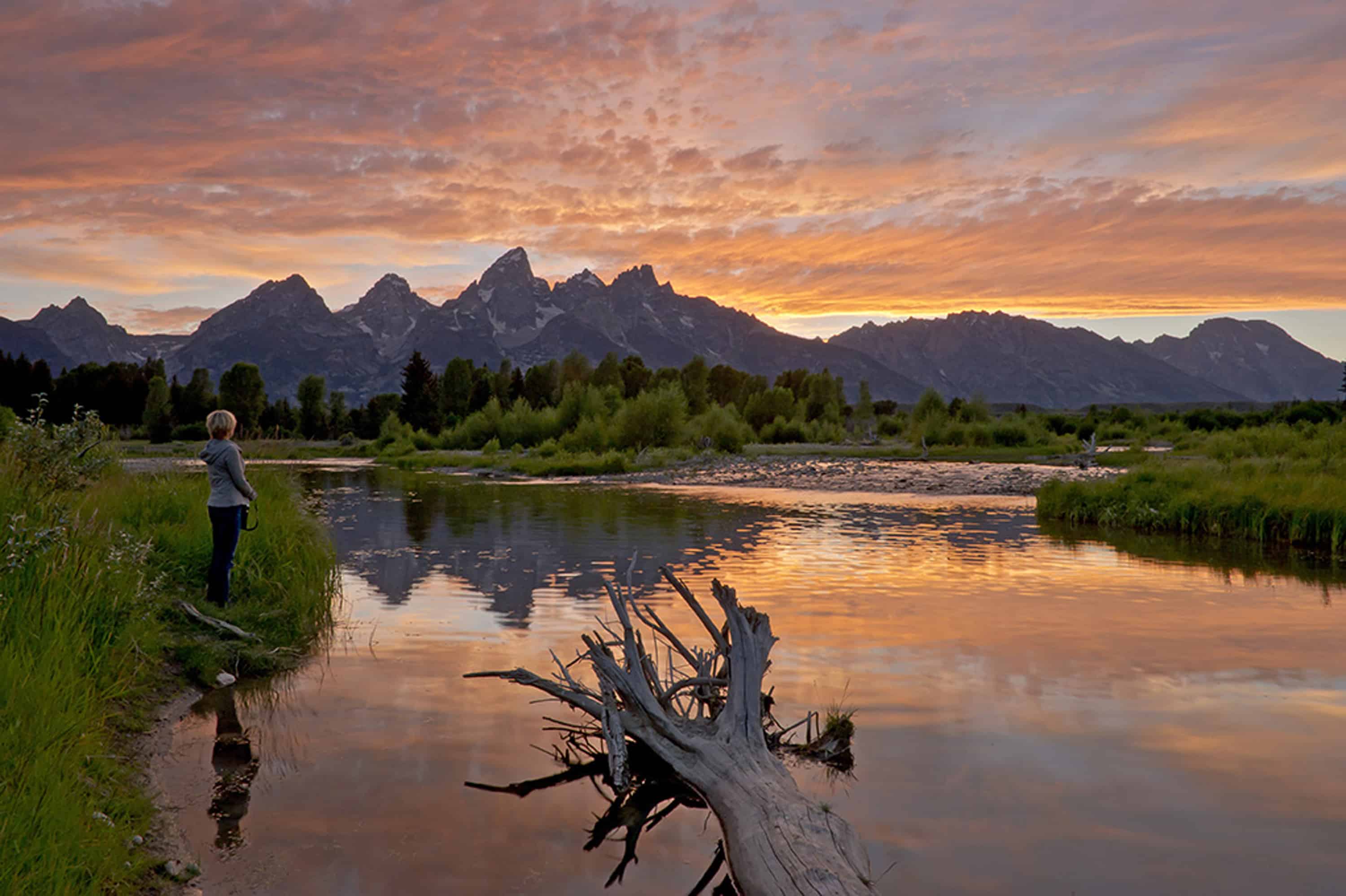 When Marjorie was diagnosed, I placed this picture of Marolyn as my screensaver. It was taken by her soulmate in her happy place, Jackson Hole, Wyoming. I feel at peace when I see it. I feel comforted knowing she is in the room with me, watching over my baby girl and me. I feel her bravery, kindness and compassion.
So today as I wore my Tyler Strong bracelet, along with the others, I knew I was not alone. I stared as Derek and Lara loved on my Marjorie as if she was there own. My heart filled with gratitude at all of the love surrounding my girl, both physical and virtual.
I kissed my baby girl and handed her over to Nurse Katie, tears streaming down my face. It was the fourth time in six weeks I have had that horrible task of giving my baby to the OR team. Today, though as I returned to the room with Derek and Lara, a peace came over me. I looked at my wrist and the medals in my hand and knew that no matter what, we are going to be okay.
Tonight I am at peace. Yes, my daughter has cancer. Tomorrow might be filled with amazing news and it might be filled with news that we need more chemo. I obviously want no mo chemo, but I am oddly at such peace with whatever the results may be.
I plan to go to sleep tonight (and actually sleep) because I know that no matter what the results are, we are surrounded in love and wrapped in God's arms and have special angels looking over us.
This slideshow requires JavaScript.
Monday, July 13, – 5:00am
I've been staring at the dark ceiling for the last two hours. Sleep is nowhere to be found.
Finding comfort in this beautiful prayer sent by our incredible nurse and friend, Mackenzie aka Two-Knock.
"Praying out loud for you and for my baby love!!! His word says that His name alone brings life and life in abundance – so I am literally speaking His name over the scans tomorrow. That as a result of the scans tomorrow, life that is abundant will be found – both for and thru Marjorie and her story!! His word also says that "in the beginning, God." In the beginning of Marjorie's life, in the beginning of her fight, in the beginning of normalcy – God. In the beginning of being a little sister, in the beginning of all that's to come, in the beginning of her strength and courage – God. In the beginning of "cancer", in the beginning of her treatment, in the beginning of the results found tomorrow – God. In the beginning of being a daughter, in the beginning of soccer games and swim meets, in the beginning of all that a survivor will entail – God. God was, is and always will be in the beginning. I am praying that each step you take, it becomes more and more tangible that He has already been there – since the beginning. That you, Marjorie, your entire family are covered in His protection and provision – for He has gone two steps ahead of you. That as you wake up and your feet hit the floor, as you get dressed and start the drive north, as you wait for her to get called back and then wait some more for her to finish up, and as you pray for good results and prepare for what the future will look like you remember He has this in His hands, He is holding her and y'all and that He won't let you go. I'm praying that altho I wish I could take it away, I wish I could bare this burden for her she continue to make a difference, impacting the lives of countless strangers and that your family continue to glorify Him throughout this journey. I'm praying for comfort and peace – that as tomorrow draws nearer, He draws nearer to you! That in the quiet moments that seem to be too much, you are reminded of His goodness. And that in the loud moments that are far far too overwhelming, you are reminded of His power. And of course I'm praying that her stinking tumor shrink – and not just to where no more chemo is needed but to where the tumor is gone and that we are all left speechless and baby M is healed! 
I love you four so very much and am here if you need anything!! ????"
Sunday, July 12, – 1:00pm
Deja vu. Groundhog's Day. Repeat. Relive. I find myself in the exact same spot I was Thursday, feeling the exact same emotions and anxiety. The nerves have been gone, enjoying the last few days with the family, but they returned with vengeance today.
In a few hours, I will load up and head back down to Jacksonville. Jordan will not be making this voyage with me. He already took two days off work for the last scan so I convinced him to stay in St. Simon's. Lara will be coming with me tomorrow.
The plan is to arrive at 11:30am for our 1:30pm scan. The procedure is scheduled to last two hours, but you never know with hospitals. After the scan and after she recovers from anesthesia, Marjorie, Lara and I will head back to Lara's house where we wait. We hope to possibly get some preliminary results tomorrow afternoon, but we are not holding our breaths. We are scheduled to meet with our oncology doctor at 11:15am on Tuesday. Jordan will drive down to be there for this appointment, which is more important than being there for the scan.
The meeting will give us an in-depth report of the results and what treatment or observation is to follow. IF we see more than a 50-percent reduction in the mass on the adrenal gland then NO MO CHEMO. The PICC comes out and we map out an aggressive observation schedule. IF there has not been a 50-percent reduction, then we are looking at two more rounds of chemo before re-evaluating with another scan. The result we are praying for is obvious.
I ask for prayers…again. For tomorrow to be as easy on Marjorie as possible. Please pray for the extraordinary staff and team that surrounds her.
I feel hopeful, but we've been served some rough odds in this past year. I am doing my best to focus on prayer and the people around me. As much fear as their is in my heart, the gratitude outweighs it. I am surrounded with people who let me cry and scream, as well as laugh and find the light in all of this.
Thursday, July 9, – 10:00am
My hands are shaking as I type. There is a massive knot in my stomach that makes it hard to breath. And we still have 24-hours before the scan begins. The "What ifs" and various scenarios play out in my head despite my greatest efforts in trying to distract myself. I have so much to do around the house – pack the family, clean, respond to builder emails and all I can do is wander and choke back tears.
I am so scared. The anticipation of what is to come is brutal. It began to really hit Jordan and me last night. We sat on the couch in our dark living room bouncing Marjorie and giggling with our sweet girl while our handsome boy slept peacefully in his room. I soaked in the normalcy of it all until my gut turned over thinking about what is to come.
It is all out of our hands. I am once again reminded that I am not in control. It is such a helpless feeling, especially when it is your baby. My baby girl. My precious and sweet baby who has been through so much in her nine months.
We have yet to hear what tomorrow will look like, but this is what we do know: we are to arrive at 8:30am and the scan is at 10am. Once again, we will hand our precious baby over to the competent OR team. My heart breaks when we have to watch her go through those OR doors, but we've done it so many times now the team is like our family. Sweet nurse Katie will watch over our girl like she is her own and so will the doctors.
And then the dreaded waiting game begins. We wait. Wait for Marjorie to get out of the scan. Wait for someone to read the scans. Wait for the doctor to come and tell us if we need another two rounds of chemo or if we get to say, "No Mo CHEMO!" We wait.
There is no doubt today and tonight will drag on so I turn to prayer and the support around me, both in the flesh and virtual.
My body feels weak and my head so clouded. It is hard to articulate anything, even prayer. Lucky for me I received one of the most precious gifts a week or so ago. Three women, who I love dearly and am pretty sure they have a direct line to God, wrote and printed prayer cards for Marjorie. It took me many days to be able to read through the whole prayer because my eyes would get clouded over with tears. Nonetheless, Jordan and I have them around our house, in our cars and give them to our friends and family.
Thank you Mrs. Simone, Mrs. Carol and 'Aunt' Linda Jane, for this precious gift. I ask that everyone pray this beautiful prayer with us. Share it and spread it. I ask you to storm the heavens once again for my Marjorie. She needs your prayers…and so does her momma. Let us fill her hospital room once again with angels that will watch over her.
Below is a picture of the prayer card that I have been carrying around along with Marjorie's preemie diaper. The prayer card is about 4×2.5 inches and the same size as the diaper. This diaper was too big on Marjorie when she was born and it serves as a reminder that she has overcome so much and is doing it once again. How blessed am I that God handpicked me to be this miracle's mother?
It is will enormous gratitude and thanksgiving that I ask you to pray with us once again. Thank you for carrying us all through this time and for carrying us through tomorrow. No matter what the results will be, I find comfort in feeling your prayers and love wrap around my family in warm embrace.
Thursday, July 2, – 3:00pm
This morning Marjorie, Manning and I kissed goodbye to our Annie and Grand D. It was just perfect having them here to bring us home to our Island and help us get back settled. There were plenty of laughs, snuggles and clinks of wine glasses. We have so much to celebrate. Despite the circumstances, we are so blessed – I really can't say that word enough. Blessed.
The house is quiet today, except for the typical snoring of our bulldog, Lilly. Boxes, bags, hospital things and trucks scatter the floor. I am picking up slowly in between cuddling with my girl. I am enjoying the quiet and soaking in this time. There is something I treasure about solitude and quiet, especially after spending so many weeks surrounded by the cacophony of hospital noises.
Many of you have been praying for her scan, which was scheduled today, but like I posted Monday – it was moved to next Friday, July 10. We decided to postpone it so we could have an earlier scan, making the day so much easier on our little peanut. My heart races thinking about next Friday, but my mind keeps me in the present. Even though we don't have a scan today, it is still a big day for this momma. I finally get to go watch my Manning play his 'Blast Ball' tee-ball game this afternoon. Geaux Orange Team!
This slideshow requires JavaScript.
Monday, June 28 – 8pm
Happy heart. After five long weeks, my girl and I returned to our island. We were greeted by our island family who came together to clean out house and raise glasses to our Miraculous Marjorie.
God is so good. We are beyond blessed and eternally grateful for the continued prayers.
Our scan has been moved to next Friday, July 10. We decided a 1pm scan would be too difficult on her given she can't eat all day. Therefore, they moved it to the first morning slot they had, which ironically is the day the doctors told us all along.
So until then we plan to relax at HOME.  And praise God for our health and numerous blessings.
I have too many emotions flowing through my heart to describe right now. The only word that comes to mind is, you guessed it…grateful. 
Sunday, June 28 – 4:00pm
Tomorrow begins a very big week for us! We head to the clinic in the morning to check our counts. IF the counts are good Marjorie and I are packing up and heading HOME. Wow. I can't believe that is a possibility. Of course, I am not hanging all my hopes on that. If we have to stay close a few more days it is certainly not the end of the world. Marjorie and I love our Jacksonville accommodations.
The Siewert family (aka my Jacksonville family), Derek, Lara, Morgan, Kendall (who is galavanting through Europe) and Evan, have taken us in and loved us unconditionally. From gourmet meals courtesy of Chef Derek to hugs and laughs with Lara, my heart is beyond full.
They say that people are 'like family'. Well, the Siewerts are not 'like' family…they are our family. While I can't wait to get back to our home, I am so thankful and sad to leave my Jacksonville home – especially the constant laughs, food and wine cellar!
Marjorie is sitting on her Annie's lap as I type, with momma's twin/best bud Grand D making her laugh. She has been bubbly and giggling, chemo doesn't bring my girl down! We've had a few fussy moments that have all been cured with Zophran. Her hair has fallen out in the back, sides and front. So essentially she is sporting a super cool baby toupee. This week has been, dare I say, great.
Our really big day this week is THURSDAY. Marjorie's scan is this Thursday, July 2 at 1pm. This scan will tell us how much the mass on her adrenal gland has shrunk. Our PRAYER is that it has shrunk more than 50% so we can stop the chemo. NO MO CHEMO! 
Saturday, June 27 – 3:30pm
Monday, June 22 – 7:00pm
Well another good day in the books. Marjorie is doing so well, part of me is holding my breath. She is sleeping and eating well and of course giggling like crazy in between. It is so nice to have my girl back.
On top of her chemo and cancer, Marjorie is also cutting teeth because why not? I told her now is the time to do it while we have access to serious pain drugs! But they actually don't seem to be bothering her. I swear my girl is such a rock star.
Marjorie and I kissed goodbye to our Aunt Birdie today. We only cried a few tears as Shea walked into the airport to head home to Jackson Hole. Being able to say, "See you in a month," made the goodbye easier. Can't wait to watch my best friend walk down the aisle (and get some much needed R&R with Jordan in Jackson Hole).
Tomorrow Marjorie and I will greet our next round of visitors: Elizabeth and Ann Morgan, two of my college best friends from college who were Kappas with me. I can hardly wait to see them and for them to meet my Marjorie.
My days go by so fast thanks to all of the love I am surrounded with. Having my closest friends travel the country to be here with me during this time is the greatest gift a girl could ask for. I love having them meet my Marjorie and my Jacksonville family. Derek and Lara have welcomed my friends with so much love, great food and wine. Their support is immeasurable.
I still can't understand why this has all happened. How is it possible for a baby to be born three months early, fight for her life and then months later be diagnosed with cancer and have to fight again? I am not crippled by the "Whys" though. They just float in and out of my mind throughout the day. I know there isn't an answer. Or maybe there is. Maybe Marjorie and I will come to answer it as this journey unfolds. Some pretty spectacular things have happened during this journey. The people we've met, the love we've felt and the prayers we've received. There is a purpose and somewhere down the road we will uncover it.
Sunday, June 21 – 10:00pm
Marjorie and I kissed goodbye our two favorite boys this afternoon. Tears rolled down my face as sweet Manning blew me one last kiss. I hate this. I miss us all being together. I miss mundane life and the problems that come along with washing a pair of new jeans in a washer full of white towels. I miss the ordinary.
Despite the ache in our heart, we had an amazing day together. We are so thankful for this day together since we thought Marjorie would be in the hospital. Marjorie felt fantastic today and loved every second with her sweet daddy and silly brother.
I must admit though, our home away from home accommodations are not to shabby. Gourmet chef with a deep wine cellar and pool in the backyard. I'm not complaining too much. But what I'm most thankful for here is knowing that I am never alone. There is always someone to help or be a shoulder to cry on or to make me laugh. We are beyond blessed.
Marjorie seems to be handling the chemo pretty well. We certainly aren't out of the woods, but we are grateful for every day. Our next big date is Friday, July 10, her CT Scan. This will be the deciding factor on whether or not we need more chemo. If there is more than a 50-percent reduction in her primary cancer source (the mass on her adrenal gland), then NO MO CHEMO! If there is not a reduction, we will return for two more rounds of chemo and then rescan again.
July 10 also happens to be Jordan's birthday. I can't think of a better birthday present and I know he can't either. While we prepare for the worst, we are also prepared for the best with a really great bottle of champagne chilled in the fridge.
Regardless of the scan, we will toast to life – like we always do. While today was tough for Jordan and me, we still have so much to be thankful for. He is at the top of my gratitude list every day. I love you baby, Happy Father's Day <3
This slideshow requires JavaScript.
Saturday, June 20 – 9:00am
It was a long night for this momma. Lots of up and downs to check on and take care of my girl. Thankfully (and more importantly), Marjorie got a few peaceful hours thanks to our friend benedryl. It helps her sleep through the beeps, revolving chemo bags and door of nurses.
Marjorie received three separate chemo drugs. The first two ran over an hour and the last was fifteen minutes. The chemo ended around 1:30 or 2am.
The last drug just looked scary. The nurse hung it in a black plastic bag and the liquid medicine glowed red as it dripped into Marjorie's tiny body.
I rocked her during her chemo treatment and hugged her tight during that last red drug. I have no idea what the name was because I'm to tired to retain information. In my non-medical opinion, "red rum" was the scariest drug I've ever seen.
Marjorie woke up happy happy! Aunt SheaBird popped up to give her a bottle and play with her so I could attempt to sleep a few minutes.
She is snoozing on my chest as I type and I am even snoozing on and off. Hoping we are heading out today. More to come after the doctors round.
One week ago we walked out of these hospital doors and this morning we walked right back in.
Our morning began at the Nemour's Pediatric Oncology Clinic. We had an initial scare that her PICC line was dislodged. We were sent down to X-ray and are so thankful everything was fine.
Turns out because she is so small and so is the PICC, it clots easy. So while it wasn't fully clotted there were fibers blocking the blood flow from being pulled for labs.
The sweet nurses administered a flush of TPA that sat for thirty minutes. Then viola…blood flow.
From there Shea and I went to lunch at a yummy restaurant in San Marco, bb's. We clinked wine glasses and a Dr Brown's bottle to life and to smashing cancer.
As I signed the check, I received the phone call that her labs and counts were perfect. Off we went to the hospital and our beloved fourth floor.
My heart knotted as we walked into our room. This again? It had been such an amazing week of rest and relaxation at our friend's house. I almost forgot my baby had cancer. Almost.
We did get an exciting surprise today…we might only be here one night. Our last chemo was three days so that's what I prepared for this time. But round two is different.
Marjorie is prehydrating now then will receive three chemo drugs back to back then will post hydrate. If she tolerates it well we will head home tomorrow!!
Big prayers we are one night only AND that this is our second and LAST chemo.
With love and gratitude until later…


Friday, June 12 – 10:00am
And on the seventeeth day, her momma packed up and waited patiently (kind of) for the doctors to make rounds with the final say. Of course, everyone knows it is my momma that really has the final say and she says it is time to GEAUX!!
Waiting. Waiting. Waiting.  
Thursday, June 11 – 10:00pm
HOME. Tomorrow, tomorrow!!!! I could not be more elated!!! It has been a busy and amazing day filled with visitors and lots of love.
First of all, Marjorie and I are overcome with joy seeing all of the pictures from the WalkOn's fundraiser in Baton Rouge today. Seriously, the love and support is just incredible. We just wish we were there to share some fried pickles and alligator!!
Marjorie's withdrawals were okay today and she really seems to be doing okay with the wean plan they have her on. Her blood pressure is also under control for the most part. My girl is amazing!!!
Marjorie's sweet Aunt Mere flew down from DC to be with us this weekend so we are all having a big slumber party. Aunt Mere is a cancer survivor herself and came with an awesome #smashcancer onesie. Marjorie was upset Mere didn't have a matching onesie to wear with her. We are thrilled she is with us this weekend. She has been a light of love and humor in this journey and throughout my life.
Our day was also filled with other visitors who came with sweet gifts and introductions. I actually had never met them in person, but they knew my Marjorie's story and were so inspired by her. Even our nurses received a big happy of catered lunch thanks to one of Marjorie's followers. We were beyond touched by the kindness and love today.
I am counting the minutes to leave the hospital tomorrow. Our group of doctors and nurses have been extraordinary. Marjorie's first birthday party invitation list keeps growing. We love our new family and look forward to seeing them OUTSIDE the hospital doors.
One sleep left.
This slideshow requires JavaScript.
Thursday, June 11 – 9:00am
We are SO close! I can see the exit doors!
Marjorie had another great night. She woke up every few hours, but would go back down with a little bottle. So far the transition to oral pain meds has been a success. They will continue to cut the dosage down a little today.
Her blood pressure went down too, but last night it went a little too far down. The joys of medicine. You tinker with one thing then have to go back and change another. They increased her BP meds yesterday, but with her withdrawal subsiding it seems we don't need as high of dose with the BP meds. So back down we go.
Marjorie's counts went WAY WAY up! We are back in normal range – wahoo. Today we will continue to slightly wean and closely monitor her and then we should be skipping out tomorrow!!
Our big sister from another mister, Meredith, gets here today and Marjorie and I can hardly wait! Prayers for an uneventful and joy filled day!
Wednesday, June 10 – 10:00pm
Phew. What a busy day! But a good busy! Lots of visitors – from our fave former nurses to our Jax family, it was a joyful day. We had one really bad withdrawal/tummy episode, but other than that Marjorie was a happy girl.
I think what she was most happy about was hearing the doctors say the big 'D' word. DISCHARGE. Woohoo. My instinct is we will discharge Friday, but Marjorie is the boss and will tell us when she is ready.
Her counts are way up so that is great. We are still working with her blood pressure, but they increased the dose today and it seemed to help.
They slightly decreased her pain meds and change the orders for her to take them orally. We just started this late afternoon so I'll report in the morning how it went!
Marjorie went down so peacefully tonight. She did not fight or have any episodes. Having my baby girl come back to me with her giggles and snuggles, has made the pain of being away from my other baby bearable.
We are in the HOMESTRETCH of this hospital stay. I can see the light and it has never looked more beautiful!
Wednesday, June 10 – 11:00am
Another great night for our girl. She woke up every few hours, but fell back asleep with a bottle and her momma by her side. She woke up cooing and laughing at the nurses this morning and it was music to my tired ears.
We got news this morning her counts went WAY up! So we can check that off of our discharge requirements. Today we will begin giving her pain meds orally and see how she handles them. We also need to get her blood pressure under control.
Her blood pressure has been very high since we got here, which is expected. Her liver is so large and puts pressure on her kidneys. Also, withdrawals can cause it to go up. So we will continue tinkering with her meds and hopefully get it under control soon.
In my super professional non-medical mom opinion, I think we might discharge Friday. While I would love to head home tomorrow, I want to be 110% sure we have her pain and blood pressure under control. And of course you have factor in the medical unknown.
So we pray for another eventful day with no fevers and for her blood pressure and pain withdrawal to regulate. We also say goodbye to our Annie so prayers of thanks for her and for her safe travels back to the bayou.
Tuesday, June 9 – 10:00pm
Marjorie had a great day. She was more like herself than she has been in over two weeks. Thanks to a good night sleep brought to you by morphine and Ativan. We are doing the same tonight and tomorrow they want to try to switch her back to oral morphine in hopes we can go home soon! But we have to get this withdrawal under control before we go anywhere.
Her counts remained around the same. They fell from 71 to 66, which is all part of the chemo game. We need her to be over 100 so that should take care of itself in the next day or so.
Today we said goodbye to our extraordinary Nurse Mackenzie, or Two-Knock Mack as we like to call her. She has been here since Day 1. She has held our hand, made us laugh, laughed at us and cried with us. Two-Knock fell in love with Marjorie the moment she saw her and we fell in love with Mackenzie in that moment too.
The only reason I allowed her to leave is because she is getting married next Friday. Marjorie is SO excited to be her flower girl. What an honor! Of course, her wedding is scheduled duringMarjorie's second round of chemo so our plan is just to bring her chemo pole down the aisle and Mackenzie's blue chemo protective gloves and gown can be her 'something blue'.
In all seriousness, Mackenzie is yet another angel here on earth. She is doing the exact work God put her on this earth to do and we feel honored to have been her patient. I told Marjorie she doesn't need to come back as a patient to see her Two-Knock. We can see her outside of the hospital.
Tears poured down my face as I hugged Mackenzie goodbye. Of course, I know I will see her again. But this has been such an emotional week for my family and me and these outstanding nurses and doctors have eased our heartache and lifted our spirits, especially our Two-Knock.
While it was a good day for our peanut, I hit a wall as I watched the sunset over I-95 and the St. John River. Between our Mackenzie leaving and getting a video from Jordan of Manning running the bases (or attempting to) at his first 'Blast Ball' game, I felt crippled by heart ache.
I miss Manning and my puppies. I miss curling up with my husband on the couch at night. I miss the Island life and being outside. I miss walking next door to my best friend's house and having a glass of wine while planning our next a Sunday Funday. My heart aches for home.
Two weeks ago today, I took my daughter to the doctor for constipation and left in an ambulance. Today I was overcome with those emotions. I know my mind and body are still in shock and survival mode. We all have that instinct to just survive. But at times, like tonight, the reality of it all comes crashing in on you.
Late this afternoon, I was handed some informational papers and a book by the head nurse. She handed me a book with the bold title, Childhood Cancer. My first reaction was to hand it back and say, "Oh, no thank you. I don't need this."
It still doesn't seem real. My child has cancer. Wow, that was hard to type. I don't think that will ever get easy to say. Even when I get to say, "My child is a cancer survivor,' my stomach twists a little. Why my baby?
So as I lay my tired body down on my stiff hospital pull out, I know there will never be an answer to my why. And I'm honestly okay with that because I know the reason to it all. Mackenzie, the outpouring of love and my precious family are the reason. This wretched cancer reminds us that the reason to life and to living through the dark is because you get to see all of the people who bring you light in your life. And there is no doubt our world is lit up like an operating room.
I'm not just thankful to my support team (which is all of you), but to myself as well. Because of the years of work I have done in my own recovery, I am able to go through this journey allowing myself to feel every emotion and know that it is okay. I am at peace with my emotions, with this journey and mostly I am at peace with myself.
Prayers up for withdrawals to subside and for us all to find peace in our hearts no matter what wrecking ball life throws us.
This slideshow requires JavaScript.
Tuesday, June 9 – 11:30am
Hooray for a full night's sleep! Marjorie slept like a champ last night. We were able to change her morphine to be administered through her PICC line rather than orally. This allowed the nurse to give her midnight dose without waking her. Therefore, we were able to get ahead of the curve in terms of withdrawal.
The reason they originally ordered it orally was to prepare us for discharge. We obviously can't go home still on IV meds. But it doesn't do us much good if she is still suffering withdrawal. So we will remain on IV meds through tonight and see what tomorrow brings.
We haven't gotten her counts back today. The counts have to be above 150 for us to go home. We will most likely be there until the weekend, which is totally fine. I want to stay as long as we need to in order to make sure she is 100% ready to be home.
Speaking of home…we will actually be moving in to our Jacksonville 'family's' home. The Siewerts have been a part of Jordan's life since he was a kid. Derek was the best man in our wedding and Lara is one of my closest friends. We are so blessed and thankful they have offered their guest suite and are able to take Marjorie and me – and our visitors in!
While I would love to go home to St. Simon's, I am not willing to take any chances of being that far from Wolfson. It is just not worth the risk or anxiety. So we will be Jacksonville residents until we are all clear from chemo. And I'm not complaining…Derek and Lara have a pool, a stocked wine cellar, a built in babysitter and Derek is a gourmet cook. There's a good chance we'll remain permanent guests.
In all honesty, I am completely overwhelmed with the outpouring of love and support. Jordan sent me a picture last night of a package from a few of my sorority sisters. It was not for me or Marjorie, but for Manning. I burst into tears seeing their sweet notes. How did I get so lucky to be absolutely surrounded with such extraordinary people?
Thank you for loving me, my family and of course, my Marjorie. Sending all the love and gratitude right back to you.
Prayers for the withdrawals to improve and her counts to go up, up, up.
Monday, June 8 – 9:30pm
Short update tonight because baby girl finally fell asleep and this momma needs to fall asleep too!
Marjorie is struggling with withdrawal and it is breaking my heart. She wakes up happy and herself then eats (sometimes throws it back up) then begins jerking her arms and legs and then just become inconsolable.
There is nothing you can do to help her through it. I feel so helpless. The doctors started her on round the clock Ativan and small doses of Morphine to help with it. I realize it sound counterintuitive to give morphine, at least it did to me, but apparently it is pretty standard.
Marjorie's belly went down another two centimeters today. Wahoo! Yay for shrinkage. Her biopsy surgery was one week ago today. Gosh, it feels like a year ago. These past two weeks seem like an eternity.
The chemo seems to really be working. It is hard to tell whether her current side effects are from chemo or withdrawal. The one thing I know for sure is that they suck…and that cancer sucks.
So our goals and prayers for the week are to get her weaned off these meds and get her counts back up so we can check out of our Hotel Wolfson.
Overall, it was a good day. A happy day. We celebrated her birthday, ate cupcakes and giggled. We are on the up. I can feel it.
This slideshow requires JavaScript.
Monday, June 8 – 10:30am
Well I could have updated at 4am because that is what time we woke up. Marjorie was bright eyed and cooing, ready to play. I gave her a bottle and it came right back up in addition to a blow out diaper. Marjorie also decided she no longer needed her feeding tube so out it went.
I took her out of bed, rocked her and she actually wanted to eat. So she had another bottle and kept it down. She became very sleepy and agitated around 6:30am and the nurse came in to give her Ativan.
These withdrawals are lingering, along with chemo side effects. Marjorie is happy and eating better, but can't seem to settle and fall asleep. She fights sleep and when it gets really bad her eyes cross. I hate having to give her meds, but she needs to rest.
Her belly is doing AH-MAZING! Marjorie's biopsy surgery was one week ago today. Her belly girth measured over 54cm and today we are down below 48cm! The chemo and prayers are working.
Her ANC count is 71! YAY! There is another count number that is 1, but Nurse Mackenzie started talking about moving decimals and multiplying to get this count and that. She lost me when she moved a decimal. I don't have enough caffeine to break out multiplication numbers. Regardless of math, it means that they are on the up. They can dip down to zero again tomorrow, but this is a great sign.
The biggest news of the day is that our peanut it 8 MONTHS old today! Happy birthday sweet Marjorie! Lots of celebration pics to come!
Sunday, June 7  – 8:30pm
Phew. Well not so much the boring day we hoped for, but it turned out to be a good day overall.
Marjorie spiked a fever early afternoon. A rush of nurses came in to get blood cultures and who knows what to send away ASAP. They then started her on another antibiotic and Tylenol. They were literally in and out in a hot minute it made my head spin.
Like most difficult times in life, this one takes me from the highest of highs to the lowest of lows in minutes. This morning we were celebrating our giggling girl and the next I was hit with the reminder that chemo has side effects and the ugly reminder that my baby girl has cancer.
The fever resolved within an hour or so then Marjorie was ready to eat. Of course, this made us nervous given yesterday's episodes of vomiting. We fed her one bottle, then another and another. WHAT? I was so happy to see her getting her appetite and best of all she kept it all down!
The other highlight of my day was seeing my sweet Manning. My heart has been aching for him. We played and played in the 'Tim Tebow' room down the hall. I couldn't let him see Marjorie since her counts are at zero. But I certainly got my fill of snuggles and giggles.
Marjorie's withdrawal effects started back tonight. Her eyes crossed again and she started her weird twitch. It makes me so nervous, but I am hoping it is just lack of sleep. She fought naps all day long and gets very irratable. I try to keep reminding myself everything she has been through these past two weeks. All of the meds, scans, surgery and everything in between.
One day at a time. One minute at a time. And in this minute, this momma is very tired.
Goodnight sweet friends and sweet dreams.
Sunday, June 7  – 11:30am
This late morning update is due to our girl being happy and awake this morning! We had a super restful night. The Oncology floor is like the Ritz compared to the PICU, except they both share the crappy thread count sheets. But they felt like Egyptian cotton to my tired body last night.
Marjorie snoozed all night thanks to her new friend, Ativan. She woke up for 45-minutes at 3am and other than than peacefully slept until 8am. The most exciting news is that my peanut woke up smiling AND with TWO straight eyes. No more cross eye. Thankfully, it was just a side effect of withdrawal.
Marjorie's ANC (absolute neutrophil counts) is at the big fat ZERO. This is all to be expected. Her counts could remain at zero for the next day or so before they start building back up. We just have to keep a close eye on her a pray she doesn't spike a fever or infection.
Today's goal is complete boredom. We don't want any excitement – we have had ENOUGH! They began her trickle feeds again, which means they are slowly feeding her through her NG tube to get her stomach working again.
The doctor this morning called Marjorie "Textbook 4S Neuroblastoma." Nurse Mackenzie and I got a good laugh out of that because NOTHING about my girl is textbook. Nothing.
My girl was back to herself this morning – laughing and smiling. And daddy is with us today and couldn't wait to scoop up his baby girl. It made my heart SO happy. Looking forward to a relaxing Sunday at the Oncology Ritz Carlton. We even have a great view of the river and I-95. Feel free to call me if you need a traffic update.
With smiles and thanks…Happy Sunday everyone.
This slideshow requires JavaScript.
Saturday, June 6 – 10:00pm
It was a LONG, rough day, with some shining moments too. First the good stuff:
Marjorie shed all lines except her PICC and NG tube – even nose cannula!
I got to hold my baby girl
We finally made it back up to our 4th floor oncology family. Happy heart.
After five days of heavy sedation, she began experiencing withdrawal. At first, we weren't sure. There were some signs, but nothing major. I thought her kicking and moving was just her waking up and starting to feel better. Part of it might have been, but there is no doubt it was withdrawal.
By the time we made it up to the fourth floor, Marjorie was non-stop motion. She wasn't hurting or fussy, just wild. Mom said she was playing traffic director all day. We were trying to find some laughter in our very long day.
The most concerning part of the day was that Marjorie's eyes crossed. It could be a side effect of withdrawal and no sleep or it could be something else. So, as usual, we will monitor.
The other upsetting part was the vomiting. We were able to bottle feed her some Pedialyte, which she loved, but it did not love her. She threw all of it up and then every medicine given through her NG tube after that.
It absolutely tears your heart out to see your baby throw up. She hasn't eating in nearly a week and has had minimal through her NG tube.
Poor peanut's body has experienced a lot of trauma in a short amount of time: three sedations, chemo, surgery, ventilation and now withdrawal. My heart hurts and I am so tired.
Momma was with me all day and when we finally got upstairs she asked if I wanted her to stay the night. With tear filled eyes I said yes. I am so thankful to have 'back up' tonight. Also grateful to have someone to laugh through this with me. We are pretty sure Marjorie was seeing purple unicorns tonight. She is sound asleep now thanks to the help of some Ativan. And mom and I aren't far behind her.
Prayers for sweet girl to start feeling better and eating again. And prayers that these eyes uncross and it was just a crazy side effect.
This slideshow requires JavaScript.
Saturday, June 6 – 10:30am
Marjorie had a pretty good night. The rash did not spread and never seemed to bother her. They did start antibiotics as a precaution though.
Our fave PICU doctor is back and we are so happy. He immediately turned down her oxygen settings, removed her arterial line, discontinued all sedation drugs and allowed her to eat! Barring any major withdrawal from the drugs, we should be back in our room this afternoon!
They have to be cautious when weaning from these two strong drugs because babies can experience withdraw. Marjorie is definitely experiencing a little of it now as I type. She is talking/crying, but dozing. Just a bit restless. I hate hearing it, but at the same time it makes me happy knowing we are getting so close to having my giggling peanut back.
Once we get upstairs I will get to snuggle my girl. I last held her Sunday, but she was so uncomfortable it was tough on her.
All of our baby steps are adding up and we are beginning to see the hospital exit doors. We still have quite a few days though. Marjorie needs to be taking in all nutrition orally and her GI system needs to be back up and running.
Regardless, I am SO happy our PICU stay is coming to an end. I am thankful for the fantastic doctors and nurses who loved and cared for my baby girl. More to come later…hopefully from the 4th floor!
Friday, June 5 – 10:15pm
Marjorie began her day on a vent and is ending it on a high-flow nose cannula. She is also ending it with a rash just in case her momma hasn't been through enough this week.
Let's start with the vent.
During rounds they declared she was ready. Praise baby Jesus. The removed the vent after rounds and put her on a 'bi-pap' machine. She looked like a tiny Hannibal Lecter. As they continued to wean her sedation meds, my peanut woke up and she woke up in a fit of rage. I don't blame her. I would too if I woke up starving with that thing on.
At the 4pm rounds, the doctors talked about keeping her on this contraption over night. Enter: Momma Gorilla. I explained that less than a week ago her liver was twice the size it is now and she was breathing with a nose cannula and nothing more. There is NO reason why you can't move her down to a cannula.
The doctor coming on call for the night heard me out and agreed, but said it would be a toss up. He left the decision up to me. Apparently, I earned a medical degree somewhere along the way. So I said let's do this. I did not want my baby sedated anymore and I knew she could handle it.
Momma was right.
The high-flow nose cannula still gives her that pressure she needs, but not a wind tunnel in her face like the mask. She is so much calmer, but definitely still feisty.
Every parent hates to see their child cry, but I was SO happy to see her awake and alert and screaming mad. Sadly, her scream was more like a muted cry into a pillow since her throat is sore from the vent. Nonetheless, the girl was giving her best effort.
My mom was with me today and asked if I wanted to go out for dinner and get out of the hospital. I hesitated, but Marjorie was snoozing and doing great. We ran down the road for a great glass of wine and dinner, even sitting outside to soak in some sunset sunshine. I even got to wear sunglasses.
My how quickly my world has changed. But at the same time, I feel like we are right back where we are a few months ago, just a different wing of the hospital. It is that same feeling of helplessness coupled with feeling so out of place in the real world.
I watched as couple got out of their cars all dolled up for date night. What is that like? It feels so long ago. Do they know that children can get cancer? Do they know that there is a hospital a block away filled with cancer patients? Do they know that in Room 317, my almost 8-month old daughter is battling neuroblastoma? I felt as though I was in a movie where I am sitting still and the world is zooming around me.
I returned back to the hospital and headed for Marjorie's room in the PICU, praying this is our last night in the PICU fishbowl (all walls are made of glass). She was resting peacefully and then we had to draw some labs. As our awesome night nurse, Romney, drew labs I noticed a rash on her neck. Then on her belly. Then on her arm. Then on her hand. It was growing by the second.
Romney ran to get Dr. Sullivan who ordered more labs and antibiotics. With her immune system being non-existent, it could be a host of things. Luckily, she is not running a fever and she is comfortable and sleeping as I type.
My plan tonight is to sleep with her in the PICU. I could go upstairs, but I just can't leave my baby when she is awake – especially knowing this mystery rash is on her. We should have answers soon about the rash.
Prayers tonight that she continues rocking these breathing machines and that we FINALLY make our way back up to the Oncology floor tomorrow. Who knew I would ever be praying to get back to the pediatric oncology floor? Puts life in perspective.
This slideshow requires JavaScript.
Friday, June 5 – 9:00am
Marjorie's white blood cells bottomed out overnight. We are officially in the "nadir" zone, which means no germs.
This is all to be expected with chemo. But it certainly doesn't soften the blow when you have to put on a hazmat suite to see your baby.
More to come after rounds.
This slideshow requires JavaScript.
Thursday, June 4 – 4:15pmWell, it looks like we are going to celebrate #TGITFF (Thank goodness it's tube free Friday). They are keeping her on the vent overnight to help clear out her lungs. The x-ray this morning showed some 'haziness' so they want to give her the best shot possible at succeeding off the vent.I get it, but let's be honest – it sucks. I haven't held my baby in nearly a week, except once on Sunday and it is killing me. If you ask Marjorie, she will tell you she is ready for that tube to come out. She is breathing beautifully and gets so angry when she is awake. I don't blame her.As a mom, it is the hardest thing not just to see your baby on a vent, but to hear her soundless cries to get off. My heart just shatters and I feel so helpless.I'm just antsy today. Ready to get back up to our room/hospitality suite WITH my girl. I try my best to remind myself that they are just being extra careful so they don't have to re-intubate.Marjorie is looking great in all other areas, so that is a great positive to focus on. Her belly is still soft and going down. The IV in her foot blew today so they took it out. One line down, thirty more to go. The more lines and tubes she has the greater risk of infection and she doesn't have any bacteria fighting cells to ward infection off.I'm super tired today. I know, I know – be patient, doctors know best. My head knows those things, but my heart sings a different song. I am missing home. I miss my girl's smile and snuggles. And I am desperately missing my baby boy. Looking forward to starting a new day tomorrow.Prayers for strong lungs, peaceful sleeps and no pain for my peanut.Thursday, June 4 – 8:45pmWelcome to #TubeFreeThursday! Doctors are talking about *possibly* taking her off the vent this afternoon or tomorrow at the latest. This is FAN-freaking-TASTIC. I miss my girl's smile and laugh so much and getting off the vent is one step closer to seeing it again.
Marjorie's infection fighting cells are decreasing, as expected with chemotherapy. "Nadir" is the term used to describe when these cells bottom out, ultimately meaning she is very susceptible to infection. I am once again a germ freak mom. If you come within ten feet of my baby you run the risk of getting doused in anti-bacterial soap. You've been warned.
My hope is to see us back up in our room on the Oncology floor by this weekend, especially since she will be hitting her 'nadir' we want as many tubes and lines out as possible. But we are all following Marjorie's lead. She is the boss.
Marjorie kissed her Aunt KiKi goodbye this morning. Jessica swooped down when I needed her most. She took over all medical discussions and decisions, allowing me to rest my tired brain and hang up my NICU medical degree for a few days. Jessica is heading back to DC because she knows Marjorie and I are on the up and up.
My sister is one in a million, much like her niece (ten in one million children are diagnosed with neuroblastoma every year – so I guess Marjorie is ten in a million). But Jessica is certainly one in a million. She taught us the ins and outs of neuroblastoma this week and I taught her who Taylor Swift, Bruce Jenner and the Kardashians were. We all have our strong suites, and pop culture is not one of Jessica's.
Jessica brought her brains, her humor and her sisterly love. She doesn't wear a bleeding heart on her sleeve like me. She keeps her heart tucked away under a crisp, white lab coat, but there is no doubt her heart is as big as they come.
I love you, Jessica, and I'm glad you're mine. Thank you for loving me and protecting me. Thank you for loving your Marjorie and protecting her. We've got this now. Next time you come our girls will be back in matching swimsuits, soaking in the sunshine and we will be toasting to beating cancer! Safe travels. I love you.
This slideshow requires JavaScript.
Oh and look who made the BR news last night 🙂 So proud of my girl for inspiring and touching the hearts of so many.
LInk to the story: Miraculous Marjorie's story ignites prayers across nation
Wednesday, June 3 – 9:15pm
#NoMarrowWednesday was a success!!! Oh goodness it was a good day. I feel like I can breathe – almost. Sweet Marjorie has done just amazing. I am in awe of my baby girl.
The moment you become a mom you realize a love that is greater than yourself. A love greater than you could ever imagine. And just when you think you can't love them anymore, they smile or giggle or eat their first food. They grow and develop a personality and talk. Manning makes us laugh on a daily basis with his curious spirit. Gosh I miss him.
Marjorie and I have been through it all together and it hasn't even been a year. I just stare at her in amazement – amazement at her fighting soul and amazement that God hand picked me to be her momma. How did I get so lucky?
A week ago, I felt in my gut something was wrong – really wrong. Today, for the first time, I felt as though we were heading in the right direction. Marjorie is improving little by little.
I carry Marjorie's NICU diaper in my purse. I actually use it in many of my talks. It is the only thing I have that can put into perspective how tiny she was at birth – and, of course, how far she has come.Today, I taped the diaper to her PICU crib. The road, once again, is long, but we have traveled the road to health before and we can do it again. I've got the diaper to prove it.
Marjorie is resting and hopefully will have a good night. They slowly weaned a couple of settings on the vent today. Progress! Her belly went down somewhere between 2-3cm, which is HUGE! Prayers are working and are being answered. My girl is proof that prayers work. We feel the angels and we are so thankful for them.
My sister leaves tomorrow. I am so sad to see her go. She has been a monumental help both in the medical field and in the support arena. Jessica has loved Marjorie and carried me through these last few days. She is leaving because she knows Marjorie is on the up – and she knows I am too. I've got one amazing sister. Regardless of the years of abuse, I love my sister to pieces and forgive her for all those black eyes.
Tonight, my mom and sister drug me out of the hospital to dinner. I was very hesitant to leave my girl, but they (and the nurses) convinced me it would be fine. We made our way to a great little restaurant less than five minutes away. It was a fantastic girls dinner with an even better bottle of wine. We toasted to Marjorie, to Jess, to momma and to me. We toasted to life and to family – both on and off the tree.
My baby girl might have cancer, but I will ALWAYS find a reason to raise my glass and toast to life because even on these dark days there is so much beautiful. Thank you all for being our rainbow in the storm.
This slideshow requires JavaScript.
Wednesday, June 3 – 9:45am
Jessica and I woke up after a restful night in our hospitality suite. I came downstairs to hear Marjorie had a good night too. She started to wake up a bit and move around, which is a good thing that she is responsive, but we want her to remain sedated.
Jessica and I were of course here for rounds – this time not in matching outfits. Overall, everything is moving in the right direction. We are still waiting for the liver to shrink and her belly seems to be softer. Doctors are definitely pleased with what they are seeing.
Marjorie's blood pressure remains high, most likely from the pressure the liver and extra fluid is putting on her kidneys. They went ahead and started a round of Lasix (a diuretic) to help alleviate some fluid. She has had some huge wet diapers, which is a great sign it is working and her blood pressure has even come down.
Our fighter is also making progress on the vent, which is a good sign the liver might be slowly starting to go down. They are SLOWLY weaning her settings and we pray we continue in this direction – because it is the right direction. I also brought some of her headbands downstairs. Having a bow back on her head is definitely a HUGE step in the right (fashionable) direction. At least it makes her momma smile.
They restarted her feeding tube yesterday, but very slowly. If you haven't noticed, 'slow' is the key word here. We are on 3mL per hour. The point is just to stimulate her gut to start working again. After she comes off the vent, we hope to begin bottle feeding. We won't be discharging until we are stable with breathing, eating and pain meds. But we try not to get ahead of ourself and focus on the day at hand.
They monitor so closely here, which is comforting. I can't say enough amazing things about Wolfson, its nurses and doctors. We have had a revolving door from past staff members to new members who have fallen in love with our girl and take care of her as if she was their own.
Our prayers continue to be for liver shrinkage. We will also hear back on her bone marrow biopsy today. BIG prayers there is no cancer in the bone marrow. Or as Jordan says #NoMarrowWednesday
This slideshow requires JavaScript.
Tuesday, June 2 – 9:00pm
This afternoon was pretty uneventful for both Marjorie and me. The more time I spent with Marjorie the better I felt. I was still struggling with it all this morning. My body was still shaking and my mind was so foggy. I thought a night's sleep would help me be more alert and responsive. I was wrong.
It was next to impossible to get my body out of bed. I felt as though I had the weight of the world pinning me down. As much as I wanted to get up, I just couldn't. Then Jessica texted me saying the doctors were making rounds.
I got up and staggered to the bathroom. Brushed my teeth and hair and went to put on clothes, which are extremely limited at this point. I was forced to put on a Nike jacket my mom gave me. It's a great jacket. One problem: Jessica was wearing a matching one downstairs.
Text from Jessica: Our room is next for rounds. Hurry.
Shit. Matching Bobbsey Twins it is. I raced down the hall and into the elevators. I hit the third floor and felt as though my legs were going to give out. Why did I still feel so weak? I slept last night, well sort of.
Marjorie's room was surrounded by doctors, residents and nurses when I got there. I walked in and saw Jessica in the matching jacket. The doctor stopped and smirked at the set of Nike twins standing in front of him.
The resident began to rattle off Marjorie's case as if she was reading a seafood gumbo recipe card. I once again felt as though I was floating in a dream. My eyes went between the resident talking and my sweet baby girl lying in her bed connected to every tube this hospital has to offer.
I held Marjorie's hand while I let my sister handle the medical entourage in our room. It was still too much. A voice in my head kept saying, "Get it together. You need to listen. You need to know what's going on." But my body and mind could not catch up.
When rounds were complete, Jessica went upstairs to shower and change out of our matching jackets. I was left alone in her room for the first time.
I stood over my precious baby girl, talking to her and eventually sobbing to her telling her how sorry I was. She is heavily sedated, but I know she hears me. I sang our song and felt her little hand squeeze my finger so tight I never wanted to let go, but I did because I felt as though my knees were going to give out.
Jessica returned so I stepped out to go to the bathroom. On my way back to the room, I saw a sign that said 'Patio Access'. I decided to explore and also that it would hurt to get some fresh air, considering that I had not been outside the hospital in a week. Literally.
I found a bench and sat down. My hope was that maybe some time outside would do my mind and body good. That if I took a little 'breather' my mind would return and I would be able to process and have conversations with doctors again.
My phone buzzed signaling new emails. I opened my phone and glanced at the emails. There was one from my former Carolina House therapist. I typically reply via email, but for some reason my hand went to the phone number in her signature. I didn't know why at the time, but I know now.
Before recovery, I kept everything bottled up inside. I never listened to my body or intuition, whether it be hunger cues or emotional cues. Today, I follow my 'gut'. Often times I have no idea why I do something until much later.
The phone rang twice before Christy picked up with a soft, "Hi."
"Hey," I muttered back.
I filled her in on the medical side of things, Marjorie's treatment plan and prognosis. Then somewhere along the way, my voice cracked and the flood gates opened. I've cried a lot this week. I've broken down a lot this week. I've almost passed out multiple times this week, but I haven't cracked. I cracked and let it all out. The sadness, the anger, the confusion, the desperation to trade places with my baby girl. Emotions poured out.
I needed a safe place and a safe person. I am lucky to have two 'safe' people in my life. They are not in my inner-circle, but know me better than most. I did not know when I clicked the call button, but I knew when I hung up why I called. My intuition and spirit knew that was what I needed. I did not need someone to say it was going to all be okay. I needed someone to let me pour it out, to cry with me and to tell me THAT was okay.
All to often we want to fix: fix problems, fix emotions, fix cancer. I seem to find myself in these situations that there isn't a 'fix,' but rather a 'sit with it and in it' kind of scenario. Sigh. But I've been through it enough to know if I don't let the emotions out, if I don't take care of myself, then I am no help to Marjorie and the people I love most.
I walked back into Marjorie's room weak and tired, but calm. My emotions were calming and settling down, kind of like Marjorie's heart rate. After a yummy lunch (thank you, Derek, for Publix Sub Tuesday), I found my mind clear and almost alert.
My 'island besties' came to visit, as well as a sweet friend from Jacksonville. They all loaded me down with snacks and special gifts. I was actually able to talk and enjoy the visit…even laugh.
Then Dr. Gauger came in just to check on Marjorie. She was our first Oncology doctor who gave us our diagnosis and game plan. She isn't even on service this week, but wanted to check on Marjorie. Did I mention how extraordinary she is? She has stolen our hearts like Marjorie has stolen hers.
I suddenly found myself having a lucid conversation with Dr. Gauger and our PICU doctor. I was answering questions and responding in complete, coherent sentences. Sounds silly, but I honestly haven't been able to put words together.
Today was, dare I say it, a good day…well in comparison to the past week. Marjorie is stable. Marjorie is COMFORTABLE and that is all that matters. We will stay on the vent until her liver goes down. When will her liver go down? When will the chemo start working? Well, those are the million dollar questions.
Tonight Jessica and I are having a slumber party upstairs in our old room, which we have now dubbed the 'Hospitality Suite'. We both need a good night's sleep.
I can't thank the Wolfson staff enough for their love and kindness. I rest easy knowing my girl is just downstairs resting peacefully.
Tonight's prayers are said to St. Erasmus (Patron Saint of Liver Disease) and St. Peregrine (Patron Saint of Cancer). It is time for some LIVER SHRINKAGE!!!!
This slideshow requires JavaScript.
Tuesday, June 2 – 12:00pm
Sweet baby girl had an okay night. Her amazing aunt watched over her bedside as the team worked throughout the night to get her comfortable and keep her that way…changing beds, tweaking pain meds and vent settings.
I got some rest upstairs in Marjorie's empty hospital room. I literally passed out and woke a few times before coming down to her bedside at 8am.
Status for now is to keep her comfortable. The PICU team has decided to keep her on the vent until her liver goes down. Looks like we will remain in PICU until then. I am able to sit by her today. Seeing your baby connected to a thousand tubes is never a sight you can get used to, but at least now I am able to sit here without crying hysterically.
I'll post more as the day progresses. I'm writing from my phone so I can stand at her bedside. I want her to know her momma is here. I sang her our song this morning, Angels Watching over me, and she squeezed my hand letting her momma know we are going to be okay.
Prayers up for the chemo to kick in and for this liver to go down!
Monday, June 1 – 9:30pm
There are no words to describe today…or this past week for that matter. After waiting nearly two hours in the tiny, windowless pre-op room, the doctors finally came to take her back. Marjorie was in pain and struggling with her breathing. Jordan and I felt helpless and broken.
We came up to our room where we waited out the next few hours. The clock ticked by and the surgeon finally came up at 6pm to tell us everything went okay. He was able to get a good piece of liver that would suffice for the biopsy. Her entire liver was covered in cancer nodules. Hearing that made my stomach sick. F*&k Cancer.
Surgeons also did a bone marrow biopsy while she was under, which also went well. We should have some preliminary results tomorrow and the rest later this week to confirm the diagnosis of S4 neuroblastoma.
It was another hour before Marjorie was taken from post-op recovery to the PICU. Mackenzie, our fabulous primary oncology nurse and another angel on Marjorie's team, came to take me down as her shift ended at 7pm.
At this point, I had sent Jordan home. I wanted him to be with Manning. Our little boy knows something is up since momma and baby sister are gone. He needs his daddy. Jessica and I also sent our mom to St. Simon's. I wanted mom to spend time with Manning and he certainly needs his Annie!
Jessica was in the shower when Mackenzie came in to head to the PICU so she met us down there. I was eager to see my girl, but also knew it was going to be tough. I knew she was going to be hooked up to a thousand tubes and sedated. But no matter how much I mentally prepared, NOTHING prepared me for what I saw when I walked through the sliding glass doors to Marjorie's PICU room.
Her tiny body was connected to wires and the ventilator tubes stretched from her tiny mouth. Her body was swollen and red from a post-surgery fever. Nurses and x-ray techs worked around her as I turned back and locked eyes with Mackenzie who stood in the hall.
I ran out of the room and into her arms. I couldn't take it. My baby. My tiny baby. My precious Marjorie who's smile and giggle can light up a room is now sedated and lifeless. I want my baby back.
Mackenzie hugged me fiercely and reminded me that she wasn't in pain. This was part of the road to recovery and the road home. I stepped back and took a few deep breaths as I walked back into Marjorie's room.
Jessica came in shortly after and went into doctor/caretaker role. Did I mention how much I love her? While she spoke with doctors, I did my best to melt into the couch below me. I could not feel my body and the wind was knocked out of me. I thought I had cried all my tears, but I was wrong.
When the bustle of nurses and doctors cleared, I made my way to Marjorie's crib. I held her tiny hand and rubbed her head, repeating between sobs, "Momma's here baby. Momma is here." My legs were giving out from me as Jessica came to hold me up and remind me that Marjorie was comfortable that she was better than she was before surgery. She repeated how good her stats were and that her fever and high heart rate were totally normal.
I did my best to hear my sister's comforting words, but I felt as though I was in a glass box and the world around me was crashing down. My baby. My sweet baby. How did this happen? Less than two weeks ago she was happy and giggling.
Earlier today, Jessica offered to spend the night in the PICU since only one person can. The Pediatric Oncology floor was going to hold our room so the other person could stay in the empty room. I told her I would think about it. Everyone has been telling me to rest, but how do you rest when your baby is hurting? When your baby has CANCER?
After nearly collapsing, throwing up and hyperventilating multiple times today, I tapped out. Through tears I asked my sister to keep watch over my sweet girl. Not only will it be good for me to rest, but it will be better for Marjorie to have her medically brilliant aunt at her bedside tonight – not her mother who can hardly stand.
I sign off tonight exhausted, sad, broken, but hopeful. The love and prayers this past week and today have been incredible. There is nothing that makes this journey easier, except knowing that thousands of you are praying for our Marjorie. Her OR was packed with angels and I'm pretty sure those angels are still with her tonight in the PICU, surrounding her with love, peace and healing hands.
On one of the most difficult, if not the most difficult days of my life, I say THANK YOU. Thank you for loving me, for loving my family and most of all for loving my Marjorie.
This slideshow requires JavaScript.
Monday, June 1 – 8:30am
Marjorie had a restful night and so did her momma. Her chemo and post hydration fluids finished about 11:30pm and by the time we got her settled and comfortable we all fell asleep around 1:30am and awoke at 6:30am. It is the most sleep I've had since being here. Thank goodness my sister is here. She has taken over the medical advocacy part and kept watch over Marjorie all night so I could sleep.
As most of you know, my sister, Jessica, is a brilliant doctor. She has so many degrees she needs a back house to hang them all. I used to get annoyed when my sister would use medical terms and big words I did not know. Not anymore. This morning as the residents rounded, Jessica drilled them with questions, concerns and possible solutions to help Marjorie. I have never been happier to hear so many words I do not know. I'm pretty sure these new residents did not know them either. Having her here allows me to focus on Marjorie and not relaying Marjorie's condition and changes to doctors. Beyond thankful she is here.
Marjorie's biopsy surgery is scheduled for today at 12:30. She is an 'add-on,' so it is subject to change. Hopefully it won't because she can't have any feeds before. She is getting all nutrition through an NG tube. Never thought we would be back to having an NG tube and nose cannula, but here we are.
Prayers today are for Marjorie to be comfortable, for God to be with the surgery team as they go in for the biopsy. I pray my baby girl is not in too much pain afterwards.
I will update here as the day progress. Thank you for the love and prayers.
---
Sunday, May 31
On Wednesday, May 27th, we heard the words no parent wants to hear.
'Your daughter has cancer.'
At just 7 months old, our Marjorie was diagnosed with Neuroblastoma. It began with a mass on her adrenal gland and has spread to her liver. Thankfully, the PET Scan last Friday showed that it had not metastasized to her bones. Our hope and prayer is that the liver and mass will decrease by more than 50-percent after two rounds of chemo. And Marjorie just finished Round One of chemo as I write this. Geaux Marjorie Geaux.
Not only did she finish Chemo Round One today, she was also baptized. It was one of the most special sacraments I have ever witnessed. I will write more on it later and post pictures soon.
Marjorie's biopsy is scheduled for tomorrow, June 1. However, we began chemo two days ago because her liver was growing very quickly, impacting her breathing and other body functions. The goal is to have the chemo would start shrinking the enlarged liver and adrenal mass, which will still take a few days.
In the last two days, Marjorie's belly has increased daily. It is beyond frightening to see your baby girl go from a soft baby belly to a massive belly that is so tight it looks like it is about to pop. They have done rounds of Albumin and Lasix to alleviate some fluid. It has helped a bit, but it is still too large to do tomorrow's surgery laparoscopically, which was the original plan.
We still don't have a time when the biopsy will happen since Marjorie is an 'add-on,' but I will keep you posted. The surgeon does not know if he will take a piece of the liver, adrenal gland or both. Knowing that my sweet baby will be cut open tomorrow makes my stomach turn. She just seems too small to handle such a thing.
We will most likely spend a night or two in the PICU (Pediatric ICU) to be monitored post-surgery. I go to bed feeling nervous and scared. Kissing my Marjorie and handing her over to the pre-op team is awful. Doing it for the third time within a week is about to kill me. But I find comfort in knowing how many prayers and positive thoughts are heading her way. There is no doubt that OR will be packed with angels watching over her tomorrow.
This slideshow requires JavaScript.