ONE! * Thursday, October 9, 2014 (7:50am)
Marjorie Mims Dempsey kicked her way into our world and hearts Wednesday, October 8, at 2:08pm, weighing 1-pound, 15 ounces and 14-inches long. Her foot was literally in my cervix and was most likely the culprit of the cramps/contractions.
The NICU nurse introduced us to our baby girl with a quick flash. She was beautiful and pink. They whisked her to the NICU where they began to stabilize her.
They inserted a breathing tube and lines into her umbilical cord. With premie babies they leave the cord long so they can draw blood without pricking her and also feed her just like she was in the womb.
She scored an 8 on the Apgare test that all babies receive. An eight for a baby her size is unheard of and amazing, but of course this momma isn't surprised. She was also such a spitfire they had to hold her little arms and legs to insert the breathing tube. Feisty!! Early yesterday evening they were able to lower her oxygen to 21-percent, which is huge.
As for her momma, my heart is so full and complete. While I wish I could have kept her in my belly longer, but I feel so calm knowing she is now safe. Of course we have a long way to go, we are certainly off to a good start.
I wasn't able to see her yesterday so I can hardly wait another second to see her today. My catheter will come out this morning and I hope to go down shortly thereafter.
Thank you from the bottom of our hearts for the love and prayers they worked and will continue to!! This past week was so difficult and yesterday was the scariest day of my life. I was hysterical and so afraid for my baby girl. I made it through it all by envisioning her first birthday party. There will be cupcakes and lots of ballerina point shoes since our baby girl danced (kicked) her way into this world and our hearts.
We love you baby Marjorie!
ONE! * Thursday, October 9, 2014 (9:30pm)
Today, I got to officially meet and touch my baby girl and celebrate her 24-hour birthday. Marjorie is still stable and doing well. She is the feistiest one in the NICU according to her nurses.
My soulsister Anne is taking good care of me and it is so comforting to have her by my side. I am physically and emotionally exhausted. It's been a hard day for me. Csection recovery is brutal and I am so weak. Seeing my baby girl so small and fighting so hard isn't a sight I will ever adjust to. I am so proud of her and love her beyond words.
I will give a full rundown report tomorrow. This momma is worn out and ready for bed. Thank you all for the love and prayers. I can't say it enough. We truly feel them working.
I will leave you all with a picture of me holding her finger and swabbing her mouth with my breast milk for the first time. Two moments I'll cherish forever.
---
TWO! * Friday, October 10, 2014 (11:10am)
I woke up refreshed and ready to see my baby girl. My body practically shut down on me last night and I slept like a rock. The nurses even let me sleep through my 4:30am pain meds, not to mention I have no recollection of taking my 12:30am dose.
Baby Marjorie had a wonderful night. They lowered the levels on her ventilator twice and today they will try to take her completely off!!
I spent an hour with her this morning and got to take her temp and rub on her tiny (big) feet. She also grew some fabulous eyelashes over night. The nurses said they figured I would like them and I told them they know me well already.
I'm heading back down shortly to watch them take her off the ventilator. There are zero expectations for her. If she can make it without great. If not, she goes back on and we will try again. She is doing well and we are so proud of her!!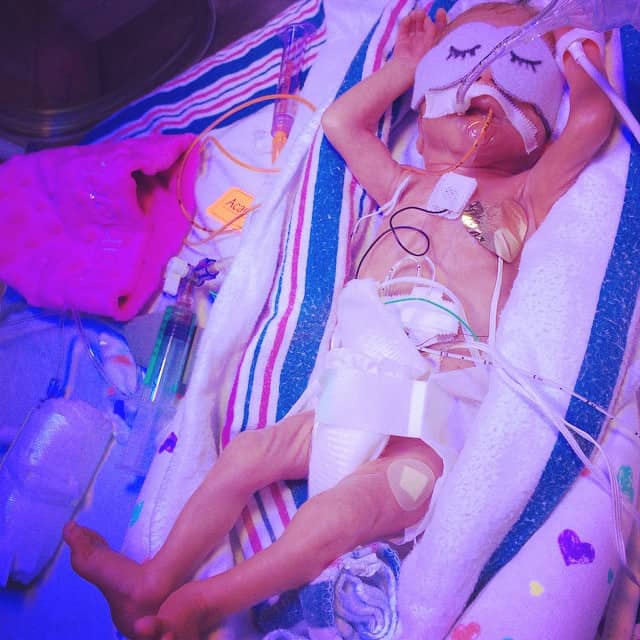 ---
TWO! * Friday, October 10, 2014 (7:10pm)
I am so high on Cloud 9 my fingers can hardly type. My baby girl had an extraordinary day and so did this momma! During my morning visit the nurses, Lisa and Jenny, said they would be taking her off the ventilator this afternoon. I squealed and said I wanted to be there to watch this milestone. Her gas levels and all other levels had been stable and they had been decreasing the ventilator through the night so the next step was to take her off completely. The nurses said they would call me so I could be there.
Around 2:00pm, Lisa called my room and said it was time. Anne and I rushed down, well as fast as a one day post-op patient can move. I stood in the room and watched in awe as the nurses and Mr. Bill, the sweet respiratory therapist and breathing machine guru, removed the ventilator from her mouth. Mr. Bill was so gentle and talked so sweetly to my baby girl as if she were his own. My heart practically melted and then stopped as we waiting for Marjorie to start taking breaths on her on.
One second…ten seconds…thirteen seconds…BREATH!!
Geaux baby girl, GEAUX! She took off on her own and hasn't looked back since. Of course she didn't let everyone exchange all that tubing without putting up a little fight. Mr. Bill placed the nose cannula (oxygen tube) in her nose and she ripped it right now. We all got a good laugh as she showed off her feistiness once again. The nose cannula is there to stimulate and give her room oxygen, but does not breath for her like the ventilator did. I kissed my baby girl goodbye to go rest for a bit and walked out one proud momma.
After a restful afternoon, I mustered enough strength to take my first shower. Ahhhhhh. I stepped out of the shower and heard the phone ring at 5:00pm. I practically leapt naked out of the bathroom to get the phone. With a baby in the NICU, phone calls can be quite scary. But this was quite the contrary. Nurse Lisa said the doctor gave the OK for me to hold my baby girl. I immediately began to cry and squeal. I told Lisa I would be right down. Anne and I could not get me dressed fast enough (yes, it takes two of us!). I scrubbed in as fast as I could in the NICU and practically skipped to Marjorie's room.
I was wearing just a tank so that we could be skin to skin – a moment every mother dreams of. With Manning, I got my skin to skin the second he was born, but my baby girl was worth the wait. After untangling lines and IVs, the nurse delicately lifted my angel up from her incubator. She nestled Marjorie onto my chest and my heart soared. My eyes with tears and all I could do was sob with happiness and gratitude. It was my baby girl and she was finally with me, on me, right where she belonged.
I had one eye on the monitor and watched as her levels and heart rate stayed absolutely perfect. She was content. I was content. Our hearts were finally together again. Today I had thirty blissfully perfect minutes with my baby girl, tomorrow I hope for the same. We will keep praying for these moments so that soon we will have a lifetime, heart to heart, with our miraculous Marjorie.
I could type forever about this day that I will never forget, but the pictures say so much more than my words ever will…
Goodnight my friends, thank you always for your prayers and love. We certainly felt them today.
This slideshow requires JavaScript.
---
THREE! * Saturday, October 11, 2014 (11:45am)
Updating a little late this morning because we slept late – and by late I mean Dr. Glas had to wake me up out of a hard sleep at 9am! I had to laugh and told her I haven't slept that late since Manning was born. Needless to say, my body was tired and I am thankful for the rest.
Anne and I ate breakfast and I decided to pump before heading down to see my baby girl. I was excited to see that my milk had come in this morning. Turns out it was all in God's plan because today Marjorie started her feedings! She had a wonderful night. Her gas levels continue to be stellar and her jaundice level went down as well. I also got to change her diaper this morning! I can't describe how TINY her diapers are, except to say think Barbie!
She is scheduled 2mL every two hours through the feeding tube in her mouth. I was there this morning as the nurse set up the small syringe and began her first feeding at 11:15am. Fingers crossed she is able to digest it well and will progress forward with feedings. We have been warned, though, that feedings can be tough. This process can often be a step forward and two steps back. So we have zero expectations and know our baby girl will get there in her own time.
Marjorie's daddy and both sets of grandparents are heading down today so it will be a revolving door of visitors at the NICU. She told me this morning she is so excited to see everyone and can't wait to show off her tubeless tanning trick!
As for me, I am feeling a little better every day. Still very sore and moving slow, but so thankful to be MOVING! I have to be mindful not to do too much and over do it – and thankfully my strict nurse Anne keeps close tabs on me. I will discharge tomorrow and can't wait to get home to see my baby boy and furry babies too. We are hoping a room opens at the Ronald McDonald house so I can stay close for the first few weeks. As excited as I am to sleep at home tomorrow, I am heartbroken to leave the hospital without my baby girl. Doing my best to prepare for tomorrow, regardless it will be emotional on every level. But we continue to stay positive and take each step of this journey with gratitude, keeping our heads up and hearts full.
Thank you for your continued prayers. Happy Game Day everyone!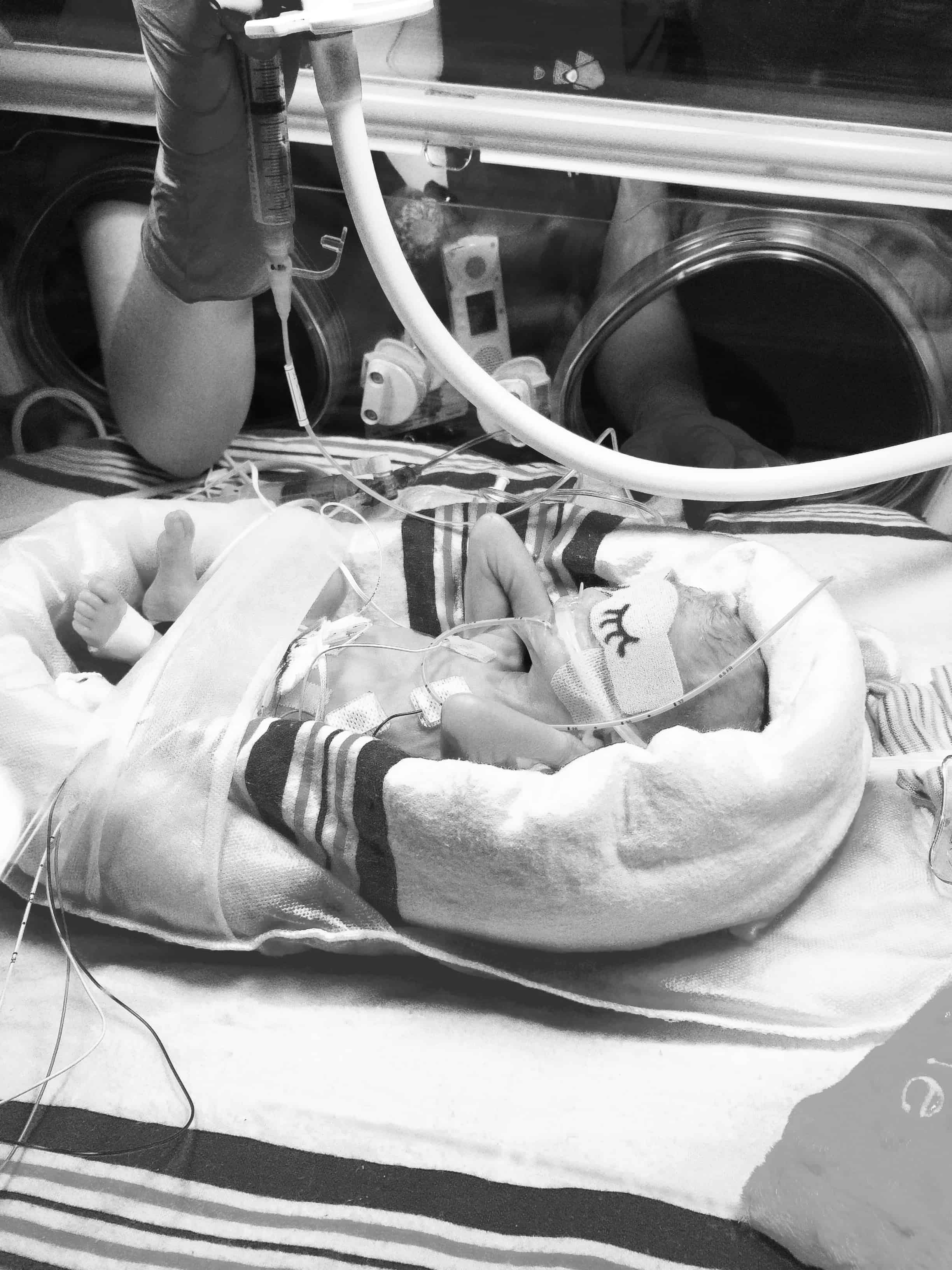 ---
THREE! * Saturday, October 11, 2014 (8:15pm)
This is the final nighttime update from Room 304. Tomorrow I discharge and will head home for a few nights before returning to Jacksonville to stay at the Ronald McDonald house, which is for parents whose children are in long-term care at Wolfson's Children's Hospital.
The reality of going home set in as Anne packed up my room. From flowers to drawers to taking pictures off the wall, yes, this is my final night 'with' my baby girl. I've always heard of mothers having to leave their babies behind, but never imagined it would be me. I never imagined this scenario would be me, but of course none of us do.
I feel as if my heart is ripped in two. I want to be home with Jordan, Manning and furry babies. I want to be back taking him to school and kissing him goodnight, but my heart can't imagine leaving Marjorie at a time when she needs me most in this world. I know it is only a short distance and before I know it she will be home and healthy, but that just doesn't help the ache in my heart.
So I do what I can, allow myself to grieve the time lost to the rupture, to having to leave behind my baby, but knowing I will return to be with her daily. We can only go day by day and that is what we will continue to do. We are entering the next phase of this journey tomorrow. Please continue to pray for our girl because the prayers are working. She is a little fighter and I am so proud.
As I went down to kiss her goodnight, I sang the song I've sung to Manning since he was first born – "Angels Watching Over Me." It was my favorite song at Camp Green Cove. I have sung it to Marjorie every night. And tonight as we celebrated her third day birthday and my last night at Baptist, I will leave knowing that there are so many angels watching over her every minute of every day. Many of those angels sent by you all. Something I am forever grateful for.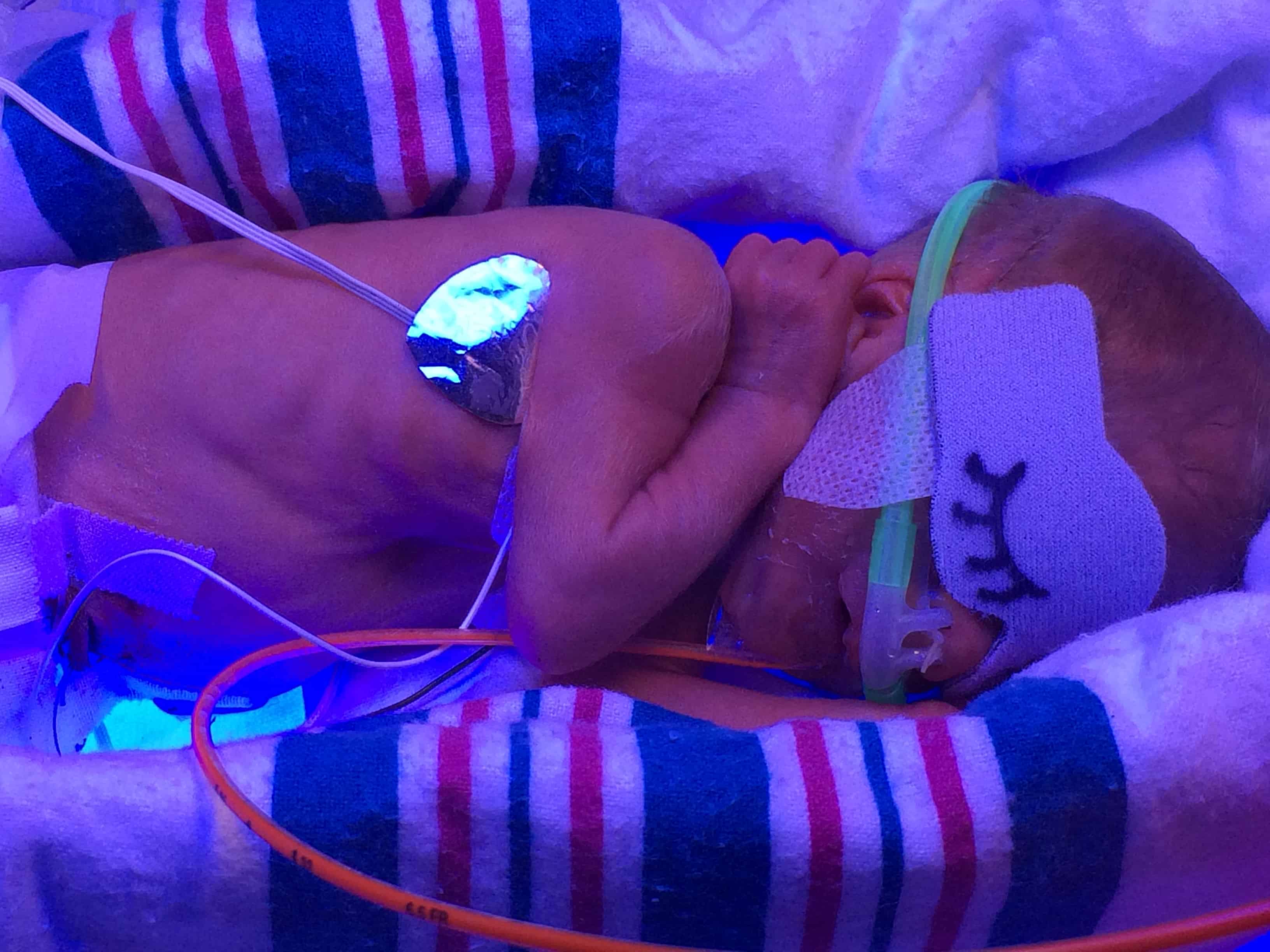 All night, all day. Angels watching over me, my Lord.
All night, all day.
Angels watching over me.Now I lay me down to sleep,
Angels watching over me, my Lord.
I pray the Lord my soul to keep,
Angels watching over me.      
---
FOUR! * Sunday, October 12, 2014 (8:30pm)
Tonight I update from the comfort of home. My heart aches to be with Marjorie, but I will see her first thing in the morning.
Marjorie had another good day. She continues with her feedings. She is getting 2mL every three hours. With every feeding they first draw out whatever is in her tummy to measure what was absorbed and what was not. These first few feedings are meant to get her gut stimulated. Many feedings will not be absorbed and that is okay.
Her jaundice levels went down again today so we are hoping she can come off the light tomorrow. She also had one of her belly button lines so now she only has one line in her umbilical cord, which is where she gets her fluids and other IVs.
Looking forward to a new week tomorrow and celebrating her one week birthday this Wednesday. Lots to be thankful for and lots to celebrate.
---
FIVE! * Monday, October 13, 2014 (11:15am)
What a B.E.A.Utiful day!!! I woke up to kisses from my Manning. My heart filled with joy as I opened my eyes to see his bed head and squinty eyed grin. We had a slow morning together and I relished in my Starbucks coffee. A latte has never tasted so good.
Momma made Manning's breakfast and Anne and I loaded Manning up and took him to school. Team effort! I have never been more excited to bring my baby boy to school. Never again will I take for granted hectic mornings and walks to school. I have a newfound gratitude for the little things like walking hand in hand with Manning to school.
I was thrilled to see Manning's sweet teachers and get big hugs from them. They have been a massive support and comfort to me during this time. Michelle and Lisa love Manning like their own and send me pictures of him throughout the day. I am so blessed.
Now as for our Miss Priss…
Marjorie had a good night. Her feelings are going really well! She even had a poop last night!! Mommas out there know how exciting poops can be!
She is also living up to her feisty spirit. Yesterday she managed to pull out her feeding tube (twice) and nose cannula. The nurse said she turned around for one second then looked back to see Marjorie holding a tube in each hand. She is certainly earning her diva reputation and I could not be prouder!
Marjorie is having dips in her heart rate, but self corrects them for the most part. This is normal for a baby her size and can often be seen in full term babies. It is just something they will continue to monitor. If she has more than 18 "dips" in a nursing shift, then there might be something going on. Currently, they've seen 5-6 on a shift so we are within the "normal" range. Prayers we stay that way.
That's all I have for now. Mom, Anne and I are heading south to spend the day with her. Can't wait to see my baby girl.
Thank you for all the thoughts, prayers and messages yesterday. It was a tough day, but the sun came up today and it is a new day. We start again and give thanks for our many blessings.
Happy Monday…and Happy Canadian Thanksgiving (Anne has planned a Thanksgiving feast for us tonight)
---
FIVE! * Monday, October 13, 2014 (4:30pm)
Just kissed one baby goodbye to head out and pick up my other baby from school. Today's goodbye was smoother than yesterday's, only a few tears today.
Marjorie had a good day. She had more dips in her heart rate, which are called "Bradys" short for Bradycardia. I became concerned seeing her heart rate go from 170 to 70, but the nurses remind me that it is normal to an extent. The doctor was keeping close tabs on her today. He said we will monitor and if they see a pattern they will draw blood to look for infection.
After she had two Bradys when we were with her this morning, the nurse came in and flipped her on her belly. Well Miss Priss LOVES sleeping on her belly because she stayed steady after that. She slept so quietly and peacefully since being on her belly. I have not seen her as still as she was today. Such a sweet angel baby snoozing away and growing big!!!
Other big news…Marjorie is off of her tanning bed! Mom and I walked up this morning and saw her lights were gone! She had another poop early this morning, which helps lower the jaundice levels. Hooray for no more lights and "sunglasses".
They skipped a feeding today since she did not absorb any from her previous feeding. She ate at 2pm and we will see if she took it at 5pm, her next scheduled feeding.
I'm feeling content after our first day of the new normal. Prayers she continues to improve, eat, poop and GROW!
Lots to be thankful for today…and every day. Sending everyone love, light and of course…gratitude.
---
FIVE! * Tuesday, October 14, 2014 (10:30am)
Last night Marjorie had a cluster of Brady (heart rate dips) in a row around her 8:00pm feeding. It could have been caused by a multitude of things: from digestion, trying to have a bowel movement, reflux, a brewing infection or simply because she is premature and so tiny. She continued to have ten sporadically throughout the night, but no more clusters.
Regardless of the reason, these Brady's stress me out. I can't help but worry. I had a rough night last night. All of my Island Mommas brought us a Canadian Thanksgiving feast. It was the kindest gesture I've ever seen. I was thankful Anne was able to have a proper Thanksgiving dinner. But my heart was with my baby girl and by 8:30pm I couldn't take it another minute. I excused myself and went to curl up with my baby boy as he slept peacefully.
I sobbed uncontrollably. Emotions just poured out. I felt (and still feel) like there is a massive hole is my heart and spirit. I want my girl and I want her home and healthy. I want her back in belly where she can be safe and grow.
My mom, Jordan, Anne and Mrs Nancy found me laying with Manning. No one told me "It's going to be fine" or to get up and put on my pajamas. No one tried to fix my pain, everyone laid with me and let me cry. They cried with me. We are all tired and want our baby girl home.
I eventually got dressed for bed and fell asleep in Jordan's arms. I had a decent night's sleep and woke up to pain, but arose rested and ready for a new day.
We are in route to spend the day with Marjorie. Anne leaves tonight and I would give anything to keep she and mom here with me, but we must all march on and find our new normal.
Mrs. Carol, my mom's oldest and dearest friend, sent me a Miraculous Mary Medal and holding cross. The timing of her beautiful gifts were perfect as I have them with me today and plan to always have them. Manning's teachers also helped him make the most precious artwork for Marjorie and me. The thoughts and prayers keep us all going. Our cup continues to always and forever runneth over.
This slideshow requires JavaScript.
---
SIX! * Tuesday, October 14, 2014 (12:20pm)
Well guess what? Mom finally got her shot at changing Marjorie's tiny diaper and she had a poopie! Yay! While she was doing that I was holding her paci in (yes they make them that small). I also had my hand cupping her sweet head. Then my baby girl opened her eyes and looked at us! It was the first time I locked gaze with my precious angel. My heart is so happy. She knew it was just what her momma needed. Prayers for less Brady's today!!
We just got news that she will get her last belly line out today. She has had two "lines" in her umbilical cord. Today she got orders to get her belly line out and get a PICC Line.
So what is a PICC Line? According to the Google machine (and it never lies)
A PICC line is, by definition and per its acronym, a peripherally inserted central catheter. It is long, slender, small, flexible tube that is inserted into a peripheral vein, typically in the upper arm, and advanced until the catheter tip terminates in a large vein in the chest near the heart to obtain intravenous access.
So there you have it. Learn something new every day. Prayers for a quick and easy PICC procedure!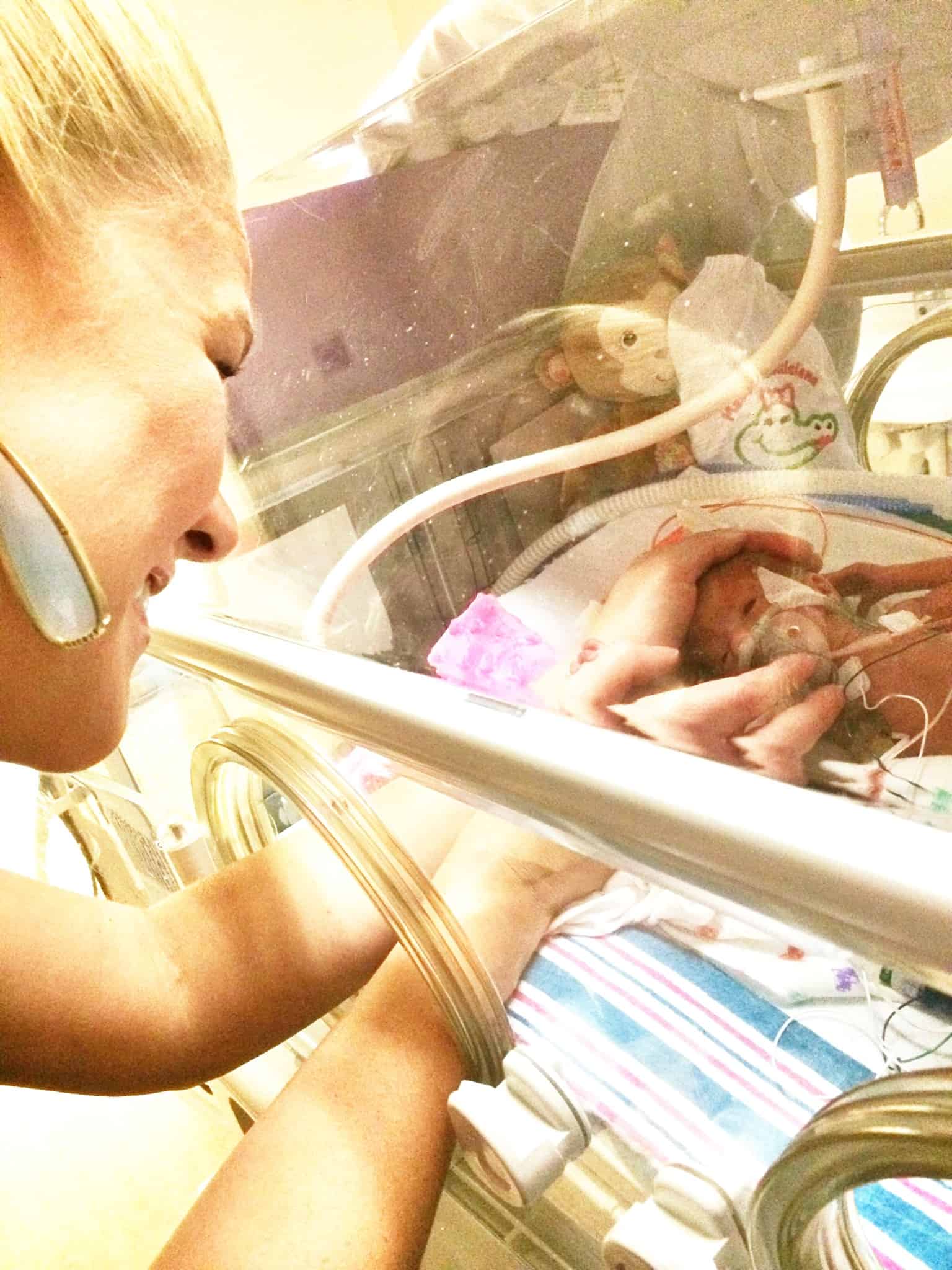 ---
SIX! * Tuesday, October 14, 2014 (8:45pm)
Besides from telling my soul sister, Anne, goodbye this afternoon, it was a good day for us. Marjorie had a few Bradys, but no more clusters. We have determined she LOVES being on her tummy to sleep (so does her momma!). It is heaven on earth to see my baby sleep so peacefully after seeing her poked for days. She even slept through the respiratory therapist pricking her heel for blood – twice! Sleep, baby girl, sleep!
Today and tomorrow Marjorie has some of her favorite nurses watching over her. Lisa and Jenny love her to pieces and we love them. Lisa is her primary nurse and knows what Marjorie likes and does NOT like. There is no doubt NICU nurses are miracle workers sent from above. We are so thankful for each and every one of them.
Marjorie has done really well with her feedings and the doctor increased her amounts. YAY! Now she will receive 4mL every three hours. We will see how she takes these feedings overnight. Hopefully, she keeps on absorbing all the goodness of the 'liquid gold' aka my breast milk. Lisa also told me today to stop bringing my breast milk in. Apparently, I've overstocked Marjorie's shelf. I count my blessings that I am able to produce (actually, overproduce) for my baby girl. I know so many who struggle with nursing and pumping. It is the best thing I can give her and it is one thing I can do for my baby.
She also received her PICC Line today. I called to see how the procedure went on our way home and Lisa said she did so well. My little rockstar! The great thing about the PICC line is that starting tomorrow I get to hold her for ONE HOUR!!! Be still my heart!
As for me, I had a much better day (and night). Of course hearing the good news coming from Marjorie's nurses and doctors helped. And knowing that tomorrow I get to hold my girl for an hour REALLY helped. The physical pain is subsiding more and more every day, which definitely eases the emotionally heartache. I am beginning to visualize how our schedule will work out and how I can balance my time best between my two babies.
I called the Ronald McDonald house again today and they are still full. They have me on a waiting list, but Garth Brooks is in town this week and has taken up all the rooms in their partner hotels. Maybe Garth will let me sleep in his tour bus since he's taking up all the rooms.
On the way home this afternoon, I began thinking about how this can best work. Something about staying at the Ronald McDonald house was not sitting right with me. I've met and seen other moms in the NICU that also live out of town. I know they are all waiting too. I am blessed with a massive support system to help with Manning and day to day life. Financially, Jordan and I can make the large commuting gas bill work in our budget. Also, we have our Jacksonville family, the Siewerts, who adopted Jordan a long time ago and took me in when we first started dating. They aren't as close to the hospital as Ronald McDonald, but they are close enough. So tomorrow I plan to call and remove my name from the Ronald McDonald list. God has blessed me in so many ways and I know how very lucky I am. I just feels right to give that room to someone who really needs it.
And speaking of blessed, the calls, messages, texts, packages are just overwhelming. I wish there was a way to repay and thank you all. But just as I have dedicated my life to paying it forward in the eating disorder world, I plan to do the same thing here. God hasn't unfolded this pay it forward plan just yet, but in time He will. Right now we continue to focus on our Marjorie and getting her home.
I hope each and every one of you know just how much it all means to us. I will answer all of the messages in time. Please keep praying. We feel the prayers and they are working!
This slideshow requires JavaScript.
---
SIX! * Tuesday, October 14, 2014 (9:30pm)
This just in….we reached TWO POUNDS!!! I just called to check on her and she reached the two pound mark! Heading to bed one happy and proud momma! <3
---
SEVEN! * Wednesday, October 15, 2014 (9:50am)
Today is a big day…our Marjorie is one week old! It's hard to believe it's already been a week since she came kicking into our hearts. Today I get to hold my angel for a whole hour!
Our little rockstar had a good night. No Brady's (or Brandys as Jordan says)! She went back on her tanning bed this morning. Her bilirubin levels went up, which is to be expected. So she is putting her shades (and lashes) back on to work on her bronze glow.
Marjorie has done pretty well with her 4CC feedings. She had a little residual here and there throughout the night. Nurse Lisa noticed her belly was a bit distended this morning so they are skipping her next feeding. She still has great bowel sounds and making poops so that's positive.
Momma and I are heading down. It's a beautiful day on the Florida-Georgia line. I'm feeling bright and grateful, especially after receiving the sweetest card from one of Manning's classmates (that included a Starbucks treat)! The kindness and generosity of people is simply humbling.
With a warm heart and warm latte…Happy Hump Day friends!
xoxo
---
Day 7 * Wednesday, October 15, 2014 (8:20pm)
Happy ONE Week birthday to our precious baby girl! We celebrated in style today with one hour of cuddling! The hour went by way to fast. Marjorie was snug as a bug on my chest and slept so peacefully during our time together. To make today even more special, Daddy was able to come down for a visit. We got our first picture together with our girl and can't wait to get a picture of our whole family of four one day.
Marjorie is doing so well, day by day she is growing stronger. We still have a ways to go, but it is positive milestones that keep us going. She had her second brain ultrasound today and it came back CLEAR! No signs of brain bleeds.
Yesterday, the doctor went up to 4mLs on her feedings. She tolerated it okay, but her morning feeding caused her tummy to be a bit distended. So they skipped her next feeding, then backed it down to 2mL. Tomorrow the doctors will reassess and probably take them to 3mL to see how she handles that. This is all part of the feeding process with such a preemie baby.
Annie changed her diaper today and got pooped on. We all squealed. Passing stools is HUGE and she is going great. It is a good sign her bowels are beginning to work slowly but surely. Daddy says he isn't ready just yet to change that diaper or maybe he is holding off on diaper duty for as long as he can 😉
I am also very happy to report Marjorie did not have any Bradys today. We have all decided she likes her belly best and what our princess wants, our princess gets!
Overall it was a good day, lots of positives to take and grow on and be thankful for! The inevitable insurance phone calls began today, which are distracting and disheartening. But I know we are right where we need to be and getting the best care for our baby girl. That is all that matters!
Wishing everyone a peaceful night…
This slideshow requires JavaScript.
---
Day 8 * Thursday, October 16, 2014 (10:07am)
Marjorie had another good night. No Brady's and she tolerated feedings well. The doctors will reassess today and maybe go up one mL on her feedings. Go peanut Geaux!!
Momma leaves today and my heart already hurts just thinking about not having her with me. She will be back in a week so I just have to keep reminding myself of that.
Happy Thursday everyone.
---
Day 8 * Thursday, October 16, 2014 (11:30am)
Well mom and I had a quick visit with Marjorie. We had to leave her because a new baby across from us needed an emergency procedure. Prayers for that baby and that everything goes smoothly.
Mom and I were thankful we had a few minutes to see Marjorie. Momma wrote a goal on her whiteboard for her to get to 2lbs 6oz for when she returns on Saturday, Oct. 25! We know she can do it!
We are heading to bring momma to the airport now. My heart is breaking. Mom has been by my side since em this started. Her presence alone is comforting. We've laughed, cried and become addicted to Downton Abbey together. Just like Marjorie needs me, I need my momma too and I am so thankful she has dropped everything to be with me and that she will be back soon.
I am so lucky and thank God every day for her. Prayers for her safe travels and that she gets some much needed rest. She has earned it and needs it!
Love you momma…Marjorie and Manning can't wait to see you next week!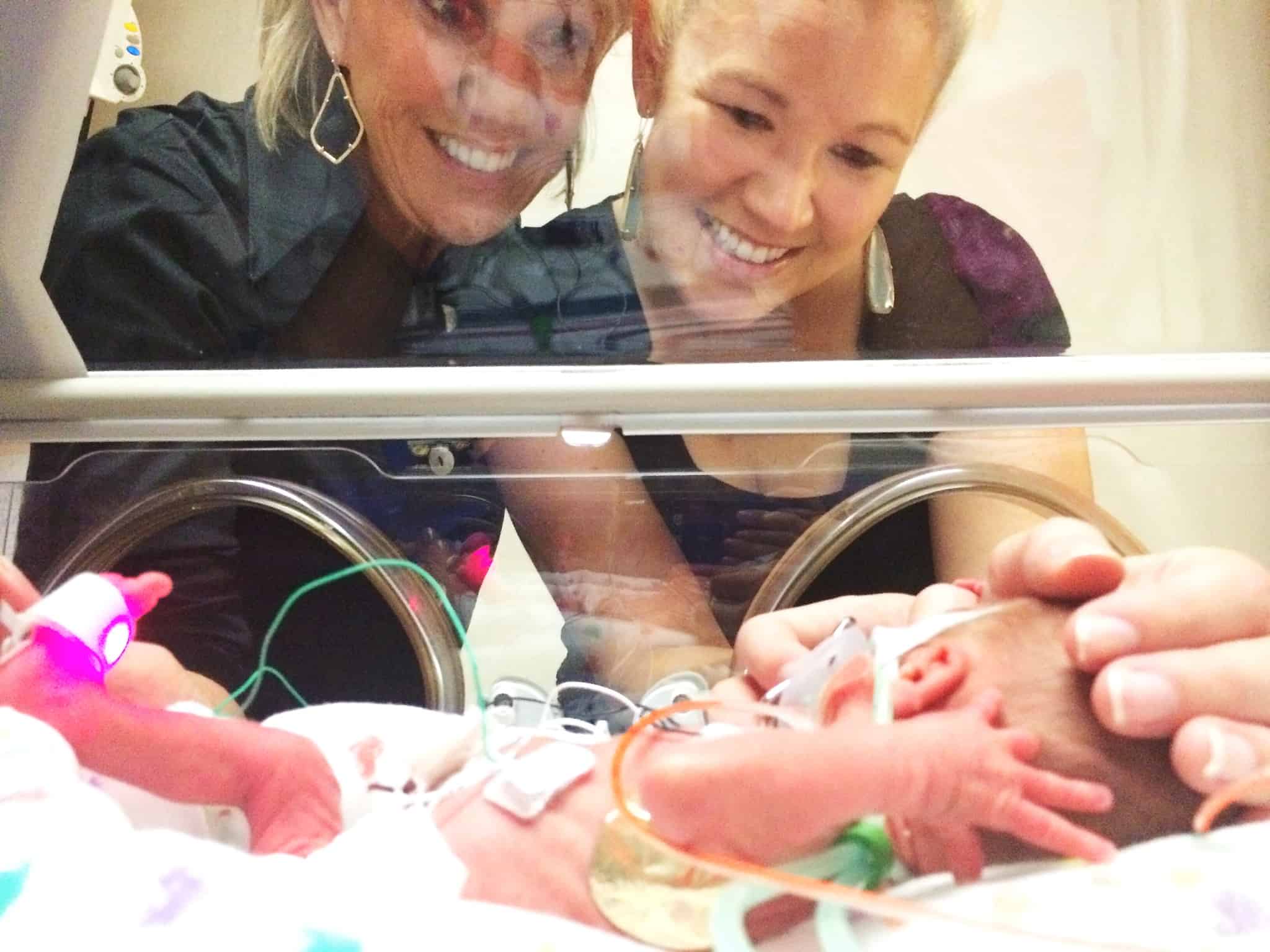 ---
Day 9 * Friday, October 17, 2014 (1:00pm)
Today is my first day flying solo with my Marjorie. I am happy to report she had a good night and is now off her tanning bed. She is snug as a bug underneath her incubator cover topped with her blanket specially made by her Gaga.
Her feedings increased to 4mL as of this morning. Fingers crossed she tolerates this well and we can increase again.
I treated myself to a much needed PJ morning with my Manning. It was exactly what my heart needed. Manning came into my room this morning with the afghan Gaga sent to me while I was in the hospital. Manning is known to commandeer any Gaga 'bebe' and he quickly claimed mine when I returned home. But this morning he walked in and said, "Here Momma." Of course I cried and gave him a big squeeze. He has been such a trooper during this time and never ceases to amaze me with his unconditionally love and 'go with the flow' attitude.
Feeling peaceful and content today with my baby girl. Happy Friday.
---
Day 9 * Friday, October 17, 2014 (9:00pm)
Happy to report that both Marjorie and her momma had a great day! I just called to wish my peanut goodnight and check in with her nightly nurse, Becky (who Marjorie and I love). I was delighted to hear that she gained 35-grams today and now weighs 2-pounds, 1-ounce! Grow, baby girl, grow!
As I said earlier, they increased her feedings to 4-mL and she has done well so far with them. Tomorrow we might bump to 5-mL…watch out! I better start pumping round the clock because she is going to catch up with me soon. Won't that be a wonderful problem to have?
Marjorie and I had our hour cuddle time together today. As always, it was amazing. Since it was just the two of us today we decided to practice our selfies. Then Marjorie got a little too comfy on my chest and had a Brady. These can happen when they go into a deep sleep and forget to breath. I had to really shake her bottom to wake her up. Note to self baby girl: BREATH!
Today also brought a bit of a surprise visitor. As I made my way into Jacksonville today, a Tennessee number called my phone. I did not answer because I was about to be at the hospital. Then I received a text from that number:
"McCall, this is Michele Van Cleave. I am at Children's Hospital. Would love to see you. What is your schedule today?"  
One of my oldest and dearest camp friend's mother was at Wolfson. Most would be shocked to see a camp friend's mother (from Tennessee) in the Jacksonville hospital, but not me. That is how amazing my Green Cove friends are – and their mothers. And Michele Van Cleave marches to her own drum and it is just like her to appear like a fairy godmother.
I made my way to the NICU and there she was, all 5-foot nothing of her standing eagerly to see me. She turned and greeted me with a hug that goes far bigger than her small stature. I cried with delight and comfort to see her. She just came to give me a hug. That is all. And that is way more than I ever expected. She is on vacation in Jacksonville with girlfriends and snuck away to camp out at the hospital until she saw me. No doubt my extraordinary friend Grace comes by her compassion, generosity, empathy and kind heartedness naturally.
Tonight I write from the comfort of my Jacksonville home. The Siewert home. They have been in Jordan's life since he was 13-years old and I have known them since we first began dating. Tonight Lara and I sat at the island ate dinner and had a glass of wine. The two of us can chat forever and just being in their home and with her is beyond comforting. Their house is (and has always been) a place of love and support. There is no greater gift than feeling like you are at your home away from home when you are going through something like this. No pressure to stay up late or put on a mask that everything is okay. I can sob, snort, laugh and just be me at the end of the day.
The last two and a half weeks have been the hardest of my life. I would not wish them upon anyone. I grieve and cry every day. But the compassion, generosity, support, love and prayers are simply the most beautiful thing I have EVER experienced and felt in my life. As cliche as it is to say it: words will never do justice to what I feel in my heart with all of the hugs and messages.  I am so, so blessed.
Thank you for loving me, for loving my family and for loving my baby girl.
This slideshow requires JavaScript.
---
Day 10 * Saturday, October 18, 2014 (10:00am)
Good morning from NICU Room 223! Marjorie had a good night and tolerated her big 4mLs well. We will go up to 5mL today and see how she likes that. As she increases her feedings, her fluids and fats will decrease. She is currently receiving sugars, fats, nutrients through her PICC line. Mommas breast milk is the best thing for her little body right now so the more she can tolerate the better. It's just a matter of going slow and steady so her digestive system can wake up and process it.
She is still snug as a bug in her cocoon. No tanning bed today. Her bilirubin levels did go up, but that is to be expected. The more she can digest and the more dirty diapers we have the better. We want to stay out of the tanning bed because her dark and humid cocoon is the best environment for her to grow in.
Nurse Lisa also decreased the humidity in her incubator. She started at 65% humidity and is now down to 50%. They say it is done to mimic the womb, but let's be honest: she's a Louisiana girl. She is just acclimating to her Bayou roots.
Her gas levels have also been great, which means they can begin weaning from the vent. Today they will decrease the amount of air "puffs" (yes, I know my medical terminology is outstanding) she is receiving through her nose cannula.
Marjorie is still having Brady's (heart rate dips) and some occur with apnea episodes where she stops breathing. These seem to happen around feeding time, which indicate reflux due to an immature esophagus. They also occur when she is due for her morning caffeine. Who can blame her for needing her morning espresso?
It's a beautiful day here in the NICU and according to my weather app it's a beautiful day outside too! Get out and enjoy the fall weather! Do a random act of kindness for Marjorie!
Happy game day! HOTTY TODDY! Let's GEAUX Tigers!
---
Day 10! * Saturday, October 18, 2014 (7:40pm)
What a Saturday! It was a beautiful day on the Florida-Georgia line and Marjorie had a beautiful day as well. She continues to amaze and inspire me. Her fighter spirit is incredible.
She had some residual with her 5mL feeding at 11:00am. But our skin to skin time helped the 2:00pm feeding go down a bit smoother because she did not have any residual on that feeding.
Because our time together is so limited it is so precious. I just stare at her in awe of her massive strength that exists in her tiny body. She is only ten days old and I've never been so proud of someone in my life.
Today I found it incredibly difficult to leave her. It is always hard to leave her, but today's goodbye broke my heart. I wanted to stay with her. Even though I do not get to hold her all day or even see her when she sleeps in her covered incubator, just being by her side is comforting. But at the same time my heart aches to be home with Manning and Jordan. I have never felt such anguish. It's mother guilt at a whole new level.
As I drove over the 'big bridge' to St. Simon's Island, I began to cry. I pretty much haven't stopped. I want to be with my girl and I want to be with my Manning, but right now they can't be together. Tonight I bathed Manning and did it 'wrong'. He had a new bathtub trick that I wasn't aware of. My heart sank. I should have been there bathing him last night to know that he now likes to dump the water on his head. But I wasn't there and I hate it.
Of course I am well aware that my situation is out of my control and that I am doing the best I can to balance it all. But I think most moms can understand that no matter how many times you tell yourself that or that others tell you, your heart still breaks.
Here is where I am thankful of my past and my journey through recovery: I know that this will pass and that my baby girl will be home with her big brother soon. I know that I have a choice to soak in the good days and ride the waves of the bad days, embracing every emotion: the good, sad, mad and everything in between. Tonight, my heart aches, but I choose to take care of myself, honor the feelings, eat, rest and start anew tomorrow. That is all each of us can do every day.
Here is to building on our good days and lovingly riding the waves of the not-so-good days.
Sending you all peace and love.
This slideshow requires JavaScript.
---
Day 11 * Sunday, October 19, 2014 (12:00pm)
We are getting a late start today, but enjoyed a much needed PJ morning. We all slept in and I enjoyed coffee and cinnamon rolls with my boys. Nothing better.
Jordan, Manning and I are on our way to see "baby sissy". Of course, our little Hurricane isn't allowed to see his baby sister. Too many buttons to push in the NICU! So he is going to spend the afternoon playing with his cousins.
Marjorie had a great night and morning. They upped her feedings to 6mL. She tolerated five well so hopefully this gradually increase will continue to work.
I hope everyone enjoys this beautiful Sunday. We are lifting everyone up in prayers of gratitude. Sending you all Sunday Sunshine!
Pretzels: 1, Manning: 0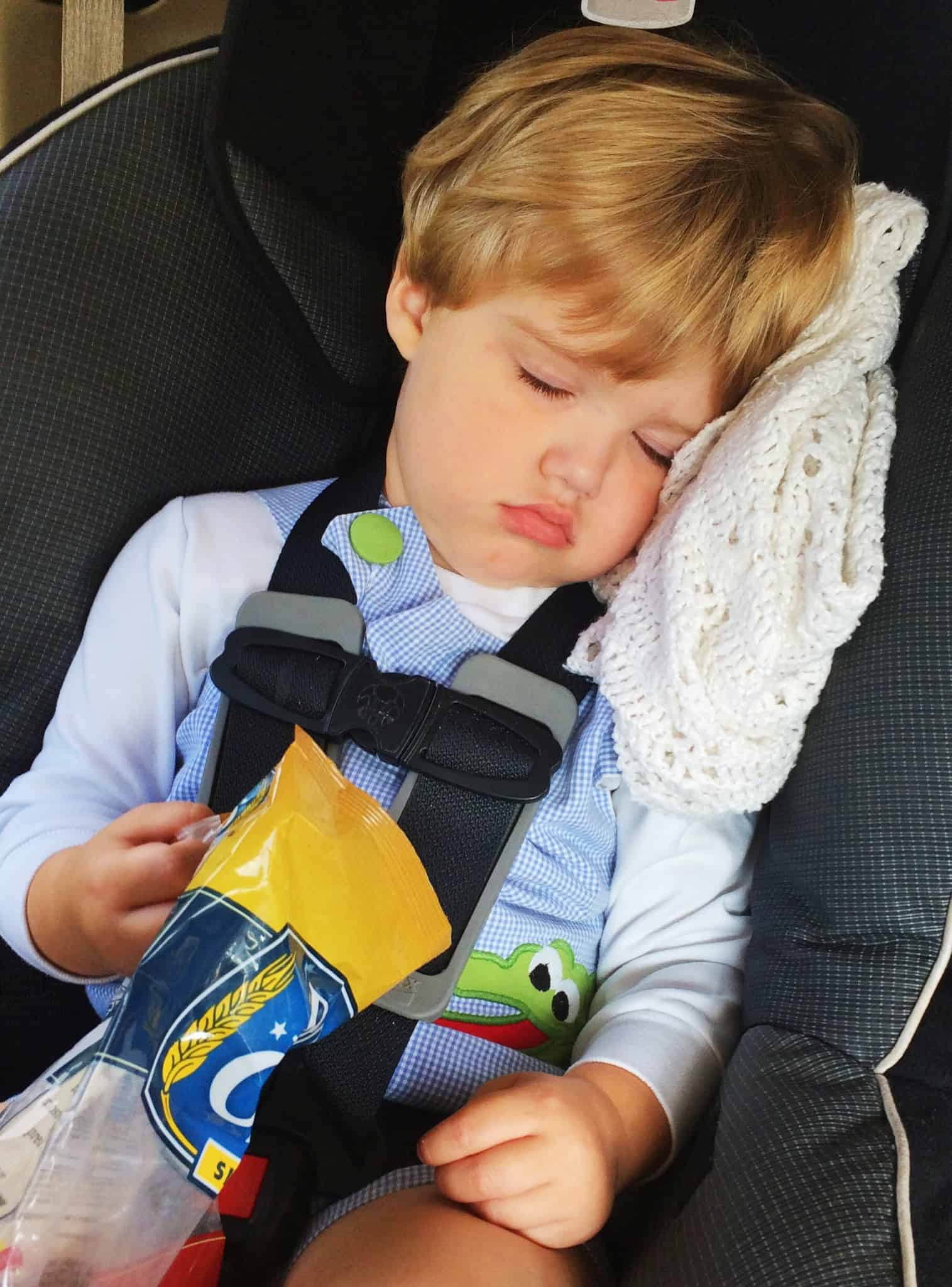 ---
Day 11 * Sunday, October 19, 2014 (6:00pm)
Well if there's anything that will make your heart melt, it's seeing a daddy hold his baby girl for the first time.
Marjorie has her daddy wrapped around her teeny tiny finger. This daddy is smitten. She even gave her daddy a good scare since she decided to have two bradycardic episodes on his chest. But daddy did great. He stayed calmed and rubbed her back to wake her up, reminding her to get that heart rate back up.
Her her heart rate would have really stayed up if her visitor in the lobby would've been allowed in. Big brother tried to break into the NICU to see his baby sister, but no luck. He and his sticky fingers were quarantined in the lobby. He will have to wait his turn to hold her when she is home.
We are also celebrating today because Marjorie hit 2lbs, 2 ounces yesterday! She'll be fitting into her precious preemie closet in no time.
Today's visit wasn't as long as I usually like. I prefer to spend the majority of the day at her bedside. But I've got a sore throat and cough brewing so Jordan pulled me away to get home and get some rest. I hate when he is right; it rarely happens. My heart just breaks leaving her.
Overall, I'm heading home with a full and happy heart. Between spending the morning with my Manning and seeing Daddy hold his baby girl for the first time…it was a Sunday I'll never forget.
This slideshow requires JavaScript.
---
Day 12 * Monday, October 20, 2014 (12:00pm)
Marjorie had another good night. We are so proud of our peanut and continue to build on these positive steps. They are upping her feeds to 7mL and will increase every six hours if she continues to tolerate them. We all love hearing these good reports regarding her feeding because it means she is getting the good nutrition she needs and growing!
I arrived this morning and found Marjorie sleeping peacefully in her 'cocoon'. I glanced across her bedside to see that two of Marjorie's neighbors were no longer there. As happy as I am to know they either went home or went to the other side of the NICU (for more stable babies), my heart sank. I want that to be my baby girl. I want to see her 'graduate' to the B-side. I want her home. Of course, I know in my head that her day will come, but telling my heart that is a different story.
Most NICU parents keep to themselves as they quietly watch over their baby's bedside. We exchange understanding nods and smiles as our paths cross, but rarely anything more. When Marjorie first arrived, there was a baby in the first bed as you walked in. His mother was always there, sitting by his bedside. I passed her every day and we exchanged tired smiles. "That will be me," I thought to myself, "this is what my new normal is set to become."
At the time I could not wrap my brain around it, but today I can because I am living it. I am the mom who is here every day, along with the other parents who are here daily. We sit, we pump, we wait. We watch our little angels improve with every breath, every CC of milk, every wean of the machines beeping around them. We come to understand what every alarm means, which alarms to jump up for and which ones to let ride. We learn how to maneuver around the numerous lines that extend from their tiny bodies. We take their temperature and change their tiny diapers. We do the things parents do because we are still their parents.
We are NICU parents. We know each other's heartache and pain without ever saying a word. It is understood and conveyed with tired eyes and hopeful hearts. We are here. Day in and day out. We are NICU parents who couldn't dream of being anywhere else. We love our babies and beam with pride over our tiny miracles.
---
Day 13 * Tuesday, October 21, 2014 (2:35pm)
I arrived this morning to find our peanut is now up to 10mLs on her feedings! Geaux Marjorie! She also had three dirty diapers last night, which is awesome. I realize dirty diapers are not a popular topic, but when you're dealing with NICU preemies, we rejoice with every dirty diaper because it means her bowels are working and digesting the milk.
Dr. Cortez has ordered a 1-mL increase every six hours, so essentially every other feeding. At 2:00pm today, I believe we will hit 12mLs! With that we increase to a bigger feeding syringe. No more baby gerbil sized syringes, we are to squirrel level now! Her feeds are administered via a syringe that is attached to a pump. The pump has a timer on it so they can control how fast/slow the milk is given. When we first began with 2mLs, the feeds were administered via gravity. Now with over 10mLs, the pump timer is set for 90-minutes. So the milk slowly goes into her tiny belly over a 90-minute period. This makes it easier on her little body to properly digest the milk. Another plus to all of this is that I get more time holding her during her feedings. Instead of just one-hour, I get 90 glorious minutes!
Since she is now taking in more, the goal is to have her off her TPN (fluid nutrients) and Lipids (fats) completely. These are administered via her PICC line. Once we can eliminate these two things her PICC line can come out! Three cheers for removing another line from her sweet little body! When this happens they will fortify my breast milk with extra calories, but essentially she will be getting everything she needs from her feedings. We still have our eye on the three-pound mark so we can start wearing some of our precious outfits!
Yesterday I washed all of her clothes so she is wardrobe ready. Her fairy Godmother sent some precious NICU approved outfits and her fellow pPROM preemie buddy in Baton Rouge, Eloise, passed down her clothing. Marjorie is one lucky girl who will certainly be the best dressed baby in the NICU.
This slideshow requires JavaScript.
---
Day 13 * Tuesday, October 21, 2014 (9:50pm)
Our little peanut continues to surprise us all. She went up another 30-grams tonight and now weighs 2-pounds, 4.8-ounces. What a rockstar! Her little body is tolerating her increased feedings very well and we could not be prouder. Our short term goal is to get her to 15 or 16-mLs (if my memory serves me correctly) and then take it up from there. But like always, we focus on one day at a time and celebrate her victories!
Tonight Jordan and I took his parents out to dinner. Nothing fancy, just good old Bubba Garcia's in Redfern Village. We owe them the world, but of course they would say no we do not and that they were happy to step in. They have been the unsung heroes in this journey. When I ruptured three weeks ago, they were in their car at 5am the next morning driving from Kansas City. They were not at my bedside and have not seen Marjorie every day. There duty went far beyond that. They have cared for and looked after our precious Manning. And thanks to them, our little guy has not missed a beat in the chaos of the last few weeks.
MiMi and PapaG woke him up, dressed him, made endless waffles and PB&Js, took him to school and loved on him endlessly. Jordan and I are so grateful. I am so grateful. When I was on bed rest in the hospital the one thing I did not have to worry about was my precious Manning because I knew he was being spoiled to death.
I am beyond blessed to have in laws that drop everything in the blink of an eye to come and help us. They have always been there and I know they will always be and that is more than any daughter could ever ask for.
This slideshow requires JavaScript.
---
Day 14! * Wednesday, October 22, 2014 (12:00pm)
The quick increase in feedings have taken a toll on our baby girl. It's all within the "normal" preemie realm of symptoms, but something we are watching closely. Marjorie's breathing has become shallow and quick, which can possibly be attributed to the increase in feedings. Dr. Cortez decided to increase her CPAP settings from six to seven. This setting provides more pressure to her lungs and helps her keep her lungs open. Premature babies have the ability to collapse their lungs, which is why receiving the steroid shot of surfactant was so huge for her.
Marjorie had five Brady episodes last night and a couple this morning. Again, normal for a baby her size and not out of the ordinary given her increase in feedings. The Brady's can be caused by reflux because of an immature esophagus.
Marjorie's feedings now stand at 13mL. At her 11am feeding she had zero residual, which is great! We will keep her feedings at 13mL for right now to allow her tiny body time to adjust.
The biggest news of the day is that Marjorie is TWO WEEKS old today!!! We are so proud of her and so grateful to you all for the prayers and love that have carried us and will continue to carry us in this journey.
Happy TWO WEEKS my precious baby girl.
This slideshow requires JavaScript.
---
Day 14! * Wednesday, October 22, 2014 (2:40pm)
Baby girl is giving us a run for our money on her two week birthday. With her 11:00am feeding she continued to have very shallow breathing. She also had more Bradys with her feeding. Dr. Cortex ordered a chest xray and it came back showing 'haziness' – which means fluid in her lungs. It is not the same fluid as when there is fluid in the lungs with pneumonia. This fluid is seen in preemies her size given their immature lungs.
Since she is off the vent, she is breathing on her own which can mean she is not fully expanding her lungs. Nurse Lisa (Marjorie's amazing primary nurse) administered Lasix (a diuretic) through her PICC line. I was surprised to learn Lasix is a commonly used drug in the preemie world. The Lasix will help move the fluid out of her lungs. I helped prep for this outcome by changing Marjorie into a very large preemie diaper. We are locked and loaded, ready for a flood!
Lisa then loaded up her squirrel sized syringe with 13mLs of breast milk for her 2:00pm feeding. As soon as the feeding started, Marjorie began her shallow breathing. The red alarm rang (red is never good) and Lisa came back in. We rubbed Marjorie's back to get her to take bigger breaths. Lisa, knowing our baby girl so well, decided to try something she had been suspecting all along. She rolled up a blanket and placed it under Marjorie to make her angle a bit steeper. The bed only moves so much and with the increase of feedings, Lisa kept thinking having a steeper angle might help. As soon as we raised the peanut, UP went her stats. Voila! Now that is probably not the answer to all of today's issues, but it definitely seems to be helping our baby girl.
Tomorrow Dr Cortez ordered a heart sonogram to rule out any kind of heart murmur that might be brewing. Days like today are tiring. The beeping seems to be everywhere and never ending. I am so grateful to Lisa and her patience in explaining and re-explaining symptoms and scenarios to me. I like to understand every aspect of what we are going through and what could possibly be ahead. There is so little I can do as a parent and I feel like understanding and even helping change diapers and feedings tubes gives me some sense of empowerment over my precious baby girl.
As I type this, Marjorie's stats are looking good. She is halfway through her 2:00pm feeding and so far so good. I am also sitting by her bedside watching the nurses and doctors buzz around prepping for a 24-week baby and a 36-week baby to come in. Seeing this gives me a knot in my stomach. That was Marjorie and me two weeks ago. Two weeks ago I was stretched out on an operating table scared to death for my baby girl. My prayers go out to the two families who are going through it today. I hope they find peace in the extraordinary doctors and nurses who love and care for our babies as if they were our own.
Please lift up a prayer for them as well and send good thoughts to our two new NICU neighbors.
---
14 * Wednesday, October 22, 2014 (9:00pm)
First, the good news: Marjorie gained another 40-grams and now weighs 2-pounds, 6-ounces. She made Annie's goal! (My mom wrote Marjorie a goal on her white board to weigh 2-pounds, 6-ounces by the time she returned this Saturday. Clearly, Annie's goal is what motivated her!)
Secondly, we are still having some dstat and brady issues around feeding time. The Lasix did output some fluid, but didn't solve everything. The steeper angle certainly helped, but didn't completely solve the puzzle. So we continue to monitor and try to find all of the pieces to the puzzle. She will remain at 13-mL for now until she stabilizes during feedings again.
Prayers her doctors and nurses will figure out what her little body is telling us so we can get back to growing and breathing!