P!nk's "I am HERE" has always been one of my go to anthems, but today more than ever the line struck me:
"I am here, I am here.
I've already seen the bottom, so there's nothing to fear."
I've seen the bottom. I've seen lots of bottoms in my lifetime – and with each bottom comes a rising.
The challenges of this prophylactic double mastectomy and infection has left me gutted and awakened. I've felt physical and emotional pain I hope to never experience again. And I've been lifted up with love and prayers. I've dug deep in my emotional healing and found answers to roadblocks that have kept me in the safe zone of life.
Last week, Dr DeFazio, my plastic surgeon, marked my chest for tomorrow's surgery. The weight of seeing my chest once again marked up was almost unbearable. And then a God wink came along and reminded me that I can do hard things.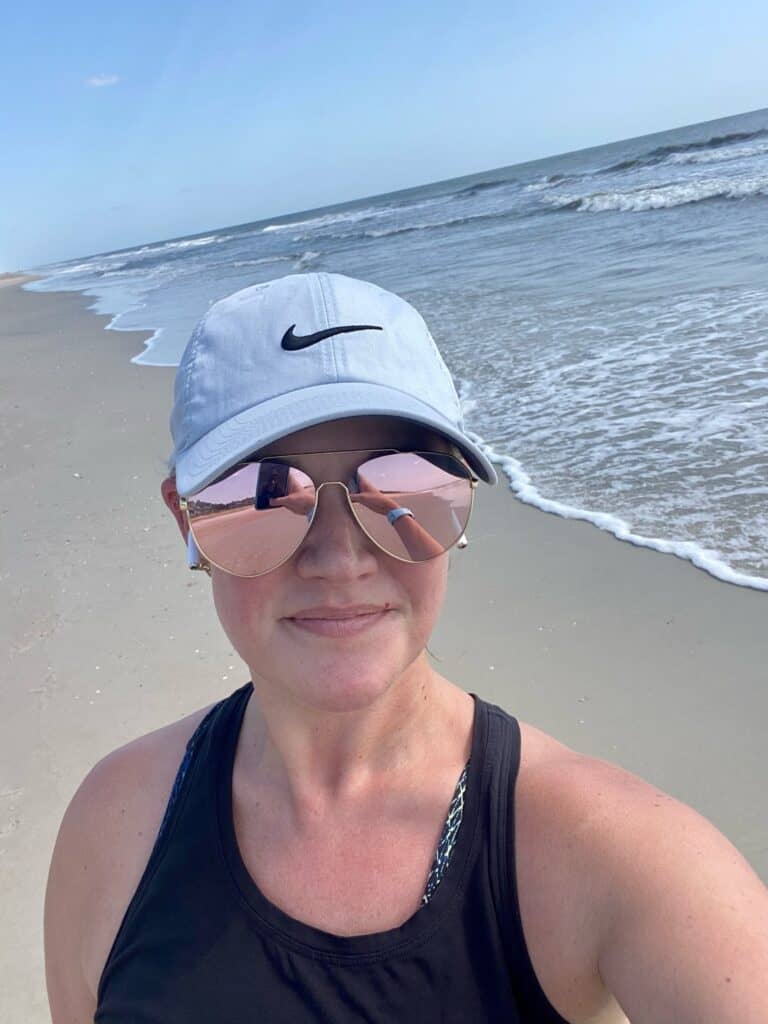 I would be lying if I did not say I am 110-percent terrified of going back to the OR. I'm pretty sure I can do the pre-surgery routine in my sleep (chlorhexidine wipes, gown, socks, drugs, IV, more drugs). I woke up the morning filled with terror and anxiety. The "What-Ifs" swirled in my mind:
What if I get another infection…What if the pain stays again…What if I get another complication…
The list goes on. Not only did the infection leave me physical and mental scars, it left me with colitis – a gut infection from long term antibiotics. I am still fighting it with (you guessed it) more antibiotics. Needless to say, my fear for more complications is high.
This morning I went for some couch therapy and then beach therapy – both were good for my anxious soul.
I pounded out to P!nk's song throughout my run. I. Am. Here. Damn it. I've seen the bottom. There really is nothing left to fear. I can do hard things. I can do tomorrow.
I also continue to be thankful for the knowledge and privilege to make this decision before cancer got me. It wasn't an easy decision and it has been a bumpy, bumpy road. But here we are: the eve of the expander's eviction. I cannot wait to get these hard bricks off my chest…literally. Tonight, I do the only thing I know to do. I write. I cry. I laugh. Call on my tribe. I lean into my anxious heart and walk steadfast and confident knowing tomorrow will be the grand finale. Done. No. More.
Like sister Glennon Doyle says…first the pain, then the waiting and then THE RISING. The waiting is nearly over. I am here. I am not going anywhere.
Send all the prayers and positive jazz hands for a safe and complication free surgery and recovery.
Here's to tomorrow. We can do hard things. AGAIN.