Yesterday I tried putting on a real bra – not like an actual bra with an underwire, that would just be absurd. (I stand firmly in the Athleisure Pandemic trend – no wires, no buttons) I attempted to put on a real sports bra and it did not go over so well. Literally. It did not go over the expanders. Tired of the front clasping surgical bras I've been rocking for the last two months, I was determined to wear a sports bra and feel 'normal'.
The girls are firmer and larger than normal. Monday I went to my plastic surgeon after a week "off" from filling the expanders. We had a scare with leftie two weeks ago after the last fill – so after a trip to the ER, more blood work and more antibiotics we are back on track!
I had one full week of feeling (dare I say)…good! My 'good' feeling ended with Monday's fill (Photo on right is the arsenal of fill weapons). Expanders feel like weighted bricks on my chest and after they are filled with saline they become heavier and tighter. The muscles down my back ache and my shoulders feel like they've carried an oversized toddler around the playground. Simply put, expanders are uncomfortable, heavy and painful – especially leftie.
After a few hours in the normal sports bra, I decided it was time to take it off. When I finally wiggled out of the sports bra and back into my surgical bra, I was PISSED. The weight and pressure of the expanders filled me anxiety and rage. I felt like I could not breath and wanted to rip the expanders off my chest.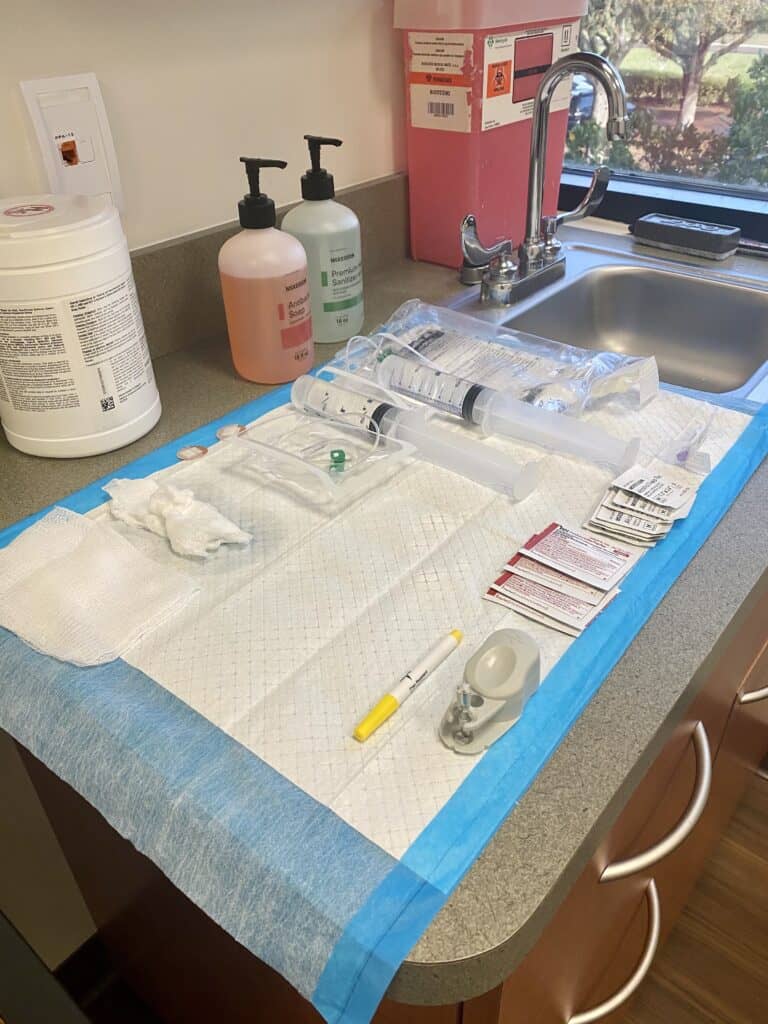 Feeling so physically unwell for two months has taken its toll on me and reminded me of some of my own recovery's most important lessons. Healing from the surgeries and infections has been dejavu from my eating disorder recovery – two steps forward and then a faceplant. I start to feel well, even forget for half a second I have bricks on my chest and holes in my side (yes, I legit look like I have seven bullet holes on my left side from all the drains). Sunday we even enjoyed drinks at the beach with friends. Life felt normal. And then – FACEPLANT.
This week has felt like a faceplant both physically and mentally. I'm tired of hurting, tired of being poked, tired of not feeling like myself and tired of being tired! The weight of it all is more than I can handle some days so I lean on Jordan, family and friends to help ease the load.
This healing journey has been a reminder that now, more than ever, I have to listen to my body. Four surgeries in three weeks took its toll on my body and healing will take time. I recently told my therapist I need that reminder in a neon sign in my home because I just want to feel like ME again. When these days of exhaustion, pain and anger hit, I rest. I cry (sometimes scream). And most of all, I remind myself that just like every hurdle in life, this too shall pass.
Next week, I will meet with my infectious disease doctor for hopefully the last time and FINALLY finish my antibiotics. Being on heavy antibiotics for two months has done a number on my stomach. I will spare you the gastro details and just say I look forward to NOT having the CVS pharmacist know me by name.
With the infection mostly behind me, we can now start planning the exchange surgery. My doctor said it is looking hopeful for late April/early May. No, I'm not thrilled for another surgery, but I am giddy at the thought of this final step and being able to move FORWARD with life. I will gladly skip and hop on the surgical table if that means getting rid of these expanders and their unbearable weight and discomfort.
Recovery has been slow and this journey has tested me in every way, but what else can you do other than embrace the feelings and keep putting one foot in front of the other. This is me, rocking another paper chest vest, giving myself space to hurt AND to heal and sharing the weight of recovery so I don't have to bear it alone. Let's keep showing up and doing the damn hard things over…and over…and over.