Wednesday, May 27, 2015
Our nurse leaned over Marjorie's hospital crib and placed her stethoscope on Marjorie's sick and distended belly. My eyes fell to the multiple bright rubber bracelets wrapped around the neck of her stethescope.
Words like "Warrior" "Fighter" "Army" followed by a child's name were imprinted on each band. I knew those bands belonged to cancer kids whose family and friends created these bracelets as a way to show their love and support for their tiny fighter.
My eyes watered and my face flushed with anger. We will NOT be another bracelet on her stethoscope. No, no, no. This is not happening. We are not a cancer family. I am not a cancer mom. No. No. No.
Our nurse, Mackenzie, finished her exam and told us we would be going down for Marjorie's CT scan at any moment. Mackenzie proceeded to hang out in our room, make us laugh and hugged us when laughter turned to tears. She answered every question – every. single. question.
We had just arrived at Wolfson the night before. I was still running on pure adrenaline. I had not slept the night before. I spent the night sitting straight as an arrow on my stiff cot staring at Marjorie. If I went to sleep, I knew I would wake up and have to remember what nightmare I was in. It was easier to just stay awake. I had not changed clothes, showered or eaten. My brain was barely functioning, but I knew one thing very clearly: I would not be another bracelet on Mackenzie's stethoscope. No. Just no.
Seven hours later, at 4:35pm on Wednesday, the twenty-seventh day of  May in the year 2015, I was formally inducted into Cancer Mom Club. 
---
Friday, January 15, 2016
Leslie Ourso DeJohn was inducted into the Cancer Mom Club. No. I don't want her in it.
I have known Leslie since Kindergarten, we did that Catholic school circuit together. While we have not seen each other in some time, I know she and her precious family prayed hard for my Marjorie.
Yesterday's news hit me like a ton of bricks. It was all I could do to choke back tears while friends were over for dinner. I excused myself to go rock Marjorie to sleep. The tears flowed onto the top of Marjorie's fuzzy head, just as they did every day during our cancer nightmare.
Why God? Why another child? Another mom? We don't want any new members in this club. We want this club to shut down. We don't want anymore cancer bracelets. No more pain. No more mother's soaking their babies' head with her tears. No. More.
After our guests left, I fell into Jordan's arms on the couch. My moans were reminiscent of those first few days. I pulled away and we began to talk about those first few days. What we remember – the sights, sounds, the people.
Jordan told me not a day goes by that he does not think about that day or the 'C' word. Most days it feels like it was all a dream nightmare. Then as we approach scans, the reality of it comes booming back.
I laid awake last night thinking of Leslie and praying hard. My angry prayers softened, as I prayed for our angels to watch over Leslie and her sweet Ainsley.
People tell me I am so brave and courageous. I disagree. There is nothing brave about being a Cancer Mom. It isn't like we opted for this badge, just like you were handed obstacles that you didn't choose. Being brave is the only choice you have. Choosing to fight on, to march on. Next surgery, next chemo, next scan. March. One foot in front of the other. That isn't being brave – that's being a good mom, a good parent.
---
To my sweet Leslie,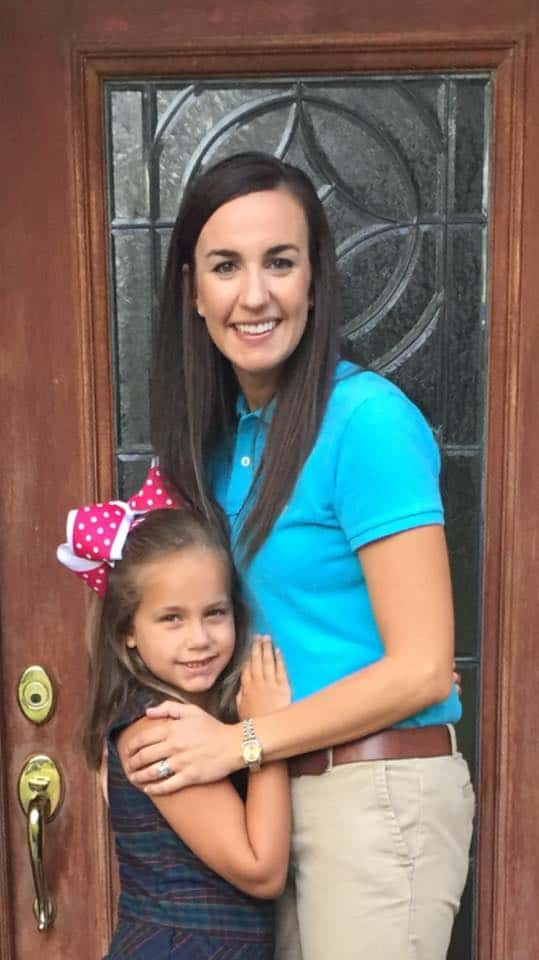 I am so sorry you are now a part of our club. Trust me, we don't want you as much as you don't want us. But we've got each other and it is the greatest gift of this group. You are surrounded by countless cancer mommas who know your hurt, your heartache and your deep pain. We know that you will meet countless angels here on earth during this process. You will receive more love, support and prayers than you ever thought were possible. The love will wrap you up like a warm light and carry you through this difficult time. I wish I could remove you from our club, but I can't. Just remember that you are never, ever alone.
With love and angels,
McCall
---
To my friends, family and amazing community of readers:
Please keep Leslie and her precious, Ainsley, in your prayers. Send them warmth, light, love and every angel you have. Always remember that life is precious and can change in an instant. Find gratitude in your blessings and be kind to those around you, including yourself.