You know that cliche saying, "Heaven got a little brighter" or "Our world got a bit darker today"? Well those are the only things I can come up with. Because they are true.
This afternoon our sweet Claire went to heaven after a 24-year battle with Cystic Fibrosis. I always say the Jumonville family aren't "like" family to me – they are family. And Claire, just like her big sister Kendall and twin brother, Ben, are my little siblings.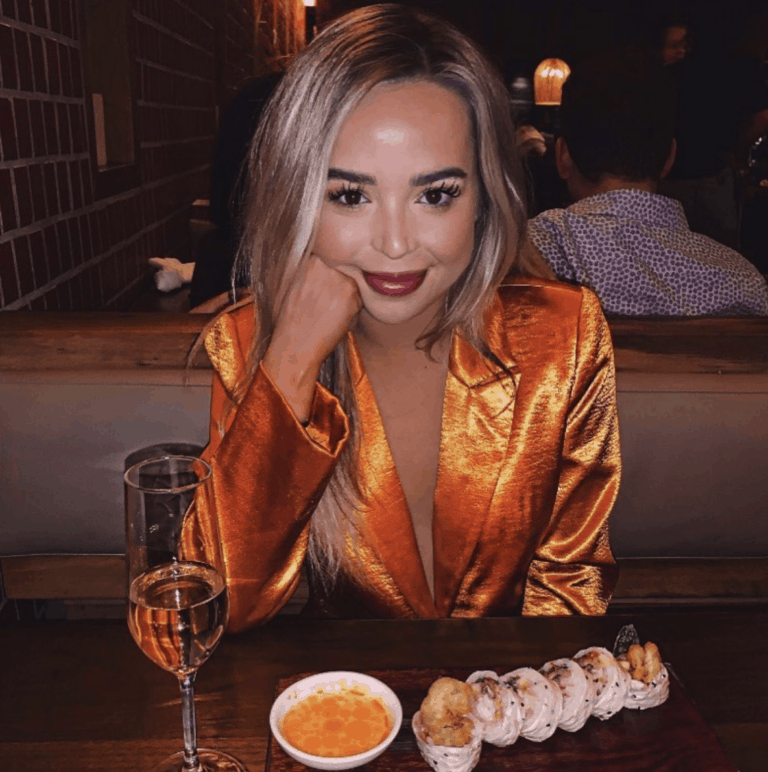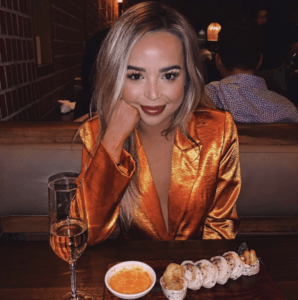 I remember the day the twins were born and babysitting them as they grew up. Our families spent every holiday together. I remember one holiday watching the kids master Dance Dance Revolution and the tipsy adults attempting to beat them – unsuccessfully. One thing was clear early on – Claire was THE life of the party.
Being born with an incurable and hideous disease, Claire never had a fair shot at life, but I'll be damned if that ever stopped her. She was larger than life in fashion, travel and wit. She lived and played hard in her short life and never ceased to amaze me.
A few years ago, Claire FaceTimed me one Saturday morning. She was living in NYC and struggling with anxiety and life. We talked for hours. I was so proud and honored she called me. I could not begin to understand the hardship she faced knowing she lived with this awful illness.
CF kept her from school, work or any normalcy as she was always in and out of the UAB hospital. But despite it all, she LIVED LIFE and she struggled…and that is what made her the most extraordinary person I know.
She would tell me she sometimes thought about writing. I would push her (probably annoyingly) to start writing.
"Just write, Claire! You have a story to tell. The world needs your voice!"
And then one day in true Claire fashion, I opened Facebook to see: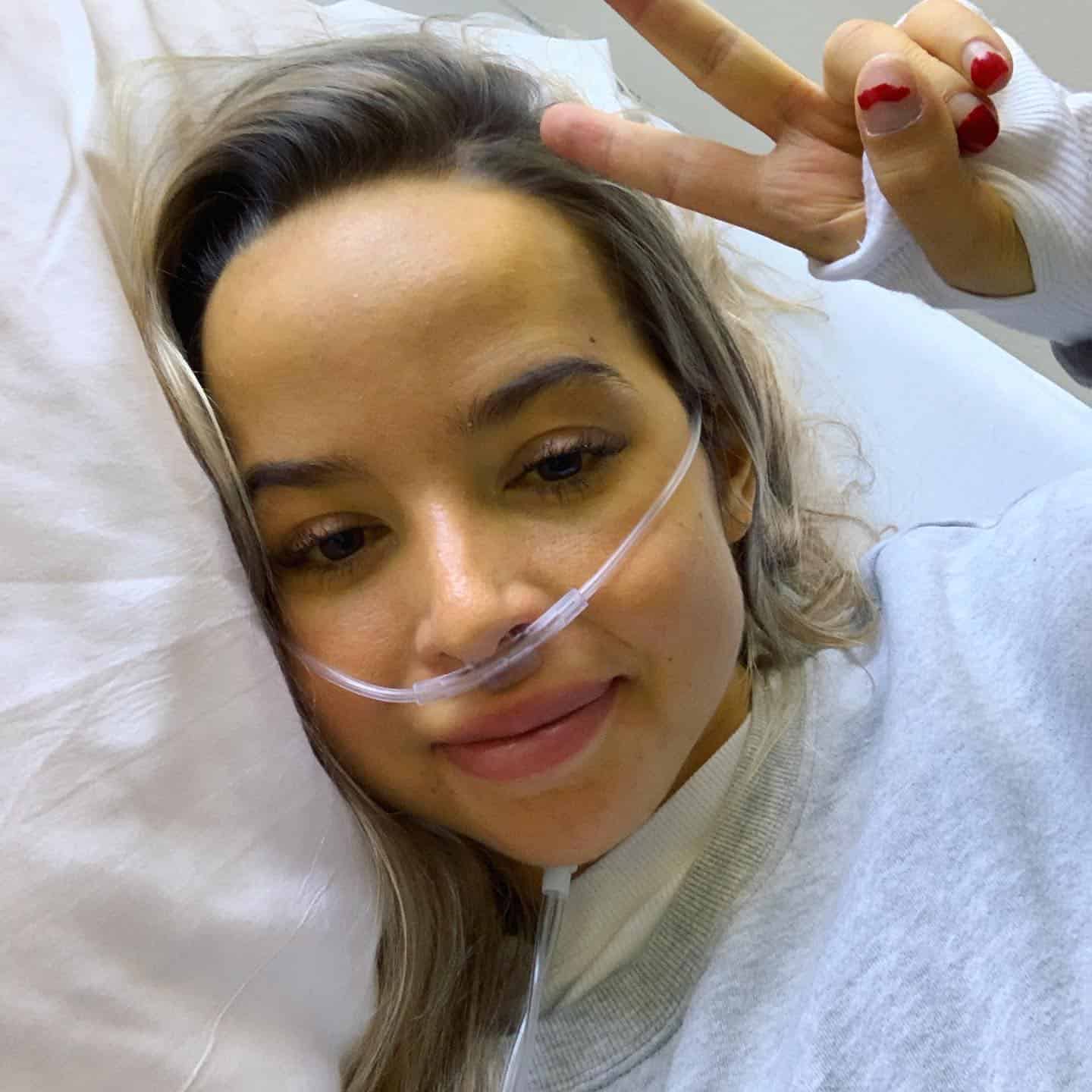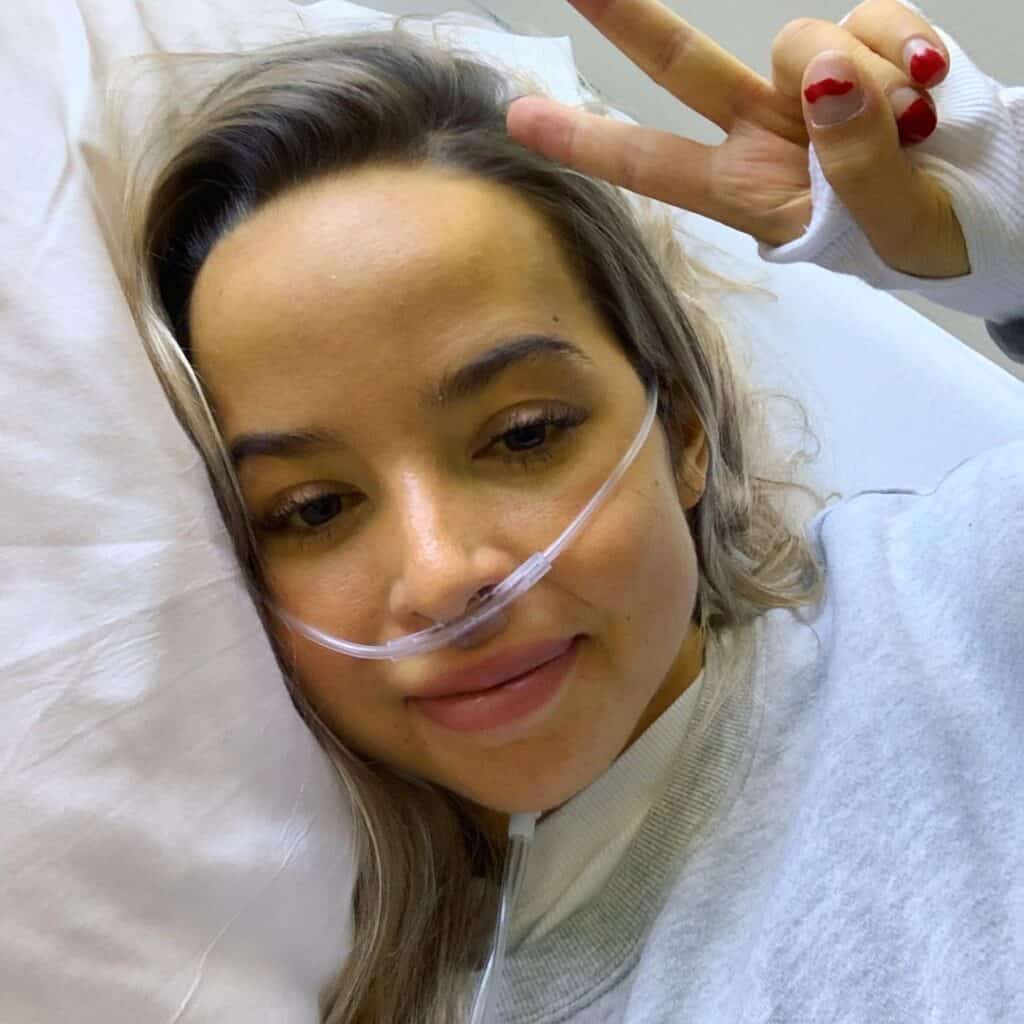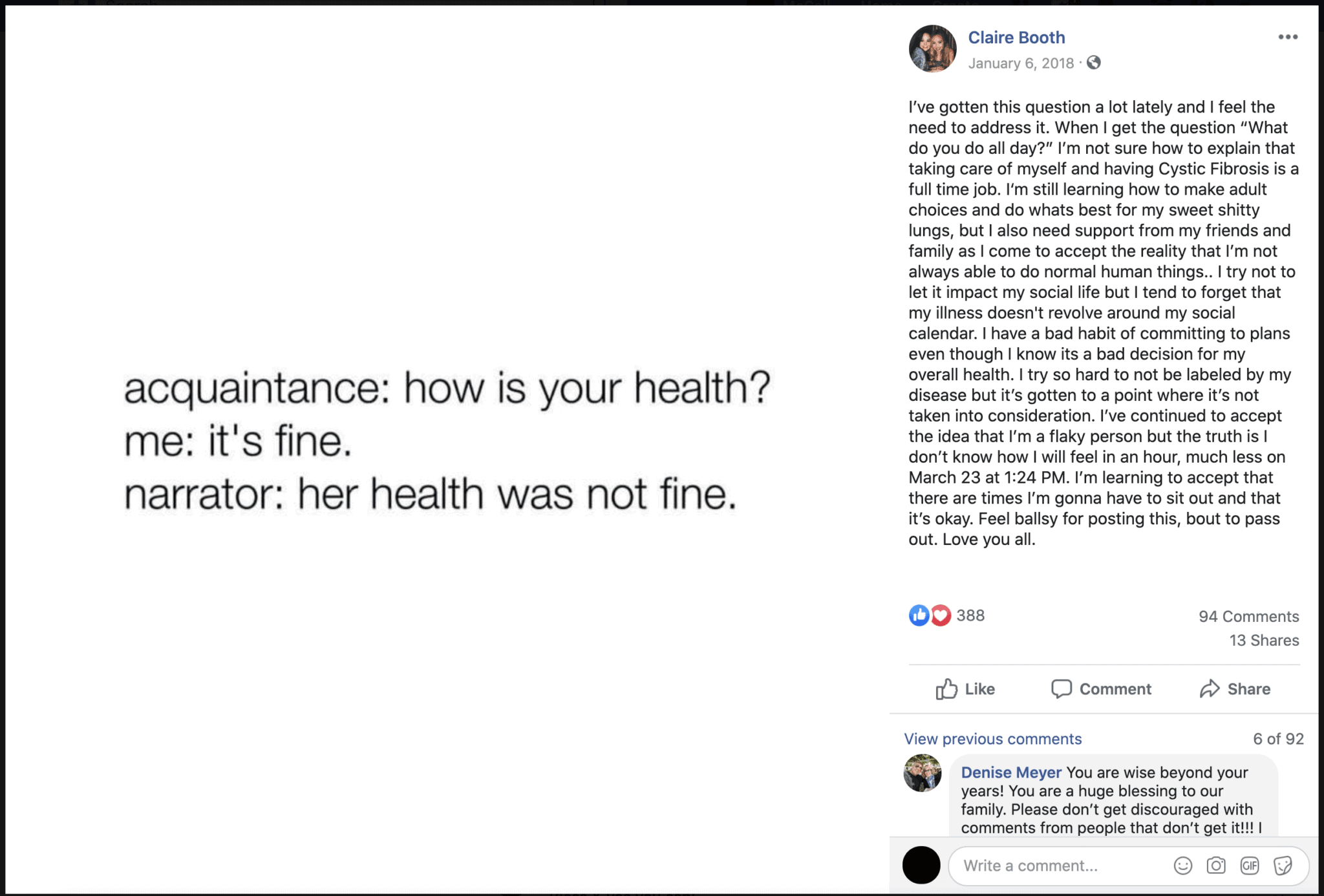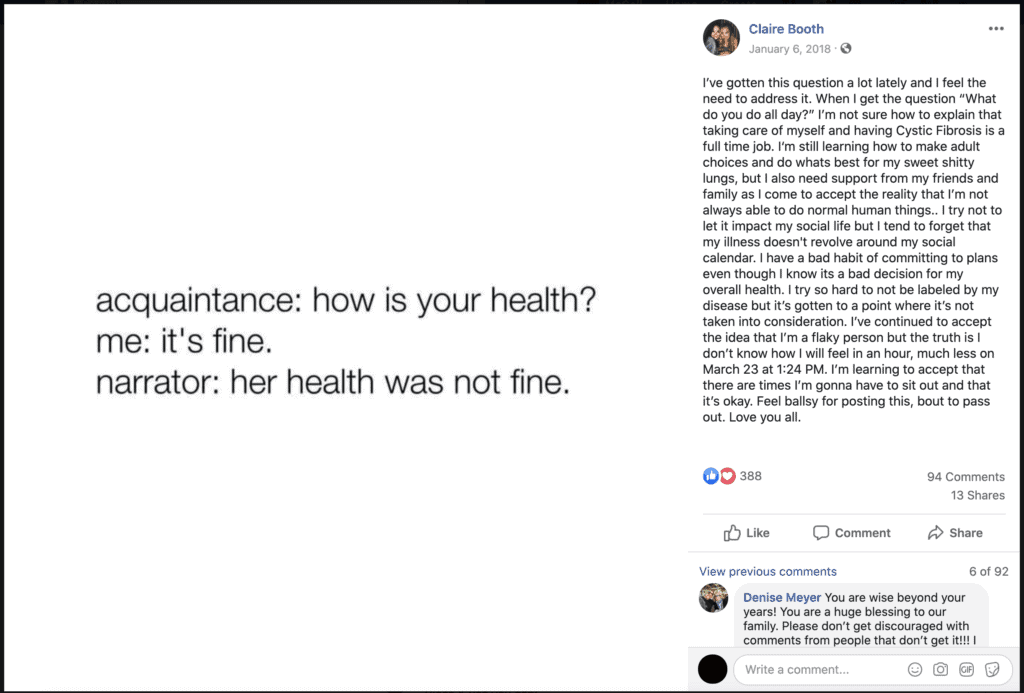 "I've gotten this question a lot lately and I feel the need to address it. When I get the question "What do you do all day?" I'm not sure how to explain that taking care of myself and having Cystic Fibrosis is a full time job. I'm still learning how to make adult choices and do whats best for my sweet shitty lungs, but I also need support from my friends and family as I come to accept the reality that I'm not always able to do normal human things.. I try not to let it impact my social life but I tend to forget that my illness doesn't revolve around my social calendar. I have a bad habit of committing to plans even though I know its a bad decision for my overall health. I try so hard to not be labeled by my disease but it's gotten to a point where it's not taken into consideration. I've continued to accept the idea that I'm a flaky person but the truth is I don't know how I will feel in an hour, much less on March 23 at 1:24 PM. I'm learning to accept that there are times I'm gonna have to sit out and that it's okay. Feel ballsy for posting this, bout to pass out. Love you all."
After I read this, I smiled with tears in my eyes and text her, "So proud. Always." She shared her truth in her own time in her own way.
Claire refused to be defined by her illness. She had ALL of Baton Rouge raising necessary funds for CF research, but everyone knew she was NOT the 'CF' poster girl. She was a poster girl for life and not giving an eff what people thought. Claire was the epitome of what we should all strive to be.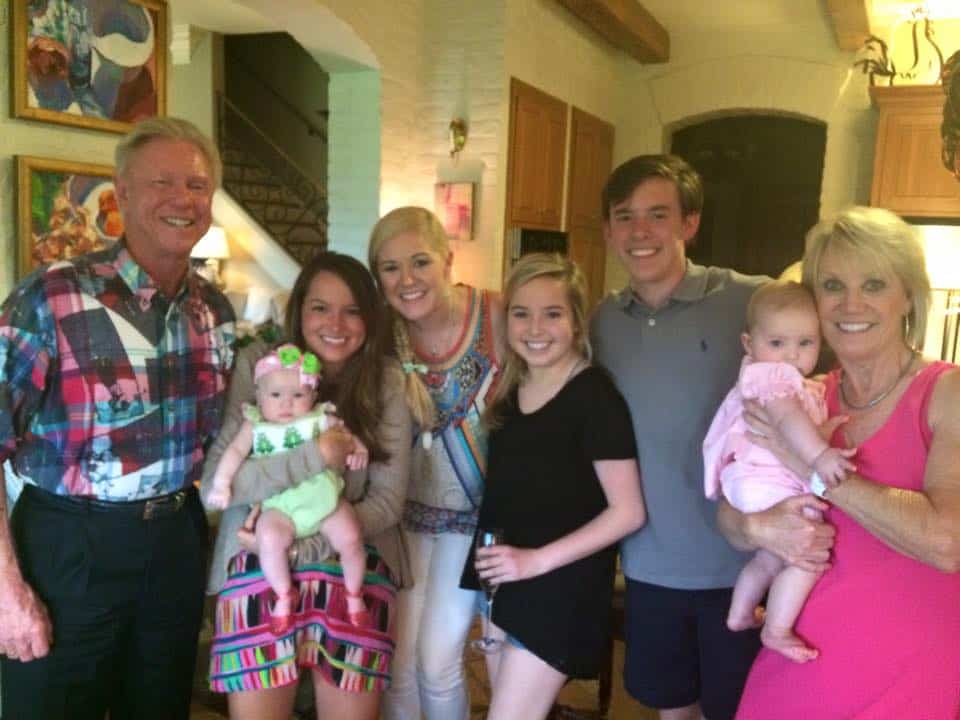 My heart is shattered today, along with so many others. I did not want to believe it when Kendall called today. But damn I am so thankful to have known and loved a real hero. And to my sweet M'Elaine, Ben, Kendall, DJ and LaLa…thankful to call y'all family. We've got one hell of an angel and can't wait to celebrate our Claire Bear together soon.
To my Claire Bear, I'm not sure you will ever understand how loved you are and how many lives you impacted. May you breathe easy and fly high, dancing away in your pink cowboy hat and Gucci slides. We love you…always. And we will NEVER stop fighting. Until it is DONE. #FUCF