CHRISTMAS DAY•2010
9:45am
The day had finally arrived. As the bright red rental car pulled into the house's long driveway, I darted out of the door and, much to the dismay of the treatment staff, I ran as fast as I could to the car. I opened the door and fell into the arms of my beloved husband, Jordan. He was as handsome as ever on that cold Christmas morning. Our hug felt like eternity. I did not want to let him go. He finally peeled me off and we walked into the house. I could not wait to introduce him to my new 'home' and the people inside. I was in treatment. It was Christmas Day. We had six hours together.
10:00am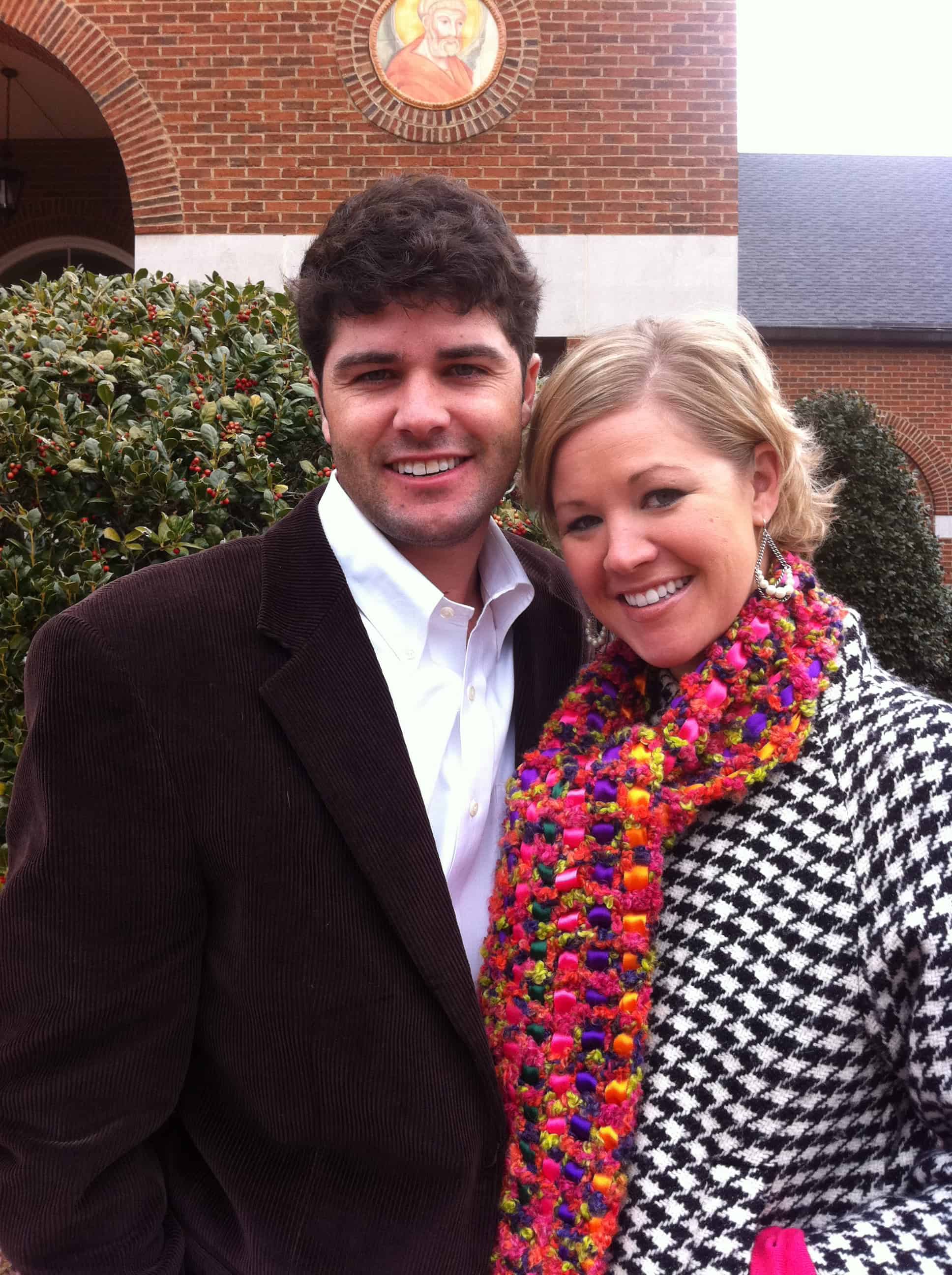 St. Michael Catholic Church. The pews were filled with families and the Christmas spirit was in the air. I was beaming as I clutched Jordan's arm. Even though it had only been two weeks since our tearful airport goodbye, I felt like I had not seen him in years. Probably going to mass (a place of reflection and silence) was not the smartest idea for us. We could not stop talking and smiling. We were like two teenagers, snuggling in the back pew whispering about anything and everything. We were giddy.
11:30am
Santa Claus comes to treatment. Jordan unloaded his trunk gift by gift. To my surprise, my friends and family sent Jordan up with tons of cards, letters and gifts to lift my spirits. I was beyond touched by everyone's thoughtfulness and had to laugh at some of the gifts (i.e. a massive bedazzled ring that only my mother would send to someone in treatment…got to love her and it did brighten my spirits on numerous occasions). But there were not enough gifts in the world to help me forget the ticking clock on the wall.
12:00pm
Lunch. All visitors had to leave while we ate lunch, but they could return in an hour. Jordan gave me a quick kiss good-bye and off he went.
2:00pm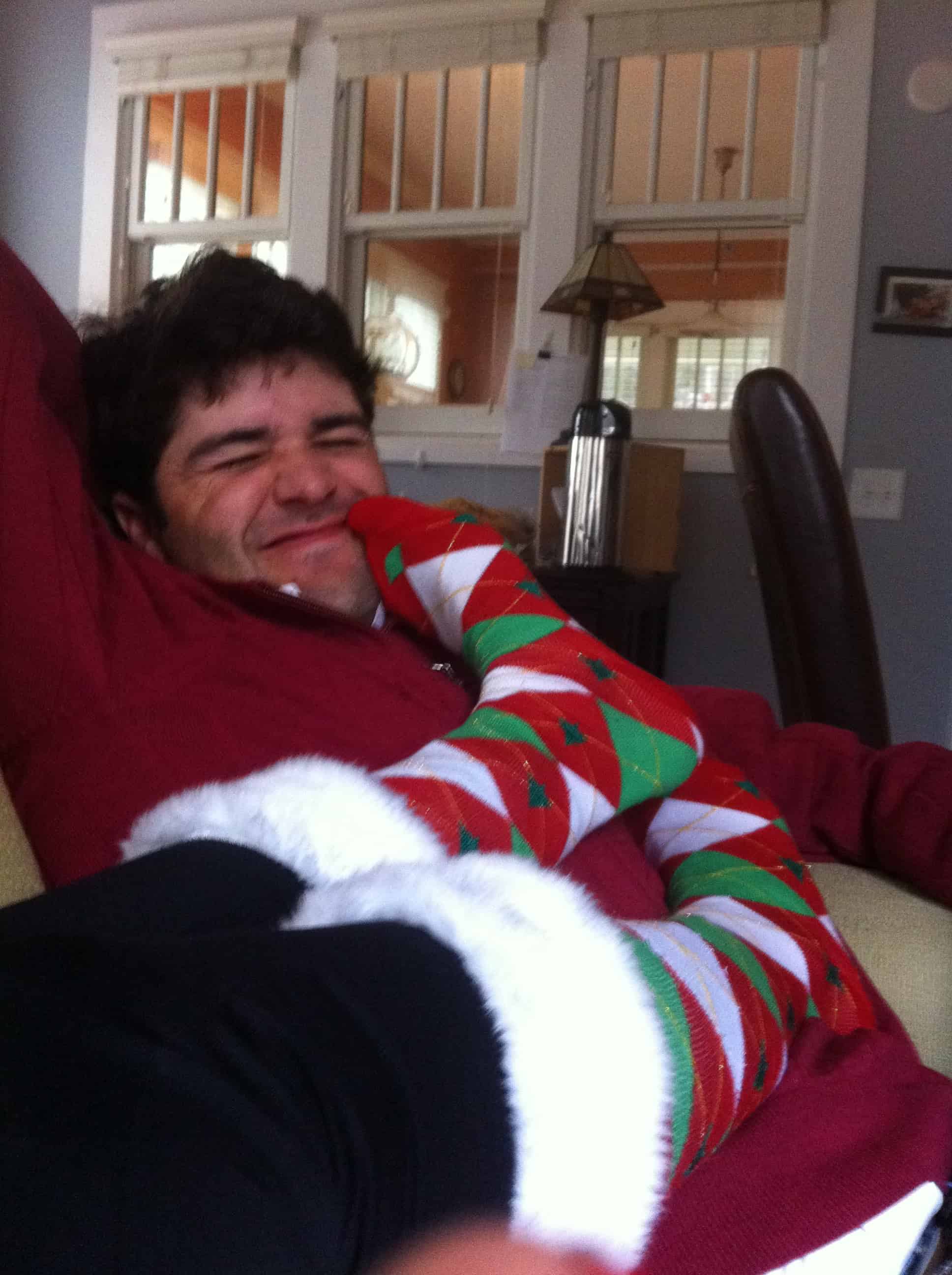 Even though I was still on Level 1 (meaning 24/7 supervision), a staff member allowed Jordan and me to have some time to ourselves in the nutritionist's office. There, we snuggled up on a small love-seat, but we didn't mind the tiny office and stiff couch…we were together and that was all that mattered. We called our families, took some videos and silly pictures. But as time wore on, we eventually just sat in silence. We were out of stories and the reality of the inevitable was approaching.
3:00pm
Snack Time. Jordan sat in the office as I went to the kitchen to make my snack. I skipped back in, trying to stay positive and make the most of our last two hours. I sat down with my plate, which held a Nutella wrap and apple slices. Jordan looked at my plate, then back at me and smiled. He did not say anything. He did not need to. I proudly smiled back at him. As I enjoyed my new favorite snack (Nutella-OMG…ah-mazing), we were entertained by fellow CH friends who snuck into the office…that is until the staff kicked them out.
4:00pm
One hour. Sixty minutes. The room was silent except for my quiet sniffles muffled in Jordan's sweater.
5:00pm
Time was up. The staff member knocked on the glass door and nodded solemnly. The inevitable goodbye was here. My quiet sniffles turned to sobs, still muffled in Jordan's sweater. As we walked onto the porch, the bitter winter wind took our breaths away. There were no more brave faces nor smiles to hide the tears. The thought of him leaving was too much to bear, but what made my heart ache even more was not knowing when I would see him again. Six hours was not enough. I needed more time. I needed him. But he had to go. Jordan's eyes overflowed with tears as he tried to mutter how proud he was of me and how important it was that I continue to stay strong and get healthy so that next Christmas we will be together at our home. He peeled my arms one by one from his waist and took off his red sweater. He wrapped it around me and gave me a simple kiss and one last hug before he turned to walk to the car. I sobbed alone on the porch, clutching his sweater. As his taillights disappeared among the trees, my knees weakened and I sank into the porch swing. Rocking back and forth, back and forth, crying into the red sweater that smelled of my Jordan.
CHRISTMAS•2012
6:00am
The house was quiet, except for the whirring of my coffeepot. My husband and son were still asleep and I was alone in the kitchen. I tightly grasped my warm coffee cup as I gazed upon our glowing Christmas tree and the presents flowing from its base. I quietly reflected on that Christmas Day two years ago and the mere six hours Jordan and I had together. How far I have come since then…how far we have come.
Recovery has brought me blessings in all shapes and sizes and Christmas Day is one of them. Having those six hours, taught Jordan and me to appreciate every moment together. Whether it is Christmas Day or a Tuesday in May, we try to make the most of every second together and treat everyday like Christmas Day.
This year, we got to play Santa and spoil our precious baby boy on his very first Christmas. This year was start of new traditions. And while I look ahead to many more Christmas miracles, I will never forget that Christmas Day two years ago.
Two years ago, we had six hours. Today, we have eternity.
Merry Christmas, my sweet husband. All my love.