The purple pen dotted my sternum, top to bottom, side to side. In a small mirror leaning on the counter in front of me, I watched as the doctor's hand moved across my chest. I felt numb.
Dot…dot…dot…line…line….
My gaze went from the small, handheld mirror holding my reflection to the blank ceiling above not wanting to see reality. My kneecaps shook with anxiety. My mom sat in the chair behind me. The room silent, but her presence calmed my shaky nerves.
Once the lines were drawn, the pictures began. "Stand here. Turn here. Face there." The photographs and markings will be the roadmap for next's week's surgery.
I stood against the wall feeling shaky, exhausted and numb. Sleep has been fleeting these last few days as the countdown to surgery becomes more real by the day. There are few words to describe this type of journey other than surreal AND grateful.
I can't believe I am doing this. Never in a million years did I expect this to be a chapter in my life's journey. And I find myself so grateful to have this decision and not go through a terrifying cancer diagnosis to get here.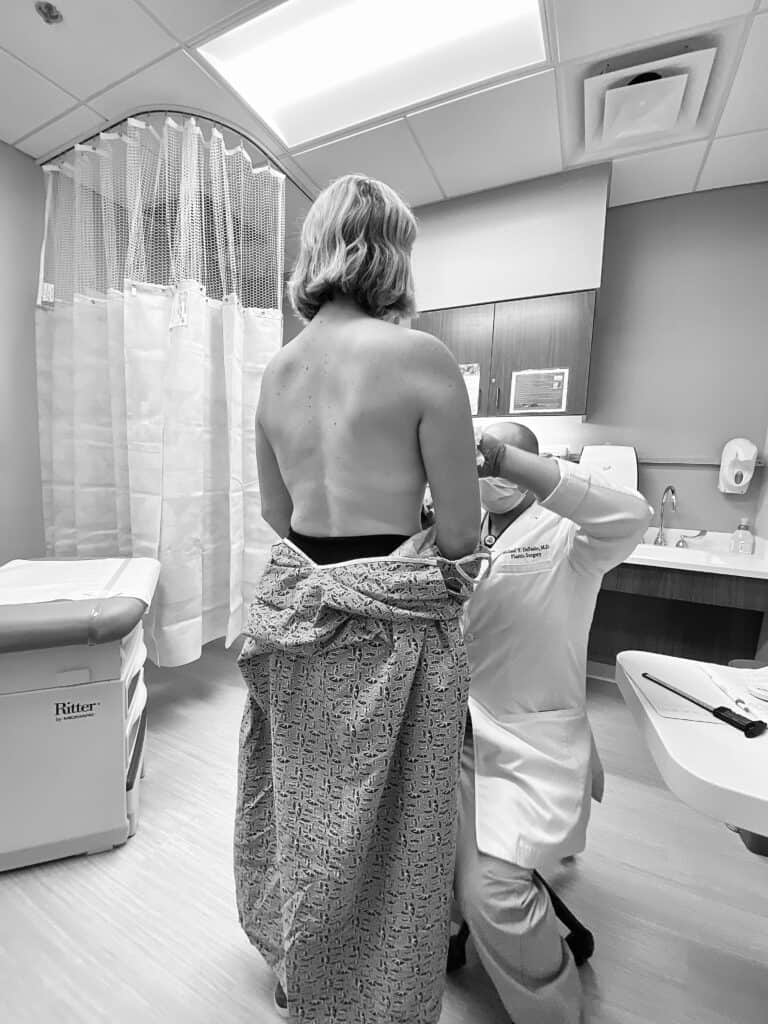 But I would be lying if I also did not say there is anger, confusion and deep sadness. After the appointments, my mom and I returned home exhausted. All I wanted to do was get in bed and pull the covers over my head. And that is exactly what I did.
I worked, caught up on emails and then shut my computer. I cried under the covers, closed my eyes for a few minutes and simply rested in a dark and quiet room (a rarity in my loud household). My mind kept asking 'Why' and my heart kept returning to the answer I needed.
I learned in my recovery journey that energy is wasted on the "Why". My treatment therapist once took my journal because I wrote obsessively trying to pinpoint the 'Why' – the exact life reason of why I ended up with an eating disorder and WHY I had to go to treatment.
There will never be a WHY. As much as I could wish for one, I'll never know why I had an eating disorder or why my daughter had cancer and I will never know WHY I was dealt this shitty card of having to choose between scan life or double mastectomy. My recovery journey taught me not to dwell on the WHY, but to focus on the right now and the support around me.
AND it goes without saying how incredibly grateful, lucky and privileged I feel to have this option. So many women do not have this option and go through the agony of cancer. I have not been through cancer myself, but I have had my fill with Marjorie's cancer journey.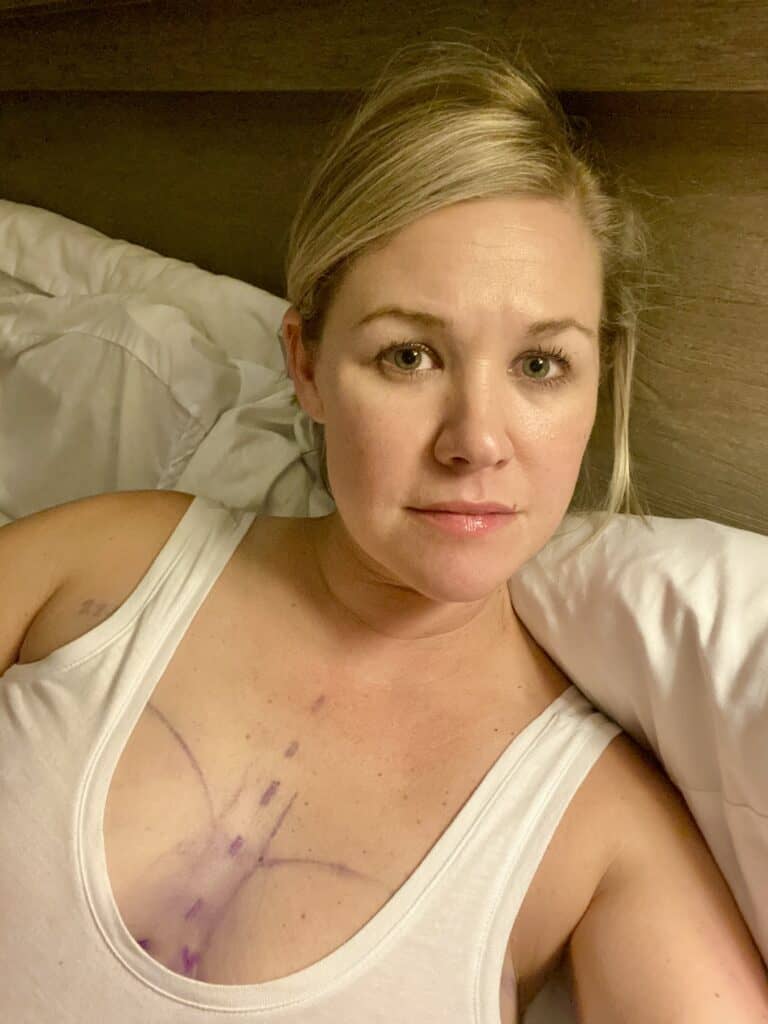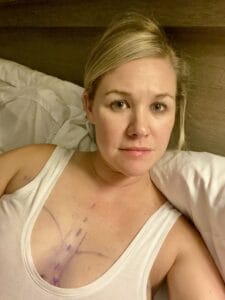 I was so relieved when Wednesday's appointment was over. I had been dreading it as it marked such a physical reminder that this is real – and it is happening. My reflection is now a constant reminder to Thursday's surgery. I'm utterly terrified. AND I can do hard things. The reality of my chest markings suddenly reframed into the roadmap to my future – my healthy and hopeful future.
AND it is HARD. I want to pull the covers over my head, but I'm digging deep, embracing gratitude and the tribe around me. I will still have my "Why" moments and definitely my "Why ME?" moments. I'm having a hard time these last few days. It all seems so surreal. Is this happening? And I have my bouts of sheer terror, questioning HOW I am going to get through this?
And my question is answered without me saying it outloud. I see my kids, my husband, my parents and SEE my WHY. Then I get a text or call from someone I love or a funny meme from my girl gang. Suddenly, I know I am going to be okay. Short term anxiety and pain for long term relief.
This is not my first hurdle and definitely not my last. This Thursday at 7:30 am I will take all the prayers, funny memes and love. I will be super vulnerable and say I am scared to death. AND I will work to keep focused on the future and use every tool in my toolbox. And I promise to take all that I receive and pay and pray it forward forever.
So ready or not, here we go. Hurry up Thursday. I am ready for this hurdle to be behind me and say Bye Bye Boobies. Toodle-Loo TaTas!