2009. Sitting in my tiny, windowless office surfing the internet, I was trying to stay awake when I stumbled across a bright and colorful website. Learn. Dream. Live. RUN…Girls on the Run. As I began to read about the organization and click-through various links I knew instantly I HAD to be a part of Girls on the Run and its extraordinary vision. I wanted to be a coach. I wanted to know these people who created and 'played' in this incredible place. Sadly, multiple barricades blocked my entrance (or so I thought they did). 1.) I worked a 9-5 job in corporate America…asking to get off at 3pm twice a week meant I would have to ask for something I wanted, which rarely happened. 2.) I had an eating disorder, well I didn't call it that at the time, but I knew I was far from a role model when it came to healthy habits and self-confidence. I feared they would turn me away if they knew my secret. Plus, I never wanted to be a 'do as I say, not as I do' type of coach, mom, mentor, etc. So I simply clicked 'Like' on my local chapter's Facebook page and went about my life.
August 24, 2011. It was a warm summer day. I was home alone in my office scrolling through the Facebook newsfeed. Suddenly, I see a status that catches my eye: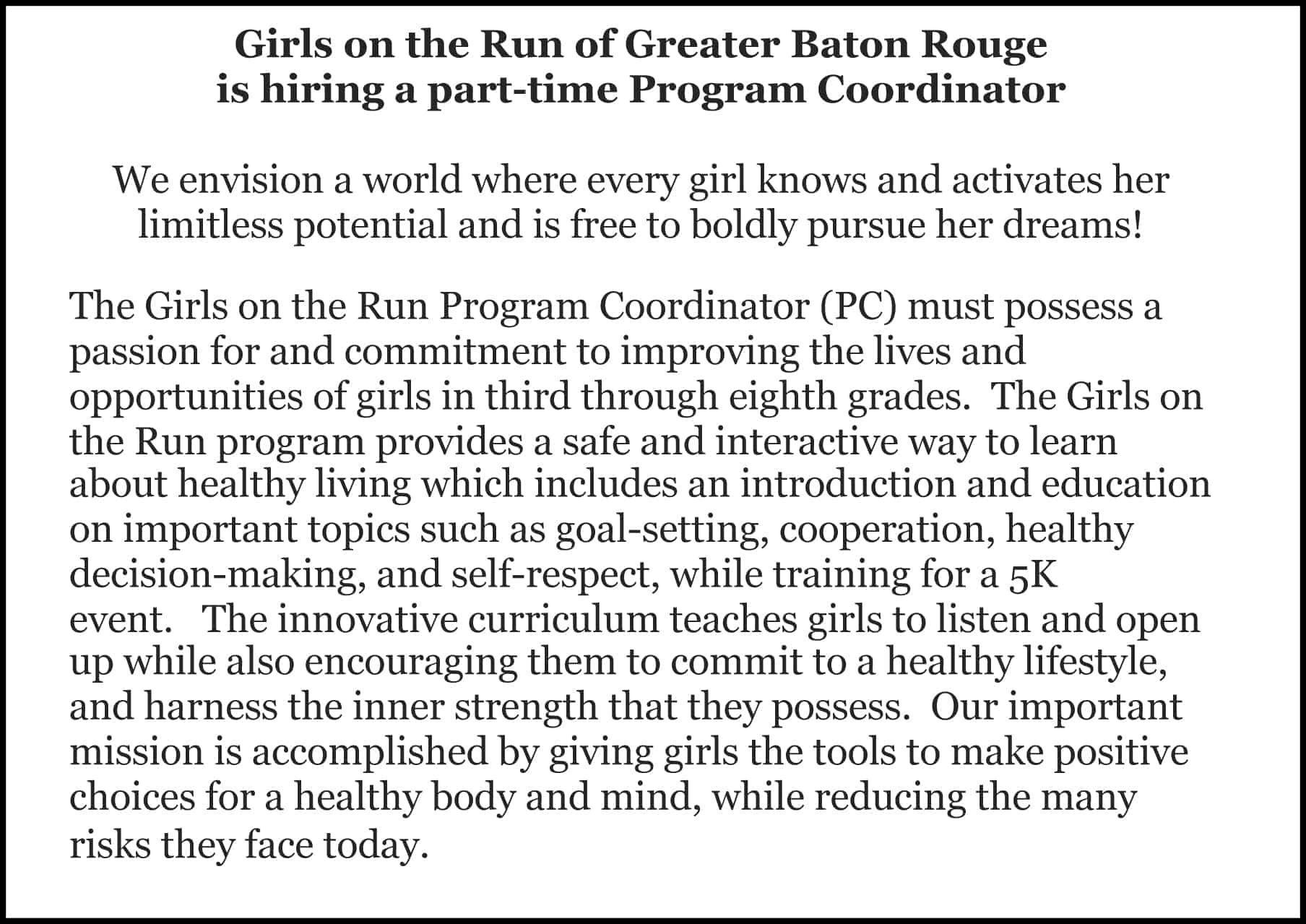 August 26, 2011. My stomach was in knots as I nervously pulled into a local coffee house for my 'job interview'. This was my dream 'job'. Could it be? Could I finally be joining the Girls on the Run family? What if this executive director hates me? What if she finds out I just got out of treatment for an eating disorder? I pushed my nerves aside and marched into what would become a major changing point in my life. I arrived first, ordered a cold bottle of water and found a table. A few minutes later a beautiful, dark-haired woman opened the door with a frazzled yet sweet look on her face…a look I would soon come to know and love. She was the one and only Hydie Wahlborg, Girls on the Run of Greater Baton Rouge Executive Director. After friendly introductions, the 'interview' quickly became a 2+ hour long heartfelt conversation between two women who were destined to become lifelong friends.
December 10, 2011. Girls on the Run of Greater Baton Rouge 5k. My first GOTR 5k. Tears filled my eyes as girls dressed in brightly colored socks and tutus filled the starting line. The atmosphere of the day went far beyond my wildest expectations. The energy was simply overwhelming and the beauty and confidence beaming from each girl was surreal. And thanks to recovery, I was able to soak up every second of that magical day. I was 100% present in life…I was 100% ALIVE.
May 2012. Hydie's number flashed across my phone. I cheerfully answered as I always did when she called.
"We would like you to join our board."
Huh? I thought to myself.
"Me?"
"Yes, we talked last night and we would love for you to transition to the Board of Girls on the Run."
With delight, I humbly accepted the position. I never took the original position for money. I took it because I believed in Girls on the Run…because I wanted to make a difference…because I wanted to pay it forward.
September 17, 2012. The sun beamed down as I sat in a circle with my Girls on the Run team. It was happening…it was finally happening…I was a COACH! Well, an assistant coach, but a coach nonetheless. I had requested to be on Randa's team. She had been a head coach since GOTR started in Baton Rouge. I had always admired her confidence and kindness. She was a real person…a no BS kind of woman with a heart of pure gold. She loved being a coach, the compassion and love for GOTR in her heart was always evident. Our first day the girls had to assign an adjective to their name so we could all get to know one another. I could hardly contain my enthusiasm as I worked hard to remember every girls name…
"Runner Rayne…Creative Claire…Motivated Macy…Beautiful Blythe…Harmonious Hannah…Nice Nadia…"
Some girls shouted their adjectives loudly and confidently, while others were soft and shy. Next, Head Coach Randa asked the girls to say one thing they loved about themselves. The responses were a bit all over the place. Some understood the question and answered proudly. Some were confused and answered that they liked bunnies (true story). Then there were those who did not answer at all, shying away from such a bold question. My heart sank as these girls could not come up with one thing they liked about themselves because it was not all that long ago I, too, could not come up with anything I liked about myself. I would have been that girl coming up with a silly answer to avoid the question. But when it was my turn, my eyes welled with tears behind my sunglasses. I suddenly realized that I had SO many things I liked about myself it was hard to pick just one. Talk about a full circle moment! I proudly gave my answer and I meant it. Not only was I finally a coach, I was a coach who believed in herself and led by EXAMPLE.
December 5, 2012. Our last GOTR practice. The air was filled with energy, confidence and excitement for our upcoming 5k. After practicing our awesome 5K flash mob dance and eating lots of treats, we sat in our typical team circle. (Side note: I am not sure when the newness of recovery will wear off, but to this day, the ability to eat cookies and treats in the middle of the day still makes me giddy.) Our extraordinary head coach once again asked the girls to each name one thing they loved about themselves, just as she did that hot day back in September. This time was different though. This time each girl proudly gave an answer. No one misunderstood the question, no one shied away. Each girl knew exactly what they were proud of…and once again my eyes welled with tears. But this time it was tears of pride for these incredible girls I had grown to love over the semester. Each girl unique and special in her own way, but each united and forever bonded as a Girl on the RUN.
December 7, 2012. My 31st birthday. My request: no family dinner, no hoopla, just an easy night so I can go to bed early to rest up for my favorite day of the year.
Decmeber 8, 2012. The alarm blared at 4:30am. I fumbled out of bed and began to put on my running gear, poured my coffee and headed out the door. The morning fog rolled in thick and heavy. When I arrived to our race site, I was greeted by my friend and mentor, Hydie, and Treva, who can only be described as a magnetic survivor. You cannot help but want to be in her presence and her story of breast cancer survival will bring you to your knees. She is simply contagious and awe inspiring. (I have found this to be true of every board member. I do not think it is normal to have so many incredible and inspiring people on a board. They are not on the board to build their resume or complete some civic obligation…each member is a part of it because they BELIEVE in Girls on the Run. I almost feel out of place to be amongst so many extraordinary people). We walked around the race site and were pleased to see there was very little to do. The GOTR office crew were so successful in all of their prep work race day ran like a breeze. Other board members arrived throughout the early hours to help set up, as well as numerous community volunteers. The air filled with buzz, energy and color as the girls began to arrive. Music blared through the race site and girls in brightly colored tutus and socks began to show off their dance moves. The morning whizzed by: Flash mob. Zumba warm up. Local rap/running stars. National Anthem (sung beautifully by one of my very own girls…I was so proud). Suddenly, it was race time! I quickly found my running buddy and we lined up with the thousands of others. You could feel the excitement in your veins…it was pure magic. The horn sounded and off we went. Much to my surprise my runner never stopped. She and her best friend ran the whole race. It should be noted that they never ran this far in practice. These two always seemed to be distracted by nature and various leaf-crafting projects. But on this very day they RAN and I, as a coach, could not have been prouder. It was the best 3.1 miles of my life. As we entered the finish shoot, my runner took off in a full sprint. I did my best to keep up, but as it turns out it is difficult to sprint with a huge smile plastered across your face. I caught her at the finish, picked her up and swung her in the air…"YOU DID IT!" I screeched. And once again tears filled my eyes behind my sunglasses. Not only had my girls made me SO proud, I suddenly realized I had just crossed my first finish line in recovery. It was not a half-ironman or any ultra-long distance, but it was a finish line. A finish line I finally got to cross healthy, happy and with my Girls on the Run family. My cup runneth over. In fact, my cup just spilled over at that point. I did not share my inaugural finish line with anyone because I did not feel the need to and that was not what the day was about. It was about the GIRLS…my girls. And I don't think there was a prouder coach that day.
I owe so much of who I am and my recovery to Girls on the Run and the people behind it. So many incredible people make up this organization, but there are two who come to mind that I like to think of as my "tangible heroes"
Visionary, Molly Barker started GOTR in 1996. She is not a lofty CEO sitting up in a New York penthouse. She is like you…she is like me. She is one of the reasons I am sharing my story today. Molly Barker is truly my hero, but not because of Girls on the Run. Molly is very open about her past as a recovering alcoholic and shared a status on her recovery anniversary last year. I had no idea about her struggles and was blown away by her openness. That status made me realize how powerful it can be to share your story because we all have some cross to bear. I suddenly found the courage within to share my own. Aside from me tagging her on Facebook, Molly does not know me, but I know she will say that we are family because we both share in the passion that can only be Girls on the Run. I really hope one day to meet her, but until then I will just keep tagging her on Facebook.
Dreamer, Hydie Wahlborg. She IS my hero, my mentor, my friend. She is proof God puts people in our lives for a reason. That fateful day in August 2011, proved to be a life changing moment, not just for my entrance to the GOTR family, but it was also the start of an extraordinary friendship. Hydie has a magnetism about her that can only be Hydie. Hydie is a doer. She is a dreamer who makes her dreams become reality. She makes everyone around her feel loved, beautiful and accepted for who they are. She constantly encourages and pushes me to share my voice and do things I did not think I had the guts to do. I am paying it forward today because of her…and for that I am forever grateful. She is my tangible hero and I'm just glad she is a simply phone call, text, lunch date away.
These are just two of heroes. Each and every volunteer, coach, community runner and girl is also my hero. It is indescribable to see the dream come to life on race day. I am just one small member of this enormous and awesome family, but I am a part of it nonetheless…and I am so thankful to be…
GIRLS ON THE RUN IS SO MUCH FUN. GIRLS ON THE RUN IS NUMBER ONE.