I knew this photo was coming and today it popped up. One year. I vividly remember this day. It was the day I looked out at the ocean with my family and thought, "We made it." We survived nearly three months in the NICU and extreme reclusiveness during flu season. The weather was warm and Marjorie was growing and healthy.
This day still feels like yesterday. I recall thinking, "We made it to our new normal. Life is good." And it was; life was so good. Little did any of us know that our lives were about to drastically change.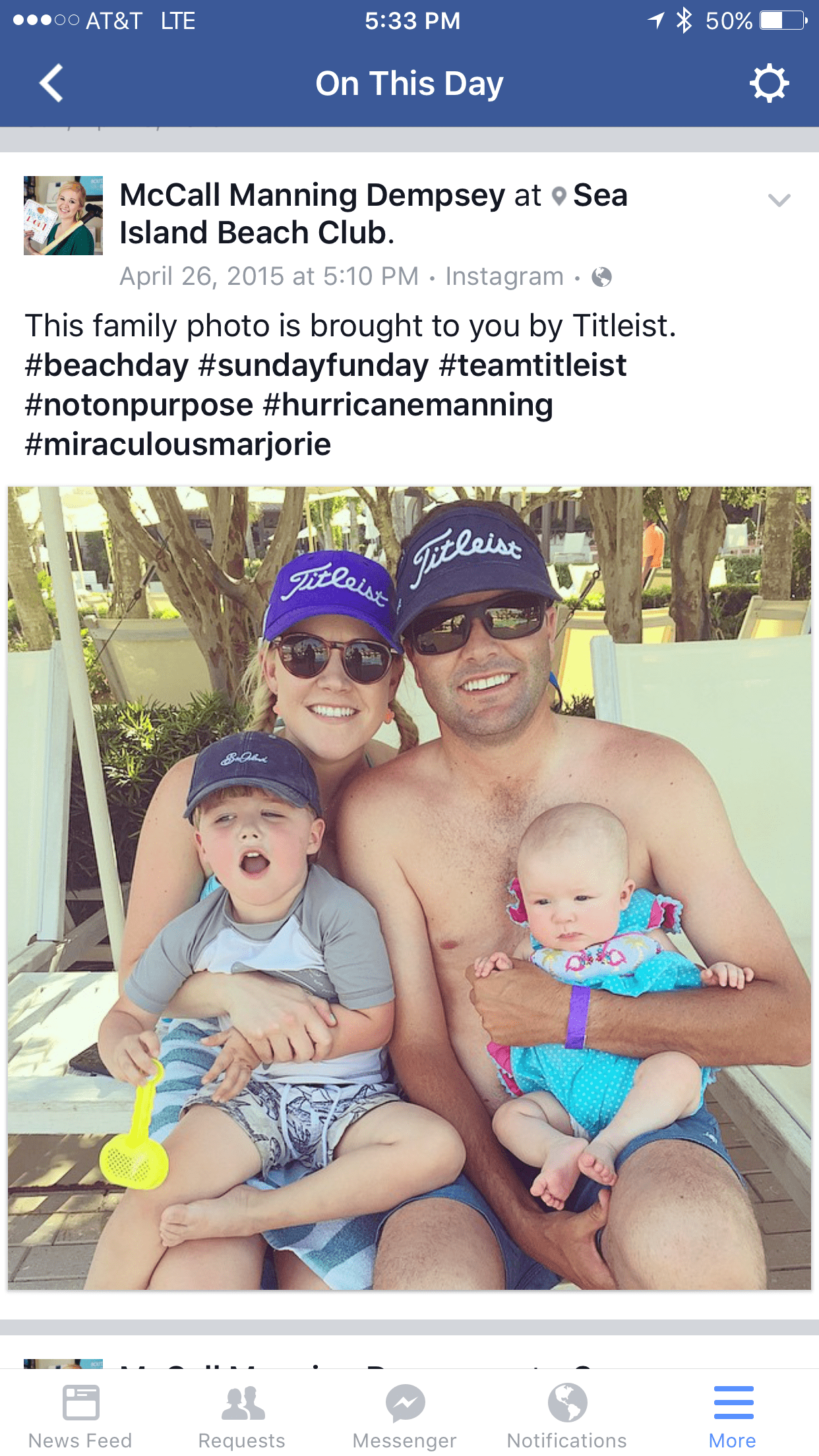 If Marjorie's first year of life has taught me anything, it is that life can truly change in the blink of an eye. One minute you are resting on the couch, the next you are in an ambulance terrified your daughter is about to be born at 25-weeks. One minute you are laughing on the beach and the next you are being transported to a Pediatric Oncology floor. Every month, day and minute is so very precious.
It is pretty impossible for anyone, no matter how mindful you are, to be fully aware of time's sacredness every minute of every day. I am the queen of multi-tasking, buzzing and getting lost in life's to do's. However, nothing jolts me back like seeing a picture like this, a vivid reminder of what used to be…before the cancer. But what catapults me even more into awareness are Marjorie's scans.
Scans are looming this Friday, with her nuclear injection Thursday. I can't lie, I. Am. Terrified. Today, in particular, I have felt paralyzed, as if sitting in some kind of pre-scan purgatory. Just waiting. Words escape me in being able to articulate this feeling and place where my mind is currently existing. This looming reality that our lives could change once again this week is excruciating.
Errands seem insignificant and I honestly can't complete them. I attempted a trip to Target to distract me from my cluttered mind. After thirty minutes of aimlessly pushing Marjorie up and down each aisle, I gave up. I left with one yoga top and one box of tea. So random and definitely my cheapest Target purchase to date. So I guess that's a plus.
It is an unbearable fact: life can change in the blink of an eye. The other fact is that we will all experience this at some point in our lives. Jordan's best friend, Marjorie's Godfather, and his family are living that nightmare now after a loved one's tragic fall at home. Another reminder of how extremely precious life is.
A dear friend reminded me today that without fully embracing these times of sorrow, we cannot completely soak in the joy. Life comes in peaks and valleys and some time the peaks and valleys co-exist. Laughter through tears…probably my favorite emotion.
So where to go from here? I honestly don't know. Well, I do. I signed myself up for yoga tonight and plan to rock some child's and corpse poses. I might cry my way through and that's okay too. Tomorrow, I will do much of the same and distract with some work. My heart hurts, but I will honor these painful feelings and push on. I will pray and pray hard. I will accept the love and support around me.
That's all I can do. Honor myself: mind, body, spirit…and pray. Pray for Marjorie's scans, pray for Brian and most of all pray that I will never, ever forget how very precious and amazing this beautiful and difficult road we call life really is.
This slideshow requires JavaScript.