'My daughter has cancer' is a sentence I will never get used to saying outline, nor do I want to. Today, I had to tell that to a stranger in the grocery store when she asked about Marjorie's PICC line.
"My daughter has cancer."
Her simple question was one of the hardest I've ever had to answer and it left me in tears on Aisle 10.
I haven't cried in weeks, like really cry, ugly cry. I've wanted to, many times, but the tears never came. It was as if my brain knew I was not yet capable to handle the emotional onslaught. I guess my brain now deems me worthy because the feelings have come at me like a wrecking ball in the last 24-hours.
In my ginormous rolodex of feelings, what I feel most is anger. I am so damn mad my daughter is going through this. I am so angry that, once again, life has dealt us a super shitty hand. I hate feeling like I can't form a sentence or think through a simple grocery list. I am tired of being tired.
I want to be selfish. I want just one hour alone in bed, one hour of escape. I want to curl up and cry, but my body doesn't let me cry. I've worked so hard these last few years to get in touch with what I feel and to have that ripped away from me is excruciating.
This computer, my tired and aging MacBook is my sanctuary. My blog is my outlet. It is the only place where my fingers fly without hesitation and my heart pours onto the keyboard. Talking on the phone is too difficult. It is hard for me to sometimes talk to my best friends about how I am doing. I can only verbalize the basics, not my feelings inside. So I write, I type them out.
I live with blurry, tired vision in my own world. My world where time seems to stand still and only Marjorie exists. But it isn't a world. It is like living in a clear box and watching the world pass us by while we wait. We wait for the next dose of medicine, for the next PICC line flush, for the next scan. Yes, we wait. Time stands still.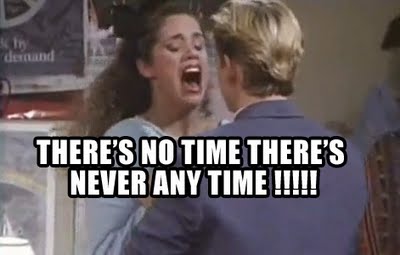 And yet time is the one thing I need.
I feel like Jessie Spano from Saved by the Bell, "No time. There's never anytime."
I need time. I need time to finish building the house that we started a month before our world came crashing down. I need time to sort through the endless stack of medical bills and paperwork on my desk. I selfishly want time for myself to sleep and rest my body.
But when I do have time in that hour or so when Marjorie is naps, I find myself wandering through the quiet house unable to accomplish any of my to dos, much less process my feelings and thoughts.
Last night the emotional wrecking ball finally hit as I rocked my precious baby to sleep. I stared at her precious face and tears poured down mine. It was the first time I have felt anything in weeks. The last real cry I had was the day after Marjorie's surgery when she was in the PICU. These cries are deep, painful and filled with raw motherly love, a love so deep it hurts. A hurt that leaves me winded and exhausted.
Jordan found me in my puddle of tears and silently wrapped his arms around me. I sobbed harder. Louder. No longer caring if Marjorie woke up. I couldn't help it. The tears were out of my control.
I choked out to him how angry I was; my emotional floodgates opened and my emotions poured out. I screamed out, "Why, God? Why my baby."  The exact question I cried out the day we received her cancer diagnosis
Jordan hugged me tighter and simply said, "I'm angry too, baby. I am too."
I knew those emotions were coming. I was not afraid, rather I welcomed them, even as painful as it was (and still is), I knew I was long overdue to feel them. I found comfort knowing the tears would not flow forever, just like this too will pass. The anger and tears were a necessary part of this journey. Accepting them and standing in the puddle will allow me to step forward.
Knowing that pain doesn't last is such a gift, but what is a bigger gift, is knowing what I need during these times. I needed quiet. I needed my family. I needed snuggles from my son and my husband's embrace. I needed him to tell me that he was scared and angry too. That underneath his eternal optimism, there are real feelings there.
People always say, "Stay strong." There is nothing wrong with telling me nor anyone else that, but I see strength in a different light. To me, being strong doesn't mean putting on a 'brave' face and not crying. Bravery is seen when you allow the tears to flow and your emotions to pour out. Strength is the ability to own your feelings and to show up and feel them.
While this post may not be filled with songs of gratitude, it is no less positive or vulnerable than the rest. It does not cause any need for alarm or worry for it is a post of strength. I am okay.  This is me, simply staying strong, finding bravery in my cries and strength in my tears.
This slideshow requires JavaScript.