Today my morning went a little something like this…
5:30am Alarm, pre-dawn emails and work to do's
7:00am Tiny humans wake up, morning Hunger Games begin (insert another cup of coffee)
As I extracted yet another foreign object from our new puppy's mouth, asked Manning for the 34th time to brush his teeth and chased a naked Marjorie, I laughed at how chaotic and amazing life is today. You see, seven years ago, the morning of December 14th was different, drastically different.
Seven years ago today I admitted myself to treatment at the Carolina House. Seven years ago I gave myself the best gift – the gift of recovery.
Every day I connect with people fighting for the mystical place of recovery. They see it as an impossible and often unattainable dream. So did I seven years ago.
Today, I travel the country, speaking and connecting with recovery warriors in treatment. It never fails I am always asked the same question:
Is FULL recovery possible?
My answer is and will always be
YES. I am proof.
We often want to put a label on where we are in our journey or we attempt to be ten thousand steps ahead of where we really are. We jump at the chance to say or have someone define that we are in recovery, recovered or fully recovered. Disease gone. No more.
It doesn't quite work like that. We all have to come to a place where we define recovery for ourselves. There is no universal finish line that can declare you RECOVERED.
So when recovery warriors ask me if I define myself as fully recovered this is how I always respond:
I am FULLY recovered AND I will always be working towards recovery because recovery is an extraordinary journey of self discovery. I never want to stop figuring out who I am and being my best authentic self.
I did not take a magic pill to find recovery. I worked VERY, VERY hard for many years AND I fell many, many times along the way. But I kept getting up and if I was too tired to get up I looked to those around me to help me up and guide me back to the light.
To be quite honest, the years of struggling are a distant in my memory – thanks to my life's messy beautiful chaos and the years that have passed.  However, they will never be forgotten. I still have a knot on my stomach on this day. I will never forget standing in the freezing cold in my red peacoat, waiting for the van to pick me up. I will never forget sobbing to my family that night that I had made the biggest mistake of my life. I will never forget my first full day, sitting in group therapy, hearing other's share their struggles and thinking, "I am not alone."
For nearly fifteen years, I was held prisoner by my eating disorder. I did not know what normalcy was. I did not know how to feed myself or that it was possible to even love myself. If I had not entered the Carolina House, there is no doubt in my mind that I would be dead. Whether at the hands of my eating disorder or myself, I was running out of energy to put one foot in front of the other.
But even if I had survived by the grace of God, I could not imagine the half life I would be semi-living. Because seven years ago, this was my reality:
October 19, 2010
"I am lost. No other way to put it. I wish someone understood what I deal with on a daily basis…
To know what it's like to be hungry, but a voice says you can't eat. You become numb or you plot and plan a day that revolves around stuffing your face – alone – all alone, can never be with anyone. Then figure out what painful measure you will use to get rid of the food – and nonetheless you still end up a fat ass because you shouldn't have eaten it anyway.
I want others to understand what it is like to hate your body and brush away your husband's touch because you are embarrassed. To know what it's like to try on 30,000 different outfits only to end up in tears on your closet floor. To know what it's like to see your huge, ugly breasts – the ones people envy, but you look at with disgust and burst into an unbelievable meltdown that leaves you cripple on your bathroom floor unable to speak or breath. To know what it's like to fear and love food. To hurt for no reason at all – or at least a reason you don't know yet. To know what it's like to want to start a family and be a mom but you know you can't take care of yourself much less an innocent child.
I just wish someone understood."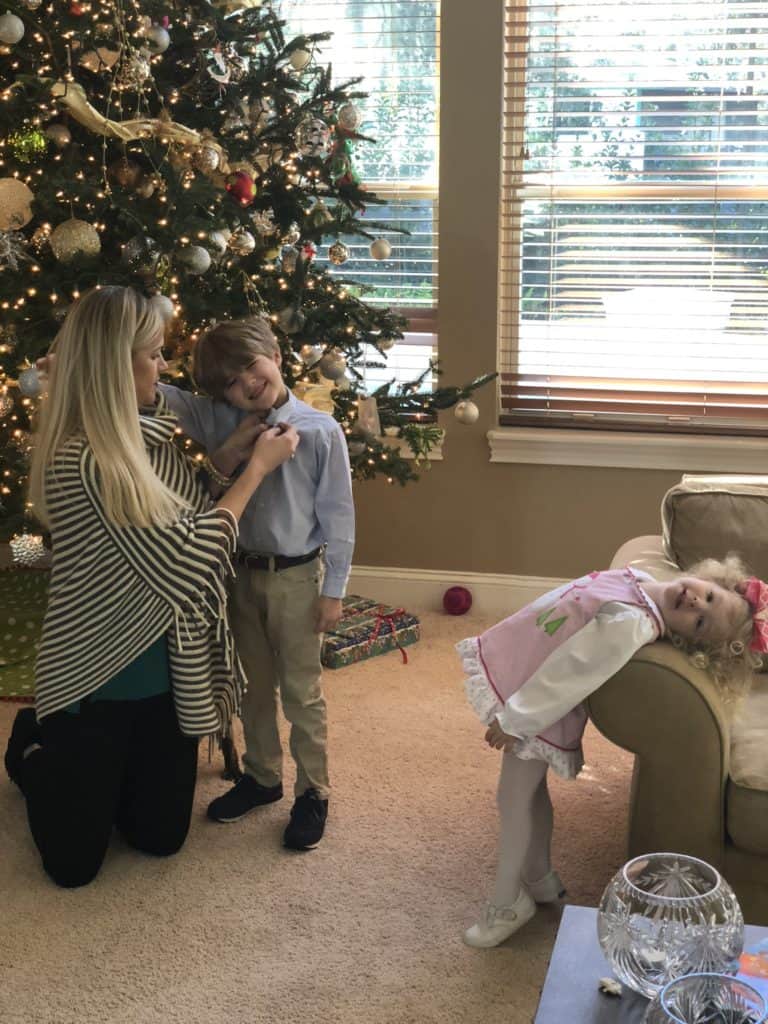 My reality today is drastically different. I eat when I am hungry. I stop when I am full. I love my body, nourish and respect it. I move my body with joy. I get dressed with excitement (usually because it means we have a babysitter and are going out without the kids).
The best part of my life today is living a full and present life with my family. There is no doubt my children are my greatest recovery blessings. My two (HEALTHY) amazing kids that call me Momma.
For me, recovery means getting to live and lead by example. And that starts with my children – showing them what it means to love and respect your body. I get to show them how you can chase your dreams and live authentically, while being kind to everyone around you. I get to show them that life is messy and we embrace the mess and chaos. I get to show them that while our house isn't always sparkling clean, it is filled with love!
And most of all, I will always remind my precious babies that life is not perfect. It is hard. They will make mistakes and fall. They will hurt. But in the midst of their hurt, I will sit with them, always reminding them they are loved, fiercely, and that they are never, ever alone.
If you are struggling, know this – RECOVERY IS POSSIBLE. I am proof. Recovery is NOT easy. It is a long and painful journey, but it is filled with moments of hope, color and some pretty damn amazing people. Recovery is a choice. So keep showing up – every day, every minute. Keep standing up after each fall. Keep reaching for support. Keep fighting! Because this life, your life – and is worth it. You are WORTH it.
The ability to live in the present and lead an authentic life is the greatest gift I ever gave myself. It all began seven years ago today. And seven years later, I am still choosing it by showing up and choosing recovery. every. single. day.
This is recovery, SEVEN years in recovery. Thankful every day. Cheers to lucky number seven y'all!
This slideshow requires JavaScript.